Presidents Club will not host any further fundraising events
The charitable trust plans to distribute all remaining funds to children's charities before closing.
A charitable trust which held a controversial men-only dinner where hostesses were reportedly groped has said it will not host any further fundraising events.
The Presidents Club said it will distribute remaining funds to children's charities before closing.
In a statement the organisation said: "The trustees have decided that the Presidents Club will not host any further fundraising events.
"Remaining funds will be distributed in an efficient manner to children's charities and it will then be closed."
Earlier businessman David Meller, Presidents Club trustee and co-chairman of the annual dinner at London's Dorchester Hotel, quit his role at the Mayor's Fund for London and the Department for Education.
Education minister Anne Milton told MPs Mr Meller was quitting as non-executive director of the DfE board following the reports.
A spokesman for the Mayor's Fund for London, which supports disadvantaged young people, said: "David Meller has this afternoon resigned as a trustee of the Mayor's Fund for London.
"The Mayor's Fund for London is not and has never been a beneficiary of, nor has it had any involvement with, the Presidents Club or its events."
Children and families minister Nadhim Zahawi also attended but "found the event extremely uncomfortable" and left early, Ms Milton said.
Mr Zahawi tweeted: "I do unequivocally condemn this behaviour. The report is truly shocking. I will never attend a men only function ever."
Labour MP Jess Phillips, who tabled an urgent question in the House of Commons, welcomed news that Mr Meller was standing down and asked if it was "appropriate" that Mr Zahawi made an appearance.
She added: "What happened is that women were bought as bait for men who were rich men, not a mile from where we stand, as if that is an acceptable behaviour – it is totally unacceptable."
A number of causes that have benefited from the £20 million raised by the Presidents Club over more than 30 years have said they will refund previous donations.
University College London Hospitals charity said it would be returning a one-off £5,000 donation from the charity it received in 2015.
London's Royal Academy of Music said it will refund a £10,000 donation made in 2017 as a scholarship to a violin student.
A spokeswoman described the allegations as "deeply disturbing" and said: "In light of today's allegations, we will be returning the £10,000 donation and will not be accepting any future donations from the Presidents Club.
"The student will not be affected by this course of action. We would never knowingly associate with an organisation which condones the type of behaviour we have learned about today."
A spokeswoman for Great Ormond Street Hospital Children's Charity described reports about the event as shocking and said: "We would never knowingly accept donations raised in this way.
"Due to the wholly unacceptable nature of the event we are returning previous donations and will no longer accept gifts from the Presidents Club Charitable Trust."
During the dinner, businessman Richard Caring, owner of London restaurants The Ivy and Scott's, bid £400,000 to place his name on a new high dependency unit at the Evelina, the Financial Times reported.
A spokeswoman for the hospital said: "We are very alarmed by the allegations about the behaviour of some of those attending the Presidents Club fundraising dinner.
"This is not the kind of event we would wish to be associated with and we will therefore be declining funding from it and returning all previous donations from the Presidents Club."
The Bank of England has distanced itself from the dinner, claiming it was not aware of the Presidents Club Dinner and "did not approve any prize for auction at the event".
Governor Mark Carney is "deeply dismayed that such an event could take place", the Bank added.
Real estate fund manager Frogmore, which hosted a table at the event, has ended its association with the Presidents Club.
"The attendees at Frogmore's table were unaware of any of the described events but in no way condone this behaviour," a spokesman said.
"Frogmore will now end its association with the event."
Leading figures in business, politics and finance attended the event hosted by comedian and children's author David Walliams, who is not the subject of any allegations.
Mr Walliams said in a statement: "I was there in a strictly professional capacity and not as a guest.
"I left immediately after I had finished my presenting on stage at 11.30pm.
"I did not witness any of the kind of behaviour that allegedly occurred and am absolutely appalled by the reports."
Financial Times reporter Madison Marriage, who went undercover as part of the paper's investigation into the event, told BBC Newsnight: "I was groped several times and I know that there are numerous other hostesses who said the same thing had happened to them.
"It's hands up skirts, hands on bums but also hands on hips, hands on stomachs, arms going round your waist unexpectedly.
"The worst I was told by one of the hostesses was a man taking his penis out during the course of the dinner.
"The other one was another man telling a hostess to down her glass of champagne, rip off her knickers and dance on the table.
"I can't believe that it still goes on in 2018, I think it's quite shocking."
Hostesses were allegedly told to wear black underwear and "sexy" black shoes for their shift.
Items at the auction included lunch with Foreign Secretary Boris Johnson, a trip to the Windmill strip club in Soho and plastic surgery "to spice up your wife".
It is understood that Mr Johnson did not agree to support the event and will not be taking part in the lunch that was auctioned to guests.
The Presidents Club earlier said it was "appalled" by the allegations and vowed to investigate claims of "bad behaviour".
A spokesman said: "Such behaviour is totally unacceptable. The allegations will be investigated fully and promptly and appropriate action taken."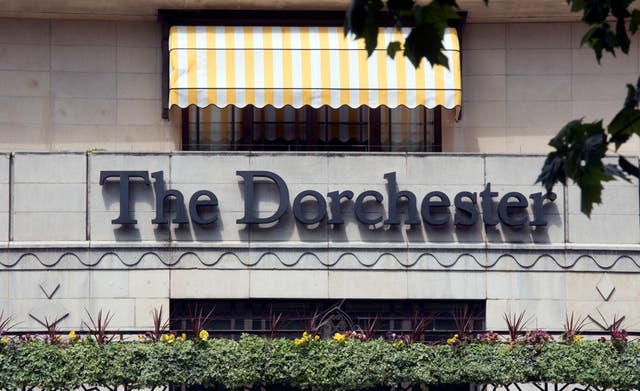 A spokesman for the Artista agency, which recruited the hostesses, said: "I was not aware of any claims of sexual harassment but the kind of behaviour alleged is completely unacceptable.
"I am checking with the staff and any complaints will be dealt with promptly and fairly."