Almost 2,000 ambulance staff have embarked on another day of strike action as the bitter dispute over pay for NHS staff shows no sign of being resolved.
Prime Minister Rishi Sunak said on Monday that he is not able to "wave a magic wand" and that giving pay rises to striking staff would lead to money being taken away from "elsewhere in the NHS budget".
But he insisted that the Government would continue to "engage in dialogue with the unions".
It comes as almost 2,000 ambulance workers in the North West of England have begun a fresh strike.
"North West ambulance workers are angry," said GMB representative and North West Ambulance Service paramedic Paul Turner.
"Instead of talking about pay for this year to resolve this dispute, ministers are demonising us and belittling our efforts to save lives.
"The NHS is collapsing, yet we have been waiting two weeks today for another meeting with ministers.
"The only way to solve this dispute is a proper pay offer. We are waiting."
It is the second day of strike action for ambulance staff in the region after members of the Unison and Unite unions walked out on Monday.
North West Ambulance Service said that "resources will be severely restricted" as it urged the public to only call with life-threatening emergencies.
On Monday, the Prime Minister told ITV News: "Taking a step back, of course it would be lovely to be able to wave a magic wand and just give everyone what they were demanding when it came to pay.
"But my job as Prime Minister is to make the right decisions for the country, and they are, more often than not, not easy decisions.
"But that's my job, and that's what I will always do in this job, and… when you think about this, how would we pay for these things? Where's the money going to come from?
"Actually, it's probably going to have to come from elsewhere in the NHS budget, and that means fewer nurses, fewer doctors, fewer MRI scanners and CT scanners that are diagnosing people with cancer or indeed fewer mental health ambulances that we're announcing today that are going to save people from going to A&E.
"My job is to balance all of those things and do what I believe is right for the country."
But he said the Government would continue talks with unions.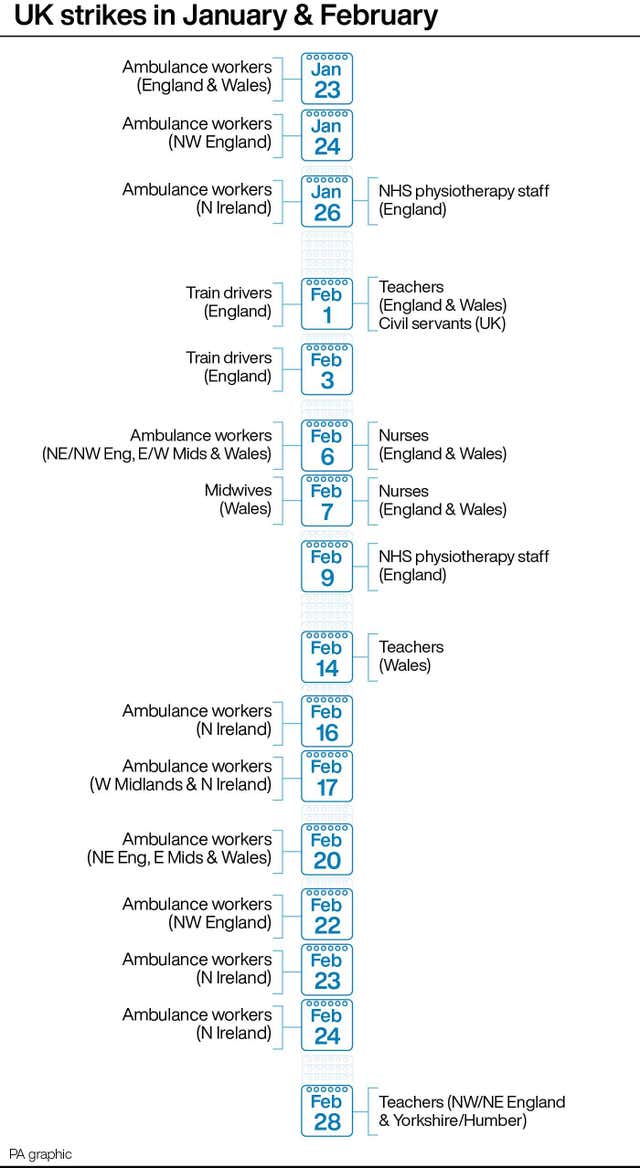 Combined walkouts in early February could lead to the biggest walkouts the NHS has ever experienced.
Thousands of nurses and ambulance workers are due to stage walkouts on February 6 if no deal has been reached by then.
And as nurses take strike action on February 7, they will be joined by midwives in Wales.
Members of the Royal College of Midwives in Wales are to stage an eight-hour walkout from 8am to 4pm but will provide "bank holiday cover" for women in labour.
Health Secretary Steve Barclay has described "constructive talks with unions about this coming year's pay process for 2023/24", but unions have been calling for the 2022/23 pay award to be reviewed.