The Prime Minister has faced questions about whether the Government has "blood on their hands" over failings in the Probation Service which contributed to the death of Zara Aleena.
Labour leader Sir Keir Starmer pressed Rishi Sunak about whether he accepted the claim from Ms Aleena's family, which came in the wake of a report by the chief inspector of probation in to her death.
The investigation laid bare a catalogue of errors by probation officers before Jordan McSweeney carried out the fatal attack on the aspiring lawyer.
Following the watchdog's report, Ms Aleena's aunt, Farah Naz, said that the Probation Service "have blood on their hands".
In an uncharacteristically quiet and sombre start to Prime Minister's Questions, Sir Keir questioned whether Mr Sunak accepted the findings of the report, before turning to the family's verdict.
The Opposition leader in the Commons said: "Zara Aleena was walking home from a night out with her friends when she was savagely attacked, assaulted, and beaten to death. Zara was a brilliant young woman, a trainee lawyer with a bright future."
"The inspectorate report into her case says that opportunities were missed by the Probation Service that could have prevented this attack and saved her life. Does the Prime Minister accept those findings?"
Mr Sunak said "this was a truly terrible crime" and that the failings the chief inspector found "were serious and indeed, unacceptable".
Sir Keir continued: "The report also says that staffing vacancies and excessive workloads contributed to those fatal failures. And it makes absolutely clear this was not a one-off.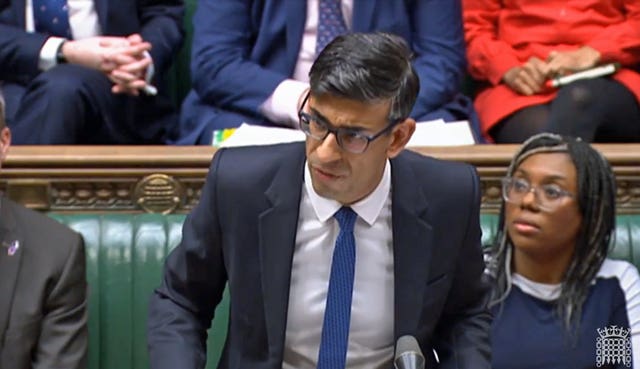 Mr Sunak replied: "Let me outline for him exactly what steps we are taking, and that's to ensure that mandatory training to improve risk assessments is being put in place.
"It's mandating checks with the police and children's services before a probation officer can recommend to the court that a convicted offender be given (an) electronically monitored offence, and implementing new processes to guarantee the swift recall of offenders.
"And the action we are taking is already making a difference as, for example, we see in the reduction of the number of electronically monitored curfews being given by the courts."
Sir Keir concluded his questions on the case by describing the failings in the Probation Service as a result of "a botched-then-reversed privatisation, after a decade of underinvestment" by the Government.
"He's accepted the findings of the report, does he also accept what Zara's family say?"
Mr Sunak did not respond directly to the question, but said that his "heart of course goes out to Zara's family", adding that the Government had made moves to address staff shortages and other issues in the Probation Service.
The Prime Minister added: "If we do want to increase the safety of women and girls out on our streets, then we need tough sentencing, and that is why this Government passed the Police, Crime, Sentencing and Courts Act, which he (Sir Keir) opposite and his party opposed."
Sir Keir replied: "In light of the case of Zara, I really don't think the Prime Minister should be boasting about the protection that he is putting in place for women."