Thousands of health workers are taking part in strike action across Northern Ireland.
Paramedics are among the workers taking part at picket lines across the region on Thursday.
Workers with the unions Nipsa, Unison and Unite are staging the action.
The 24-hour stoppage will be the latest full day of action taken by health sector unions as they press for safe staffing, better pay and improved mileage allowances.
The Royal College of Nursing also took part in strike action over pay and safe staffing levels in December.
At the Royal Victoria Hospital in Belfast, paramedic Gabriel McComish said there is a need for change within the health service and attitude towards public services.
He described working conditions as "horrendous".
"We have an increase in population, increased numbers and a reduced workforce, we have people leaving on an annual basis for new opportunities within health organisations around the UK and private health," he told the PA news agency.
"We need to hold on to staff and the only way you can hold on to staff is to respect us, don't disrespect us because once you start to disrespect us, people will leave and the community will suffer.
"Year after year we have seen cuts in funding and we have seen our colleagues leave early, retiring early, becoming sick or leaving for other industries.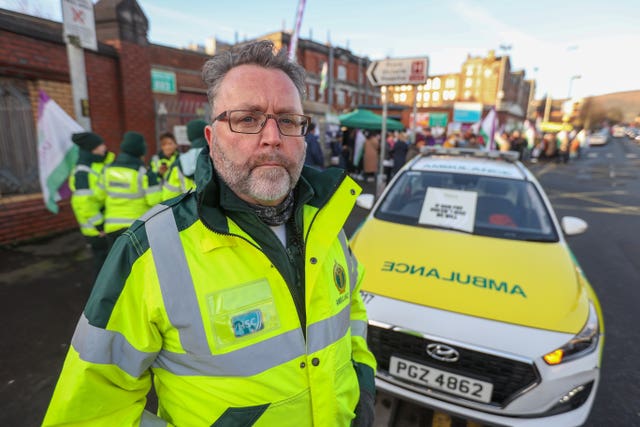 Mr McComish said with the ongoing crisis in hospitals, paramedics are spending hours after their shift ended waiting outside Emergency Departments.
"We're struggling to get finished on time on a daily basis, day after day after day our crews are being held up three to four hours after their finishing time, they can't get home to their families, they can't get their annual leave. They're tired and depressed about the whole situation," he said.
He said workers are determined to stand tall and fight back.
"Morale at the minute is quite high because when you're in a situation where you're up against a wall, you have to fight back so people are standing firm and tall, we have a fight on our hands and we're going to fight until this is resolved," he said.
"We need this government to come in and start talking to us properly."
Eddie Richmond, a duty control manager with the ambulance service, said workers are still there to help those most in need.
"We will still provide that cover, and we have gone to great lengths working with our management team to ensure that cover is maintained at all times," he said.
"But it is important that the message goes out that the health service is broken, and there is no use saying it is on its knees, or got run down, it is broken and it needs to be fixed.
"We have tried, we have gone to the Government, we have gone to the department (of health), we've argued, we've presented the case, it's not just about money. This is about the service and the fact it is now completely broken.
"We would like to see a turnaround, a proper investment, jobs, there are 100,000-plus vacancies in the NHS across the country, we would like to see those positions filled.
"This is not just about pay, this is about the service and the service we provide to the public."
Anne Speed, of Unison, said in the absence of talks, workers are "stepping out and stepping up".
"It is an appalling situation when trade unions willing to negotiate have all doors closed to them. It is therefore inevitable that this action today is happening," she said.
"Health workers cannot stand idly by or stay silent. And why should they?"
Ms Speed also lambasted Secretary of State Chris Heaton-Harris, who is currently on a trip to the United States aimed at encouraging trade opportunities.
The Stormont Assembly remains in flux with no ministers in post.
"It is time he included in his priorities addressing the crisis in our health service. Staff recruitment and retention and pay justice are every bit as important as trade," she said.
"Our members also expect a joint effort from all political parties to break this logjam."
In a statement, the Northern Ireland Ambulance Service (NIAS) said it has engaged with trade union representatives to identify services and roles that will be exempt from strike action to ensure that a response continues to the most clinically urgent patients.
However, NIAS said it anticipates challenges throughout Thursday and that it plans to maintain the safety of those patients whose need is greatest.
It has urged the public to only call for an ambulance on Thursday in life-threatening emergencies such as cardiac arrest, loss of consciousness, breathing difficulties, severe bleeding and others.
"Callers should not hesitate to call 999 in the case of serious illness or injury, but other callers should consider other options including self-care, seeking GP or pharmacy advice or presenting themselves to Emergency Departments," the service said.
The spokesman added: "NIAS respects the right of our staff who are union members to participate in industrial action.
"This action is being taken in relation to the national issues of pay and conditions and is a matter for the Government and trade unions."