A group of climate activists have occupied reserved tables in a protest at a high-end London restaurant.
Fifteen protesters from Animal Rebellion, an offshoot of activist group Extinction Rebellion, entered Scott's seafood restaurant in Mayfair on Friday evening to call for an end to animal farming and fishing.
They sat down at tables reserved for diners at just before 7pm with self-made menus explaining the benefits of a plant-based diet.
Police officers were present as protesters were seen being carried out of the restaurant.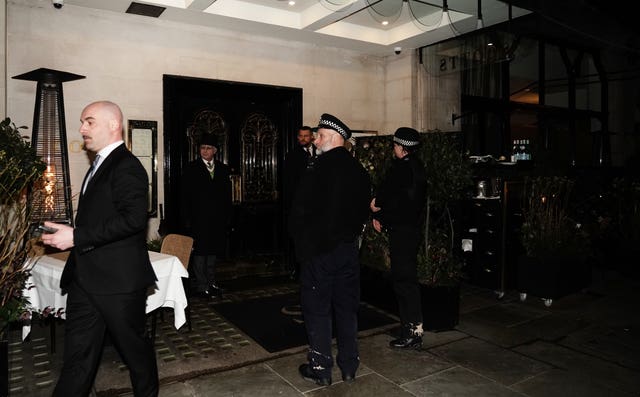 "Restaurants like this are symbols of horrific inequality, whether it's the cost-of-living crisis, the climate emergency and the animal emergency.
"We know that transitioning to a plant-based food system would support fishing communities into sustainable jobs whilst providing abundant affordable and nutritious food, not to mention the benefits of marine rewilding."
The Metropolitan Police said: "Police were called at 19:09hrs after a group of protesters entered a restaurant in Mount Street W1K.
"They were later removed by security."
A spokesperson for Scott's said: "All of our seafood suppliers adhere to strict government guidelines and all of the fish on our menu is sustainably caught.
"Our fish is only taken from boats that are licensed to fish their quotas in an ethical way."