The Government and education unions have agreed to hold "intensive talks" on the issues which have sparked a series of strikes by teachers in recent months, it has been announced.
The talks, which will focus on pay, conditions and workload reduction, will involve unions including the National Education Union (NEU), whose members were on strike in England earlier this week.
A joint statement by the Government and education unions said: "The Government and the education trade unions, Association of School and College Leaders, National Association of Head Teachers, NASUWT and National Education Union, have agreed to move into a period of intensive talks. The talks will focus on teacher pay, conditions and workload reduction.
"In order for talks to begin and, we hope, reach a successful conclusion, the NEU has confirmed it will create a period of calm for two weeks during which time they have said no further strike dates will be announced.
"The Education Secretary and all unions will meet today, beginning intensive talks, which will continue over the weekend."
The Department of Health and Social Care said the British Medical Association (BMA) has agreed to enter into talks on pay for junior doctors under the same terms as unions representing nurses, ambulance staff and other NHS workers in talks which concluded this week.
The dispute led to a three-day walkout from junior doctors this week, which NHS England said caused 175,000 appointments and procedures to be postponed.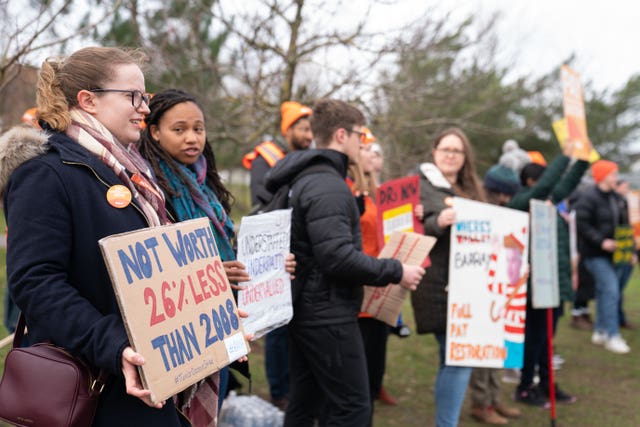 They acknowledged some members would have "reservations" about the suspension of industrial action, but said they were ready to return to the picket line in the event of a "substandard offer".
They wrote: "We are entering these negotiations in good faith and, having completed our initial 72-hour strike, there is a window of opportunity here where we can achieve full pay restoration.
"This has always been our aim, and we will always be willing to talk anywhere and on any grounds that do not prevent us from achieving this goal."
Downing Street said later on Friday the new pay deal offered to striking workers including nurses and paramedics would cost an additional £4 billion.
A No 10 spokesman said: "The non-consolidated element for 2022/23 is an additional investment of around £2.7 billion.
"The consolidated element for 2023/24 is an additional investment of around £1.3 billion."
He would not detail how it will be funded, with the health department to hold discussions with the Treasury.
Meanwhile, the Public and Commercial Services (PCS) union has announced a five-week strike by its members in the Passport Office in an escalation of its long-running dispute with the Government over pay, pensions, jobs and conditions.
Those working in Durham, Glasgow, Liverpool, London, Newport, Peterborough and Southport will walk out from April 3 to May 5, while those in Belfast will strike from April 7 to May 5.
PCS general secretary Mark Serwotka said: "This escalation of our action has come about because, in sharp contrast with other parts of the public sector, ministers have failed to hold any meaningful talks with us, despite two massive strikes and sustained, targeted action lasting six months.
"Their approach is further evidence they're treating their own workforce worse than anyone else. They've had six months to resolve this dispute but for six months have refused to improve their 2% imposed pay rise, and failed to address our members' other issues of concern.
"They seem to think if they ignore our members, they'll go away. But how can our members ignore the cost-of-living crisis when 40,000 civil servants are using foodbanks and 45,000 of them are claiming the benefits they administer themselves?
"It's a national scandal and a stain on this Government's reputation that so many of its own workforce are living in poverty."
The British Dental Association remains in dispute with the government and stressed on Friday it has not received a pay offer despite yesterday's breakthrough.
Chairman Eddie Crouch said: "Like our BMA colleagues working under the Junior Contract we've received no offer and have been party to no negotiations."
The British Dietetic Association, the professional body and trade union for dieticians, was one of the unions which received the new pay offer.