A sea of green made up of half a million people descended on Dublin City centre for a St Patrick's Day parade that organisers predicted would be "the biggest and best".
Celebrations took place across the island of Ireland with massive crowds turning out to mark March 17 in towns and cities.
Many more watched Dublin's 2023 parade, featuring 4,200 performers including marching bands, aerial acrobats and vibrant costumes, live on television.
Parade attendees showed up in leprechaun hats, dyed-green beards and emerald scarves.
Along the busy parade barrier, children were perched on the shoulders of their parents to get a view of colourful dancers, brass bands and carefully constructed floats.
The parade centred around the theme of "ONE" to "shine a light on all the goodness that surrounds us" by protecting and embracing global traditions, culture and heritage.
The parade started at Parnell Square, snaking its way through some of the city's most popular thoroughfares like O'Connell Street and College Green before culminating on Kevin Street.
The Republic of Ireland women's football team was chosen as this year's grand marshal and was represented by manager Vera Pauw and other famous faces from the team's past and present.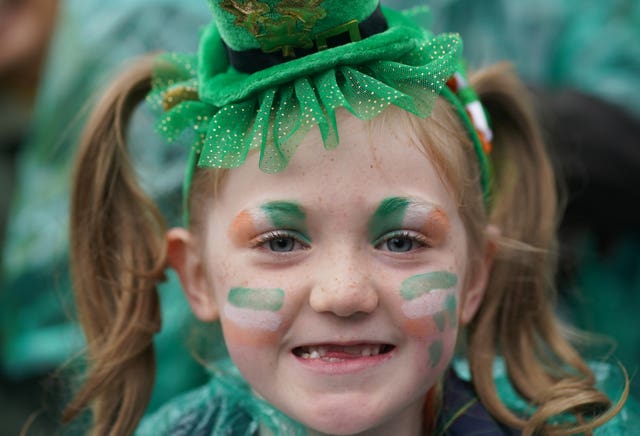 "The thought that I, as a foreigner, could lead the team out and represent the team is a highlight of my life", she said.
"I'm absolutely delighted that Ireland has let me in to their celebrations of this magic day."
"The beauty of my feeling of being in this parade is the coming together of the heritage that I have, that I'm discovering on a daily basis by being here," he said.
"Return is the key word that people feel when they come to Ireland, the sense is that you're returning somewhere," he added.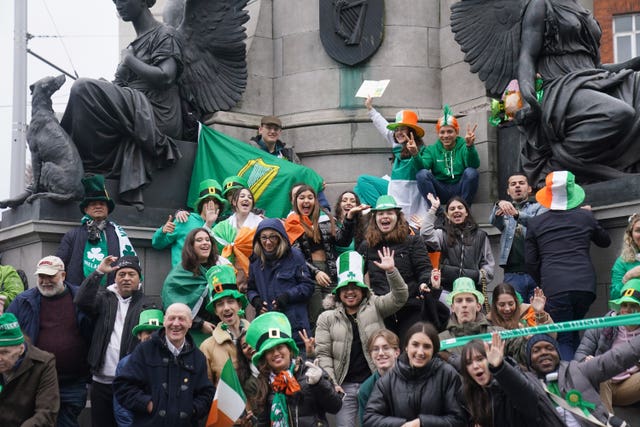 The actor was born on St Patrick's Day and celebrated his 74th birthday by blowing out the candles on a large green cake.
National forecaster Met Eireann had predicted scattered outbreaks of rain and drizzle, including isolated thunderstorms in the west of the country.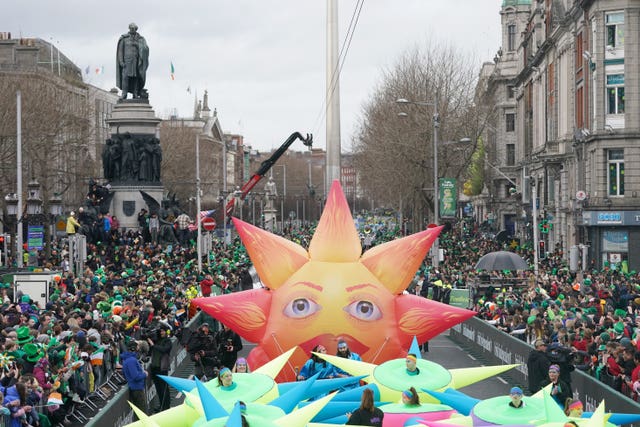 That wish mostly came true with the faintest scatterings of drizzle hardly dampening the mood.
Pauw and Duffy waved to the crowds as they drove by in vintage cars.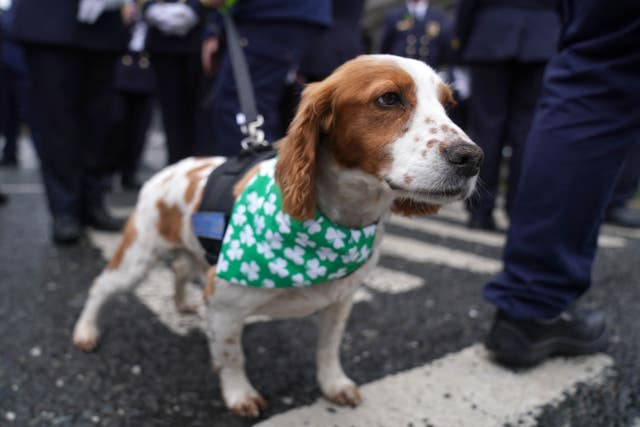 "I think this year's parade is definitely going to be the biggest and the best," he said.
Thousands of people also lined streets of major towns and cities in Northern Ireland for parades.
Large celebrations took place in Belfast, Newry, Downpatrick and elsewhere.
In Belfast, there was a musical theme to St Patrick's Day celebrations with thousands coming into the city centre for the annual celebration.
The theme for this year's event was voices of Belfast and it was billed as a celebration of the city's music heritage from pop to punk and traditional to disco.