The Home Secretary has said there is a "gross misperception about Rwanda in the UK" after being asked if the migration deal affected the Government's ability to criticise the country on other issues.
Neighbouring nation the Democratic Republic of Congo (DRC) accused Rwanda of firing rockets into its territory last year – as tensions between the two nations remains high.
But Ms Braverman said any concerns ministers had with Rwanda about the support of rebels in DRC would be raised in private, describing the relationship between the African nation and the UK as "close" and "frank".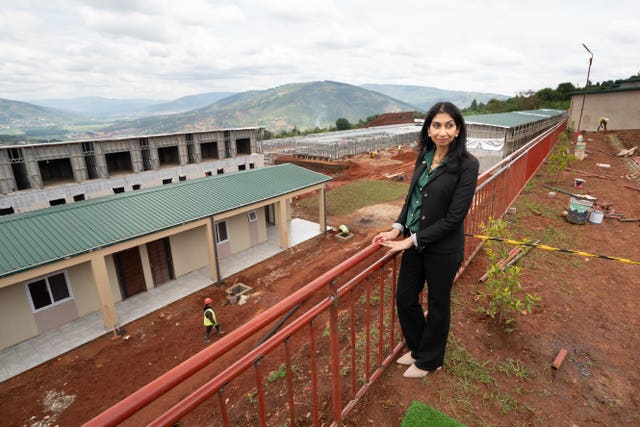 "Ministers, if there are concerns, we'll raise them in private and that's the right way that international relations operates.
"What I would say is that there is a gross misperception about Rwanda in the UK.
"Actually, this is my third visit to Rwanda in the last 15 years or so, and Rwanda is a safe country.
"And that's not just me saying that, that's our High Court – putting it in an exhaustive judgment.
"Our scheme complies with international law it complies with the European Convention on Human Rights and complies with the Refugee Convention."
Ms Braverman continued: "Rwanda is a forward-looking dynamic economy.
"Rwanda has a real role and it's a beacon in the region for providing humanitarian relief and refuge to refugees in the region.
"So I think that there there are myths about Rwanda and really, I'm here to be a champion of our friends in Rwanda and to work in partnership with them."
Pressed on whether the deal affected the Government's ability to criticise Rwanda on other issues, Ms Braverman said: "As I said, if there are any concerns, those will be raised by relevant ministers in private."