The Rwandan government has said it is "ready to absorb the thousands that will come from the UK" as the Home Secretary visited the country to affirm her commitment to the migration deal.
Yolande Makolo, spokeswoman for the Rwandan government, said she did not consider living in Rwanda a "punishment", adding: "We're determined to make this a success."
Ms Makolo told reporters the African nation has "always been prepared" to take the migrants, describing the country as "welcoming" to refugees.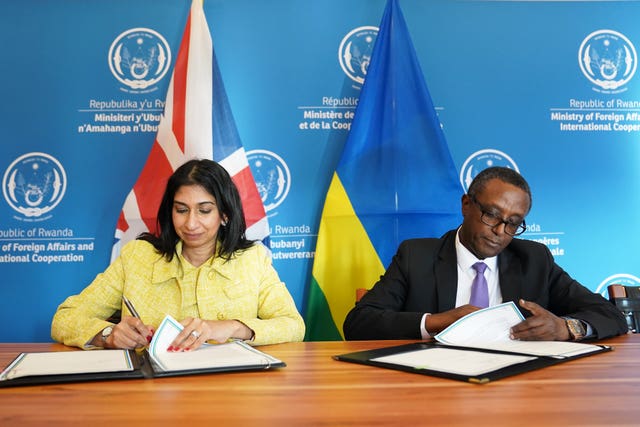 "We have built this country literally from scratch in the last 30 years or so. We're very proud of what we've done here.
"We have Rwandans behind us – Rwandans are welcoming to migrants and refugees.
"We want to contribute to improving the global migration system, which is not fit for purpose. It's broken.
"Let's be honest, it's not working. It's not meant for the kind of problems we have today."
Her words come as a Home Office source said Ms Braverman was making plans for the first flights to the country to come by the summer.
Ms Makolo said: "We are proud to be partnering with the UK in an innovative partnership that is seeking to address this global challenge.
"This is what this partnership is about. We're in it for the right reasons.
"For us as Rwandans, we do not want to see young Africans dying on these dangerous journeys, dying in the desert or being buried at the bottom of the sea."
Ms Makolo added: "We have always been prepared to receive thousands of migrants over the course of the initiative. We've always been ready for that.
"We are going to be ready to absorb the thousands that will come from the UK along the life of this partnership.
"We're determined to make this a success."