A giant puppet of a 10-year-old Syrian refugee has led a crowd along Brighton beach as it continues to spread its message of solidarity with displaced people.
Little Amal, designed to highlight the plight of child refugees, became an international symbol of human rights after she journeyed 8,000km from the Turkish-Syrian border to Manchester in July 2021.
The 3.5m puppet has now returned to the UK to further raise awareness and funds for refugees around the world.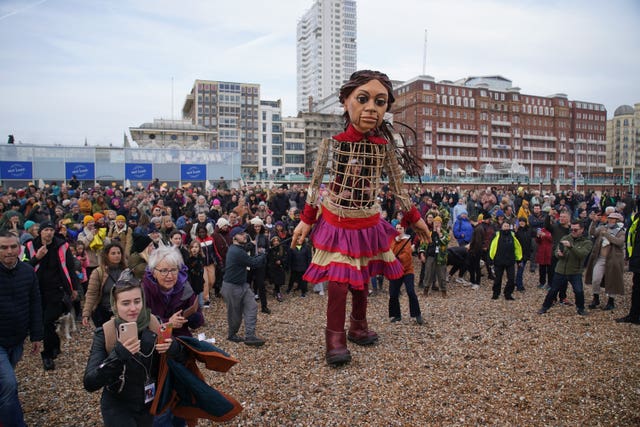 On Wednesday, the puppet returned to London and explored historic sites including the Tower of London, where she was greeted by the Yeomen of the Guard.
She also visited other spots in the capital, such as Paternoster Square, Bloomberg Arcade and Leadenhall Market.
Amal is due back in London on Saturday where she will lead another sponsored walk through Hampstead Heath in collaboration with the charity Choose Love, which provides humanitarian aid and advocacy for refugees.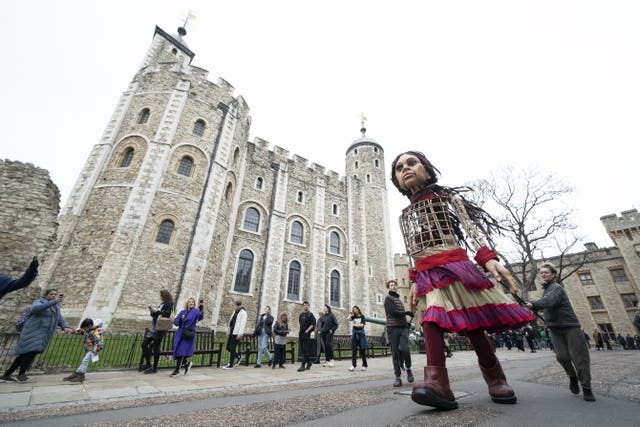 Later in the day, she will meet Christian communities before leading a parade of Ramadan-inspired lanterns through central London to an Open Iftar run by Ramadan Tent Project.
Amir Nizar Zuabi, artistic director of Little Amal, said: "Now more than ever we must stand shoulder to shoulder with those who need protection.
"We hope that the two walks Amal will lead with the public on Hampstead Heath and Brighton beach will serve as a reminder to us all that helping those in need is a sign of strength and that hope is stronger than fear."
Enver Solomon, spokesperson for Together With Refugees and chief executive of the Refugee Council, said: "This walk on Brighton beach with Little Amal is a poignant demonstration of compassion for refugees.
"She is a beautiful symbol of hope that has never been more needed by those facing a terrifying journey to find safety.
"With current Government policy failing those fleeing from war and persecution in their home countries this is a much-needed moment of welcome."
In her short life, Amal has visited countries all over Europe as well as New York and Cop26 in Glasgow.
She also joined rock band Elbow on the Pyramid Stage at Glastonbury last summer alongside a choir of refugees.