Gwyneth Paltrow is "not a liar" but is wrong about what she believes happened during a ski crash seven years ago, a US court has heard.
The Oscar-winning actress's view on how events unfolded during the 2016 collision were "sincerely expressed" but incorrect, jurors in Utah heard.
Ms Paltrow is accused of "slamming" into retired optometrist Terry Sanderson, leaving him with several broken ribs and severe brain injuries.
Closing arguments took place in front of a packed courtroom on Thursday, as the high-profile trial drew to a close, with lawyers for Mr Sanderson suggesting he be paid damages of more than three million dollars.
Robert Sykes, representing Mr Sanderson, was the first to address the court, and told jurors that his client "never came home" from the mountain following the collision.
"Gwyneth Paltrow in this case is not a liar. Terry Sanderson is not a liar," he said.
"Gwyneth is a good person. She is a good mother and she loves her children and she is passionate about things.
"I think that she believes, and I believe Gwyneth Paltrow when she says 'Terry hit me in the back' – it's a sincere belief but the problem is a sincere belief doesn't make it so."
"We don't hold anything against Gwyneth for her viewpoint – it's sincerely expressed, but she's wrong based on the evidence. And Terry is correct."
Fellow skier Craig Ramon, who gave evidence Ms Paltrow had collided with Mr Sanderson, had been the only person who had witnessed the collision and had "no dog in the fight", the court heard.
"There is an eye witness, Craig Ramon… he saw the whole thing, he saw the impact and he is the only one that saw it," Mr Sykes said.
"He's not close to Terry, they went for garlic burgers twice… he has no dog in the fight. He has no reason, no motive to falsify this."
Mr Sykes said that he had found the evidence of Ms Paltrow's ski instructor Eric Christiansen to be "unbelievable and inconsistent", and believed there had been a "cover-up" by the Deer Valley resort over what had happened.
He added: "That day that Terry left his house to go skiing… he anticipated like many other days in his life a fun day of skiing, and he never returned home that night as the same Terry. He never came home, figuratively speaking.
"Terry has tried to get off that mountain but he's really still there. Part of Terry will forever be (there)."
Mr Sykes added: "He's spent hours and hours trying to get better. If you've heard anything about him, he's almost extreme in trying to get better.
"We hope you will help bring Terry home off that mountain with a fair verdict today."
Lawrence Buhler, also representing Mr Sanderson, suggested that the jury award him damages of more than three million dollars.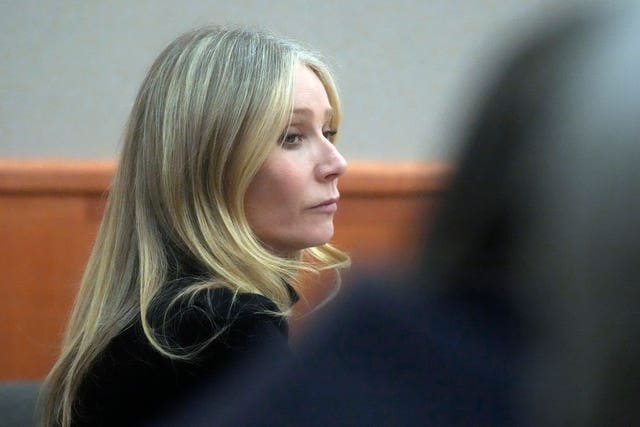 Mr Buhler said that Mr Sanderson had told him he would rather "go back in time" but calculated a total sum of 3,276,000 dollars (£2,645,861).
Writing on a board Mr Buhler explained his working, saying: "Sixteen hours a day, times 365 days a year… Terry is likely to live another 10 years, though we hope he lives a lot longer… that's 17 years.
"There is no price that you can give for Terry's time, but what is the value that has been taken away from Terry?
"Sixteen times 365, times 17, times… I'm going to say 33 dollars (£26). This equation is 3,276,000 dollars."
He added: "This case is not about celebrity… this is about a man's life."
In the past week both Ms Paltrow and Mr Sanderson have entered the witness box to recount their version of events.
Throughout the trial jurors have also heard from a variety of medical experts, ski instructors, and members of both Mr Sanderson and Ms Paltrow's family, including the actress's children Apple and Moses Martin.
Jurors will be sent to deliberate on their verdicts in the case after closing arguments from both sides are concluded.