Net migration to the UK hit a new record high of 606,000 last year, driven by people from non-EU countries arriving for work, study and humanitarian reasons, new estimates show.
The figure, which is the difference between the number of people moving to the UK and the number leaving, is up from 488,000 in 2021.
A total of 1.2 million people are likely to have migrated to the UK in 2022, while 557,000 are estimated to have migrated from the UK in the same period.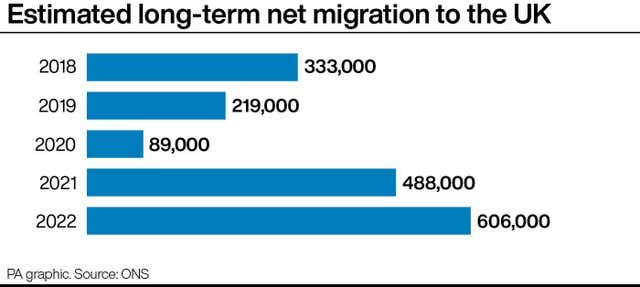 He continued: "The main drivers of the increase were people coming to the UK from non-EU countries for work, study and for humanitarian purposes, including those arriving from Ukraine and Hong Kong.
"There are some signs that the underlying drivers behind these high levels of migration are changing. As lockdown restrictions were lifted in 2021, we saw a sharp increase in students arriving. Recent data suggests that those arriving in 2021 are now leaving the country, with the overall share of non-EU immigration for students falling in 2022.
"In contrast those arriving on humanitarian routes increased over the 12 months. Evidence also suggests immigration has slowed in recent months, potentially demonstrating the temporary nature of these events."
Immigration is estimated to have slowed in recent months while emigration has increased, meaning the net migration total of 606,000 for the year to December 2022 is similar to the level in the 12 months to June 2022, the ONS said.
The new figures show some 925,000 non-EU nationals are likely to have come to the UK during the whole of 2022, compared with 263,000 who left the country.
The reverse is true for EU nationals, with more estimated to have left the UK – 202,000 – than arrived – 151,000.
People arriving on study-related visas accounted for the largest proportion (39%) of long-term immigration of non-EU nationals last year, at 361,000 people, up from 301,000 in 2021.
This increase is mainly attributed to people arriving as dependants, up from 41,000 in 2021 to 85,000 in 2022.
The second-largest proportion of non-EU immigration in 2022 was people arriving on work-related visas (25%), at 235,000 people, up from 137,000 in 2021.
The remainder of the total was made up of people arriving for asylum (8%), on family visas (6%) and for other reasons (3%).
People arriving in the UK after crossing the English Channel on small boats are included in the migration figures only if they have claimed asylum, the ONS added.