Labour leader Sir Keir Starmer has said he is in "no doubt" there will be a by-election in Margaret Ferrier's seat, as he urged the SNP and Conservatives to avoid "dither and delay".
Speaking during a visit to the former SNP MP's Rutherglen and Hamilton West seat, Sir Keir said he is confident the Commons will back the 30-day suspension from the House she faces following her conviction for breaking Covid restrictions, despite it being pulled on Thursday.
Seeing the seat as a potential gain that could add momentum to its campaign ahead of the general election expected next year, Labour has ramped up its campaigning in the area, with Sir Keir visiting on Friday and the selection of teacher Michael Shanks as the party's candidate.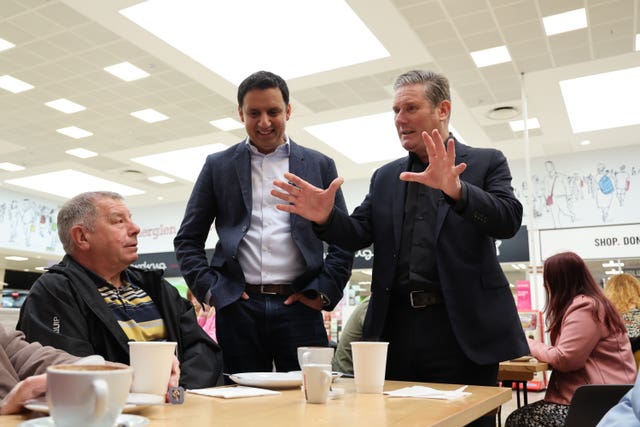 Speaking to journalists following the visit, he said: "It's going to happen, Parliament I'm sure will vote to uphold the sanction, and I've no doubt there will be a recall petition, and I've no doubt there will be a by-election."
But following the Government decision to pull the vote that could trigger the petition, and the responsibility on the SNP to file the writ that would vacate the seat, the Labour leader issued a warning about the timing.
"This constituency has been let down for too long," he said.
"We need to get on with this by-election and nobody should be dithering and delaying, whether it's the Tories or the SNP, they have no right to deprive this constituency of the effective representation that it deserves."
Scottish Labour leader Anas Sarwar was firmer in his challenge, particularly to the SNP, saying he expects the nationalists to "deliberately" delay the vote.
Ms Ferrier was found guilty of culpably and recklessly exposing the public "to the risk of infection, illness and death" by breaching Covid restrictions, and the Commons Standards Committee subsequently recommended a 30-day suspension from the House.
She lost her appeal against the proposed suspension and a vote to approve it was due to be held on Thursday.
However a motion to put it to MPs was not moved by the Government, and it is understood there were concerns there was not the requisite number of MPs in the Commons for the vote to take place.
With Westminster in recess next week, the earliest the vote can return to the order paper is June 5.
If the suspension is approved, it would spark Scotland's first recall petition, with constituents given the chance to call a by-election if 10% sign the document.
Ms Ferrier has already been ordered to complete a 270-hour community payback order by a court for the offence.