The Duke of Sussex is due to resume giving evidence in his High Court claim against the publisher of the Daily Mirror over alleged unlawful information gathering.
The duke, 38, is suing MGN for damages, claiming journalists at its titles – which also include the Sunday Mirror and Sunday People – were linked to methods including phone hacking, so-called "blagging" or gaining information by deception, and use of private investigators for unlawful activities.
He alleges that about 140 articles published between 1996 and 2010 by MGN titles contained information gathered using unlawful methods, and 33 of these have been selected to be considered at the trial.
He is due to be questioned further on Wednesday and his evidence is expected to be concluded by 1pm, but it may take longer.
In his written evidence before the court, Harry said MGN's alleged intrusion into his life contributed to "a huge amount of paranoia" in his relationships.
In a 49-page witness statement, the duke said that he found it "very hard to trust anyone, which led to bouts of depression and paranoia".
"Friendships were lost entirely unnecessarily," he continued, later adding that some of his friends "became instant targets".
The duke later said that he can now see "how much of my life was wasted on this paranoia", adding: "I've always heard people refer to my mother as paranoid, but she wasn't.
"She was fearful of what was actually happening to her and now I know that I was the same."
Andrew Green KC, for MGN, questioned Harry on about 20 of the 33 articles over the course of Tuesday.
The duke said his understanding was that MGN journalists used unlawful methods to get "exclusive" angles on existing stories or to move the story on in some way.
Mr Green also asked Harry about his claim that articles "caused him to be paranoid and to distrust those around him", and whether he was referring to specific MGN articles or "the general effect of all of the articles" about him.
Harry said: "Yes, because … it is 20 years ago and I simply can't other than speculate whether I saw these articles at the time.
"I certainly saw a lot of articles at the time and was made aware … unfortunately, by the behaviour and reaction of my inner circle."
The duke added that when information he had told to only a few members of his inner circle was made public, "your circle of friends starts to shrink".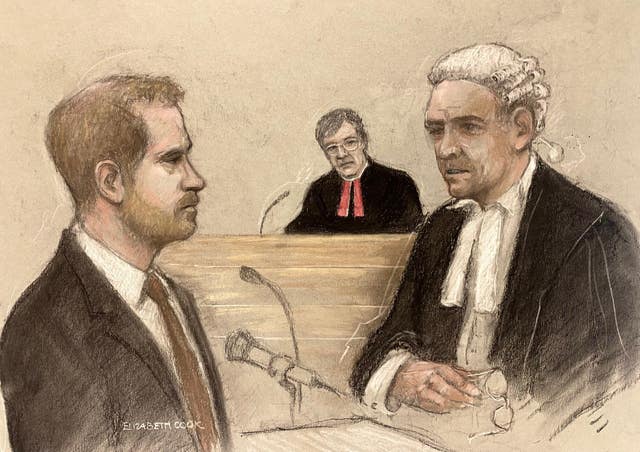 At the start of the duke's individual case on Monday, Mr Green said there was "simply no evidence capable of supporting the finding that the Duke of Sussex was hacked, let alone on a habitual basis" and that payment records used in the duke's claim "simply do not demonstrate unlawful conduct or knowledge thereof".
Harry's claim is being heard alongside three other "representative" claims during a trial which began last month and is due to last six to seven weeks.
The three other representative claimants are Coronation Street actor Michael Turner, known professionally as Michael Le Vell, who is best known for playing Kevin Webster in the long-running soap, former Coronation Street actress Nikki Sanderson, and comedian Paul Whitehouse's ex-wife Fiona Wightman.