Met receive report of alleged sex assault following Russell Brand news reports
The comedian has been accused of rape, assault and emotional abuse between 2006 and 2013.
The Metropolitan Police have received a report of an alleged sexual assault following news reports about Russell Brand.
The 48-year-old comedian and actor has been accused of rape, assault and emotional abuse between 2006 and 2013, when he was at the height of his fame working for the BBC, Channel 4 and starring in Hollywood films.
Brand has strongly denied the allegations, which also include claims of controlling, abusive and predatory behaviour.
The Met Police said they have now received an allegation of sexual assault in Soho, central London, in 2003, which emerged as the remaining live shows for his Bipolarisation tour were postponed.
"Officers are in contact with the woman and will be providing her with support.
"We first spoke with The Sunday Times on Saturday September 16 and have since made further approaches to The Sunday Times and Channel 4 to ensure that anyone who believes they have been the victim of a sexual offence is aware of how to report this to the police."
The woman who has now reported the alleged sexual assault had not spoken to The Sunday Times.
A performance of Brand's tour due to go ahead on Tuesday at the Theatre Royal Windsor in Berkshire was postponed, with the show's promoters saying in a statement shared by the theatre: "We are postponing these few remaining addiction charity fundraiser shows, we don't like doing it – but we know you'll understand."
The live shows were described as: "Rules and rule breaking! Democracy and freedom! We reach conclusions from mass confusion by polling the live audience."
Brand usually posts a new show on the video platform Rumble on weekdays at 5pm, but there was no new episode on Monday, with his most recent appearance a short one on Friday when he denied the allegations against him that were then published the following day.
A joint investigation by The Times, the Sunday Times and Channel 4's Dispatches includes allegations Brand assaulted one of the women when she was a 16-year-old schoolgirl and another woman has claimed that he raped her against a wall in his home in Los Angeles.
In a now deleted YouTube video, Brand can be heard joking about raping a woman during a recording of Richard Herring's Leicester Square Theatre Podcast in 2013.
In the clip, published by the MailOnline, he told the audience: "It's not my extremism that I need to protect, it's my mundanity.
"I'm just a bloke from Essex, from a single-parent family, that is a pretty comprehensive show-off."
After a pause, Brand added: "Oh, and also I raped someone once.
"I killed her after, she'll never tell."
The audience can be heard laughing, while Herring shakes his head and chuckles.
Before the first allegations were published, Brand posted a video on Friday saying he has been "promiscuous" but that all of his relationships have been "consensual".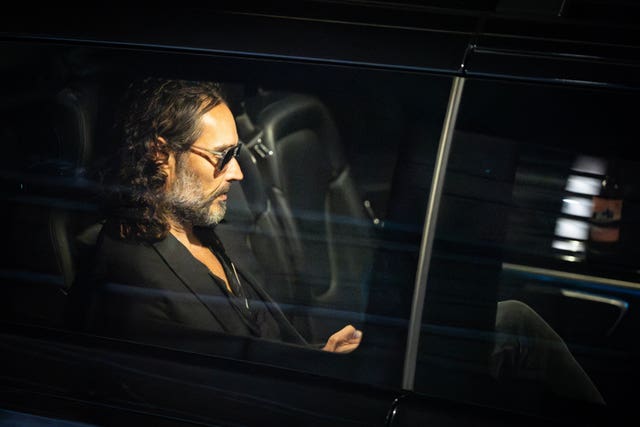 Downing Street urged the broadcasters to set out the results of their investigations into Brand "transparently".
Prime Minister Rishi Sunak's official spokesman called the allegations "very serious and concerning", and said: "People should feel able to raise concerns where they have them and know they will be treated seriously and treated with sensitivity."
He added: "The Prime Minister has been clear there should never be any space for harassment, regardless of where it is found."
Channel 4 announced that it has removed content featuring Brand from its streaming service while it looks into the claims and will remind production companies of its code of conduct.
"We are committed to ensuring our industry has safe, inclusive and professional working environments," the broadcaster's statement added.
It comes after Brand was accused of pursuing audience members for sex while presenting Big Brother spin-off shows EFourum and Big Brother's Big Mouth on Channel 4.
Banijay UK, which bought Endemol in 2020, said it has launched an "urgent internal investigation" and encouraged "anybody who feels that they were affected by Brand's behaviour" to come forward.
The BBC is facing questions after one of the women, who was 16 when she claims Brand began a relationship with her, alleged that he used the corporation's car service to pick her up from school to take her to his home.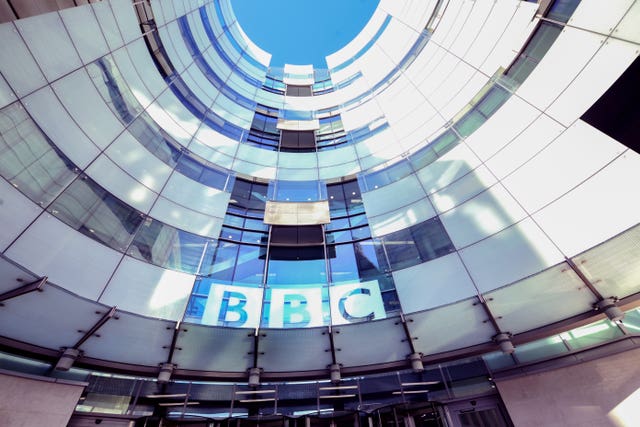 A spokesman for the agency said Brand "categorically and vehemently denied the allegations" at the time but they now believe they were "horribly misled" and have terminated all professional ties with the comedian.
Culture, Media and Sport Committee chairwoman Caroline Dinenage said the group will be looking for the same "reassurance" from the BBC which has been provided by Channel 4.
Ms Dinenage told BBC Radio 4's PM programme the committee would be examining "who knew what and when, and the extent to which any reports that happened at the time were investigated".
She said: "What's concerned me most has been the reaction across media and social media from the number of people that are saying 'This is shocking but not surprising', talking about open secrets and how this was, people were turning a blind eye, and that's what does worry me and I think that's what my committee will be looking at."
In a statement to the PA news agency Brand's publisher, Bluebird, said that "all future publishing" with the comedian had been paused.
The imprint of Pan Macmillan has published the comedian's titles including Recovery: Freedom From Our Addictions and Mentors: How To Help And Be Helped in recent years.
An upcoming title, Recovery: The Workbook, by the comedian, was due to be published by Bluebird in December 2025, according to the company's website.
As Dispatches aired on Saturday Brand performed a sold out comedy gig at the Troubadour Wembley Park Theatre in north-west London as part of his Russell Brand Bipolarisation tour.
In a statement, the Windsor venue's management said: "Theatre Royal Windsor will be offering ticket refunds in line with our terms and conditions of sale."
A spokesman for the Los Angeles Police Department (LAPD) told PA they do not have an open investigation into Brand, and another confirmed there have been no arrests following two allegations concerning claims that are said to have happened in the US.