Russell Brand faces further claims as more women reportedly come forward
'Several women' are said to have contacted The Times and The Sunday Times in the wake of a joint investigation with Channel 4 Dispatches.
Comedian and actor Russell Brand is facing further claims after more women have come forward with allegations, it has been reported.
"Several women" are said to have contacted The Times and The Sunday Times in the wake of a joint investigation with Channel 4 Dispatches which aired at the weekend and which saw separate allegations of sexual assault from four women.
The Times said on Monday that the new allegations have not yet been investigated, and will now "be rigorously checked".
Brand, 48, vehemently denies the allegations, which also includes claims of controlling, abusive and predatory behaviour, and said, in a video posted online on Friday night, that all of his relationships have been "consensual".
The allegations made against him include one woman who claims she was sexually assaulted during a three-month relationship with Brand when she was 16 and still at school.
The woman described his behaviour towards her as "grooming" as he would allegedly provide her with scripts on how to deceive her parents into allowing her to visit him.
The BBC is facing questions after it has been alleged that he used the corporation's car service to pick up the 16-year-old from school so she could visit his him at his home, according to The Times.
The woman claims she met Brand when he was 30 and a presenter on Radio 2. He later left the station after he made headlines in 2008 when he and guest Jonathan Ross left a "lewd" voicemail for Fawlty Towers actor Andrew Sachs – who died in 2016 – about his granddaughter.
The broadcaster previously said it is "urgently looking into the issues raised" while Brand worked on BBC radio programmes between 2006 and 2008.
In 2020, the same woman contacted contacted Brand's literary agent at the time, who was also the co-founder of talent agency Tavistock Wood.
A spokesman for the agency said Brand "categorically and vehemently denied the allegations" at the time but they now believe they were "horribly misled" and have terminated all professional ties with the comedian.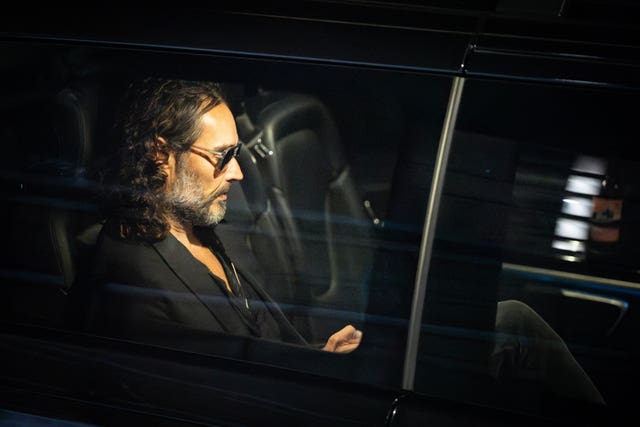 "We will be writing to all our current suppliers reminding them of their responsibilities under our Code of Conduct, as we are committed to ensuring our industry has safe, inclusive and professional working environments," a Channel 4 statement added.
It comes after Brand was accused of pursuing audience members for sex while presenting Big Brother spin-off shows EFourum and Big Brother's Big Mouth on Channel 4.
A researcher claimed concerns about Brand's behaviour were reported to production managers at Endemol, the company commissioned by Channel 4 to produce the programmes in 2004 and 2005, but were dismissed.
Banijay UK, which bought Endemol in 2020, later announced it has launched an "urgent internal investigation" and encouraged "anybody who feels that they were affected by Brand's behaviour" to come forward.
A spokesman for the Los Angeles Police Department (LAPD) told the PA news agency they do not have an open investigation into Brand, and another confirmed there have been no arrests following two allegations concerning claims that are said to have happened in the US.
Meanwhile, questions are now being asked about whether TV chiefs were aware of any concerns about Brand's behaviour while working on their programmes.
The chairwoman of the Commons Women and Equalities Committee has said she feels a criminal probe should look into the sexual assault allegations against Brand.
Caroline Nokes told BBC Radio 4's Today programme: "These allegations are incredibly shocking and criminal.
"And I would very much hope that complaints will be made both to the Metropolitan Police, and indeed in the States, because this merits and needs a criminal investigation, because for too long we have seen men, and the perpetrators of these sorts of crimes are almost invariably men, not being held to account for their behaviours and their actions."
She added: "Unfortunately it seems that celebrity, for whatever reason, can act as a shield for individuals who choose to conduct themselves in a way which, to be quite frank, if that were to happen in any business organisation, you'd like to think that they'd be out the door."
Asked whether it is a matter for her committee, the senior Tory MP said: "First and foremost I think it's a matter for the police."
In a video statement posted online ahead of the publication of the claims, Brand said he was facing a "litany of extremely egregious and aggressive attacks".
"Amidst this litany of astonishing, rather baroque attacks are some very serious allegations that I absolutely refute," he said.
As Dispatches aired on Saturday evening, Brand performed a sold-out comedy gig at the Troubadour Wembley Park Theatre in north-west London as part of his Russell Brand Bipolarisation tour.
He is scheduled to perform at three more venues in September, including a show at the Theatre Royal in Windsor on Tuesday, The Pavilions in Plymouth on Friday, and The Civic At The Halls in Wolverhampton next Thursday.