Almost 250 temporary classrooms on order to counter school concrete crisis
The Department for Education's top official told MPs that at least 29 schools in England needed mobile classrooms.
Almost 250 temporary classrooms have been ordered by at least 29 schools in response to the crumbling concrete crisis in England.
The Department for Education's (DfE) top official told MPs that 11 of those 29 schools with collapse-risk concrete were already operating with temporary classrooms.
Permanent secretary Susan Acland-Hood could not say how many temporary classrooms, which have been provided by both the department and local responsible bodies, were being used at those schools.
She said that, while temporary classrooms had been ordered in response to the reinforced autoclaved aerated concrete (Raac) situation, not all would be utilised due to solutions being used that would allow pupils to remain in their affected classrooms.
Giving evidence to MPs, Ms Acland-Hood said: "I will give you this figure because I want to be transparent, but I don't think it is a target because if we can remediate through timber framing on the classroom ceiling, then that is often a better solution.
"But at close on Friday, project directors and case workers had made inquiries requesting potential orders… relating to 180 single classrooms and 68 double classrooms, and a mix of what I think are brilliantly referred to as hygiene facilities, which I think means loos."
Ahead of Ms Acland-Hood announcing the figure, there had been a complaint from the committee that the information had not been provided earlier.
The committee chairman, Conservative MP Robin Walker, tabled a question to the DfE on September 11 asking how many mobile classrooms had been provided.
A written answer given by junior minister David Johnston on Monday did not provide a number.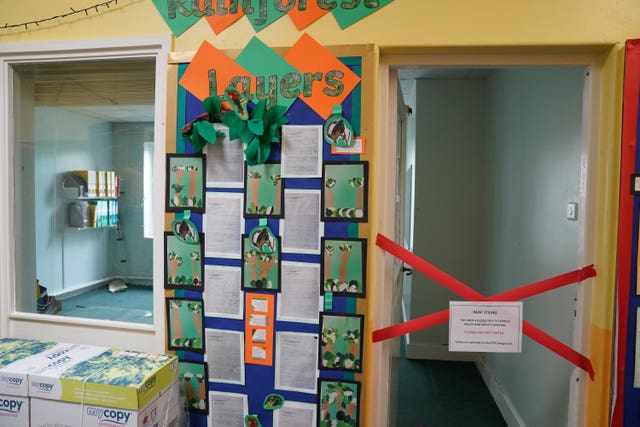 Tory MP Mark Francois, representing the Public Accounts Committee on the panel, said: "I think the problem is the department, or parts of the department, are still, if I can make an analogy, on a peacetime footing.
"I think you kind of need to move to a wartime footing.
"You need to absolutely slice through all of the usual 'computer says no' bureaucracy — it is a good way of summing it up — and move to a wartime footing, and do these things far quicker."
Addressing concerns about funding, Mr Francois, who has schools affected by Raac in his constituency, added: "We really do need a wartime mentality because in some cases heads have actually had to dip into their own pockets to pay for vital supplies that the department wouldn't sign off."
School system minister Baroness Barran, also giving evidence to the committee, said 98.6% of schools had carried out a questionnaire about whether they suspected they had Raac.
The Tory peer said the department would be phoning the schools that had yet to submit their findings, with "calls starting imminently".