Braverman urges Meta not to 'go dark' on detecting child abuse with encryption
Suella Braverman accused the company of failing to provide assurances that underage users will be protected from predators.
The Home Secretary has urged Meta not to "go dark" on detecting online child abuse by rolling out end-to-end encryption on its platforms without robust safety measures in place.
Suella Braverman accused the company, which owns Facebook, Instagram and WhatsApp, of failing to provide assurances that underage users will be protected from predators.
Along with security minister Tom Tugendhat and safeguarding minister Sarah Dines, she has called on the firm to "work with us" and enable police officers to "access online fora, acquire data (and) build investigations".
The appeal follows a similar intervention in July, when Ms Braverman wrote to Meta boss Mark Zuckerberg expressing her concerns about the planned rollout.
In a black and white video, she says: "Dear Mark Zuckerberg, I was 13 when I was groomed online and sexually assaulted in my bedroom, but sharing my story of survival gave me strength.
"No child should ever have to experience what I went through, and yet today, on your platforms, child sexual abuse is worse than ever. If you decide to implement end-to-end encryption without safety measures, this abuse will go undetected."
Meta-owned messaging app WhatsApp already offers end-to-end encryption by default, which prevents anyone other than the sender and recipient of a message from accessing its contents.
The social media giant is planning to add the feature to both Facebook Messenger and Instagram Direct chats later this year.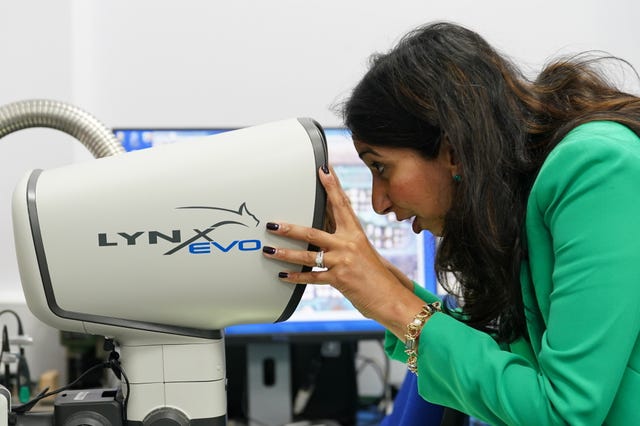 The company has insisted it has "robust" mechanisms in place to prevent and detect online abuse.
Ms Braverman said: "The use of strong encryption for online users remains a vital part of our digital world and I support it, so does the Government, but it cannot come at a cost to our children's safety.
"Meta has failed to provide assurances that they will keep their platforms safe from sickening abusers. They must develop appropriate safeguards to sit alongside their plans for end-to-end encryption."
Security Minister, Tom Tugendhat said: "Our law enforcement agencies are working day and night to crack down on child sexual abusers.
"The efforts of tech companies are crucial to their success. They have great influence over our lives, and with that power comes the responsibility to work with us to tackle this despicable abuse."
National Crime Agency (NCA) director of general threats, James Babbage, said if the company introduces end-to-end encryption as planned it will "massively reduce our collective ability" to protect children.
"We are not asking for new or additional law enforcement access, we simply ask that Meta retains the ability to keep working with us to identify and help prevent abuse," he said.
"This collaboration remains absolutely vital."
"Tech firms should be showing industry leadership by listening to the public and investing in technology that protects both the safety and privacy rights of all users," he said.
Ms Braverman on Tuesday visited a Kent Police investigation team dedicated to tackling online grooming.
Speaking afterwards, she said: "We're facing a national and international crisis actually, whereby the scourge of online child sexual abuse is at prolific levels, where paedophiles are operating on groups hosted by Facebook or Instagram and they are abusing children."
She added: "I'm… calling on the tech companies, in particular Facebook, to embrace the technology so that we put child safety first and foremost."
Meta already restricts people aged over 19 from messaging teenagers who do not follow them and has said it expects to continue providing "more reports to law enforcement than our peers".
In an update to a 2022 report on safety mechanisms published on Wednesday, it cited the "use of technology to distinguish between adult and teen accounts" and default privacy settings for people aged under 18 as examples of its approach.
A company spokesperson said: "The overwhelming majority of Brits already rely on apps that use encryption to keep them safe from hackers, fraudsters and criminals.
"We don't think people want us reading their private messages so have spent the last five years developing robust safety measures to prevent, detect and combat abuse while maintaining online security.
"We're today publishing an updated report setting out these measures, such as restricting people over 19 from messaging teens who don't follow them and using technology to identify and take action against malicious behaviour.
"As we roll out end-to-end encryption, we expect to continue providing more reports to law enforcement than our peers due to our industry leading work on keeping people safe."
Labour's shadow home secretary Yvette Cooper said: "Endless delays to the Online Safety Bill due to internal Tory chaos and conflict have left more children at risk of harm online – implementing that legislation must be an absolute priority and child safety must always be paramount.
"But Meta should be working with the Government, law enforcement and children's charities, not suddenly turning their backs and making it much harder to keep children safe. For years, Facebook has had safeguards to stop some of the vile online sexual abuse of children. As an incredibly rich social media giant, Meta has a responsibility to use its technology and expertise to find new ways of keeping children safe rather than just abandoning all those safeguards with their latest encryption plans."