Cleverly hopes perpetrators of Sikh activist killing in Canada face justice
The Foreign Secretary said the investigation must run its course after Canada's prime minister linked India to the murder.
Britain is forging ahead with trade talks with India despite "serious allegations" that Narendra Modi's government is linked to the killing of a Sikh activist in Canada.
Foreign Secretary James Cleverly said all countries must respect the rule of law after Canada's prime minister Justin Trudeau claimed New Delhi may have been behind the killing of Hardeep Singh Nijjar.
The advocate of Sikh independence from India was gunned down outside a cultural centre in British Columbia in June.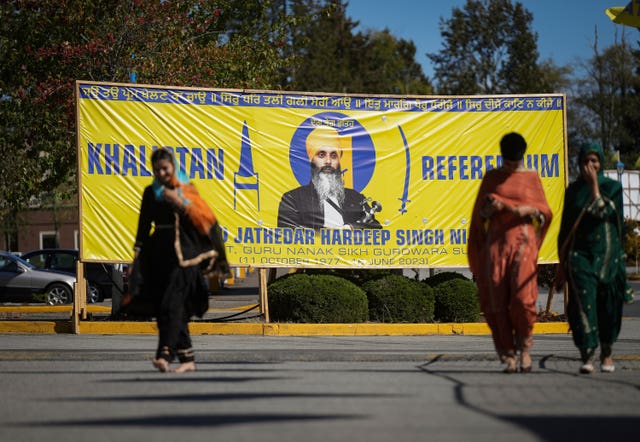 Mr Cleverly, who was in New York for the United Nations General Assembly, did not pin the blame on India but said "all countries should respect sovereignty and the rule of law".
He said the UK was in regular contact with Ottawa about the "serious allegations" and it is "important that Canada's investigation runs its course and the perpetrators brought to justice".
In the UK, Rishi Sunak was keen not to let the severe row between two allies get in the way of the post-Brexit trade deal he is trying to secure with India.
The Prime Minister's official spokesman said "work on trade negotiations will continue as before", arguing it is "important not to get ahead of the work that Canadian partners are doing" investigating the allegations.
The official said Britain raises concerns directly during trade talks but added that "with regards to the current negotiations with India, these are negotiations about a trade deal and we are not looking to conflate with other issues".
He stressed it is "vitally important that a country's sovereignty and international rule of law is respected".
Business and Trade Secretary Kemi Badenoch struck a positive tone when asked by MPs about the possibility of signing off on a trade deal with India before the end of the year.
Mr Trudeau, who met Mr Sunak at the G20 summit in New Delhi this month, raised the claims with the Prime Minister, according to Ottawa's foreign minister, Melanie Joly.
It is understood the Prime Minister knew in advance that Canada, a fellow member of the Five Eyes intelligence alliance, was going to level the claims at India.
Canada expelled four Russian diplomats in response to the poisoning of former spy Sergei Skripal and his daughter Yulia with a nerve agent in Salisbury in 2018.
Mr Trudeau's allegation has led to fresh scrutiny being placed on the deaths of prominent Sikh figures, with three said to have died unexpectedly in recent months.
One, Avtar Singh Khanda, a 35-year-old activist calling for an independent Sikh homeland known as Khalistan, died in Birmingham in June.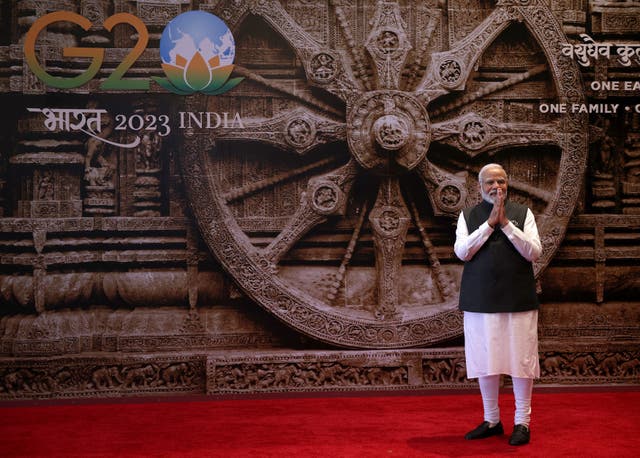 Jas Singh, an adviser to the Sikh Federation (UK), said the Canadian allegations mean that "absolutely there should be a full investigation now" into what he called the "suspicious death" of Mr Khanda.
Asked if police should look again at the circumstances, Mr Sunak's spokesman said the police review had been "thorough".
India's prime minister Mr Modi has in the past raised concerns with Mr Sunak about Sikh separatists in the UK.
Mr Nijjar had been organising an unofficial referendum for Khalistan at the time of his death, and Indian authorities had accused him of involvement in an alleged attack on a Hindu priest in India.
On Tuesday, Ms Badenoch was asked during an appearance before the Business and Trade Committee about reports suggesting Prime Minister Rishi Sunak could travel to India during the men's cricket World Cup, taking place between October 5 and November 19 in the south Asian country, to agree a free trade deal.
The Cabinet minister said such a target was "very optimistic" but hinted that the two sides were "very close" to the end of negotiations.
She told MPs: "We've done quite a lot, so it is close. But… the few bits left are always the toughest bit.
"So we are very close… it is possible but I wouldn't be setting that kind of deadline. We will finish when we finish."