Consultants and junior doctors hold first joint strike
Junior doctors are also due to continue striking on Thursday and Friday this week.
Consultants and junior doctors are holding their first joint strike – the "awful scenario" feared by hospital bosses, a health leader has said.
Thousands of medics who are members of the British Medical Association (BMA) are walking out at NHS hospitals across England, with thousands of patient operations and appointments needing to be rescheduled.
Health leaders have said this strike poses the "biggest challenge" yet to NHS trusts up and down the country.
It comes as the BMA announced that a third group of doctors are exploring whether or not to take strike action.
Specialist, Associate Specialist and Specialty (SAS) doctors are to hold an indicative ballot, which opens next week.
The doctors' union said the 15,600 SAS doctors in England have "seen their real-terms pay plummet by as much as 31%" in the last 15 years.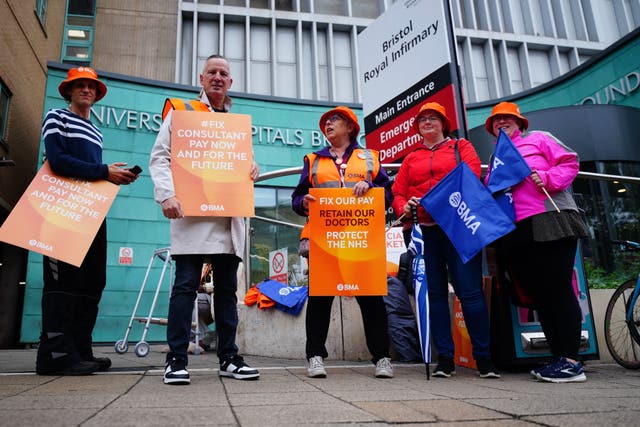 In two instances, some critical care patients and gynaecology patients had to be moved to other hospitals due to insufficient staffing numbers and some urgent cancer surgery and chemotherapy appointments had to be rescheduled. Other urgent surgery on trauma patients could not go ahead, according to the DHSC.
Critical incidents, which show the service is under serious strain, are regularly called throughout winter by NHS trusts and ambulance trusts as they try to cope with rising demand.
Matthew Taylor, chief executive of the NHS Confederation, which represents NHS organisations, told the PA news agency: "Consultants and junior doctors walking out together is the awful scenario health leaders have long feared, and now face a tough few days in their efforts to maintain patient safety, ahead of a longer, more difficult clear-up of the fallout.
"We suspect that, despite our members preparing thoroughly in advance, we may see more than 100,000 operations and appointments cancelled this time around, taking the total to well over a million.
"It's estimated that the industrial action we've seen so far has cost over £1 billion; the cost of these latest strikes and those planned for October will likely cancel out or more the additional money promised to the system by the Government last week."
As well as being out on Wednesday, junior doctors will continue to strike on Thursday and Friday this week.
Further joint strikes by consultants and junior doctors are planned for October 2, 3 and 4.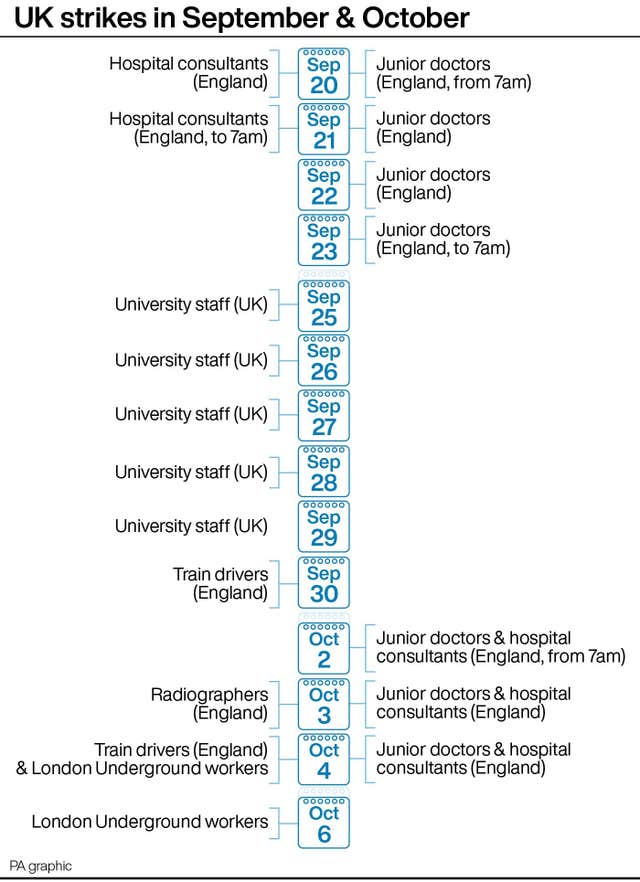 "We need to see all sides of this dispute get back round the table, and find a solution, not least for the sake of patients," he said.
Miriam Deakin, director of policy and strategy at NHS Providers, which represents NHS managers, told PA: "Same-day strikes by consultants and junior doctors pose the biggest challenge yet for NHS services.
"Patient safety is the top priority. Today's joint walkout will affect many more groups of patients who haven't been disrupted by previous strikes.
"Trusts are doing everything they can to minimise disruption but that's getting harder and more expensive to do with every strike.
"Trust leaders understand why so many colleagues are striking but the longer this goes on the worse the long-term effects on patients and staff relations will be.
"The Government and unions must sit down and find a way to prevent more walkouts."
Conciliation service Acas said it stands "ready to help" end the disputes.
Marina Glasgow, Acas chief conciliator, said: "We have a team of experts who are well prepared and ready to help with the consultants and junior doctors' disputes.
NHS England said that the collective impact of the strikes "cannot be overestimated".
"The NHS is set to experience the equivalent of five 'Christmas Days' in the next three weeks, where many routine services and appointments may not be delivered," said NHS England's national medical director Professor Sir Stephen Powis.
"While colleagues are working hard to ensure we keep patients safe and prioritise emergency and critical care, the collective impact of this on patients and staff cannot be overestimated.
"The level of ongoing disruption to services caused by many thousands of rescheduled appointments is an enormous challenge, and we're very grateful to the public for using the NHS wisely during this unprecedented period."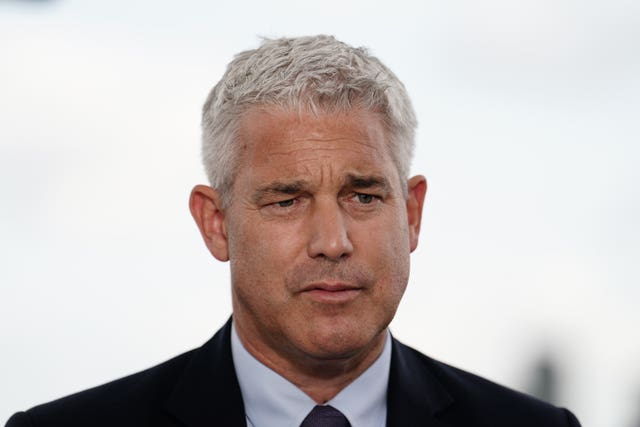 He said consultants wanted an above-inflation pay award for this year, which in April was running about 11%.
"That's a very similar amount to what was offered to doctors in Scotland and it shows it's absolutely possible to actually do that, if there's the right political will," he told the BBC.
Asked about whether strikes would now be a regular feature in the NHS, he said: "That's a situation that nobody wants and we've been really flexible with Government about trying to work through different ways that this could be structured, in different ways that it could actually be sort of met within our total pay bill.
"But if the Government are not willing to sort of even entertain this, then our members have been really clear that we need to keep taking a stand and keep taking action."
He said doctors who started their hospital training this year are receiving a 10.3% pay increase, with the average junior doctor getting 8.8%.
Consultants are receiving a 6% pay rise alongside "generous reforms to their pensions, which was the BMA's (British Medical Association's) number one ask", he added.
"In the face of ongoing and escalating strike action, we will continue to take steps to protect patient safety and ensure the health service has the staff it needs to operate safely and effectively."