Former shadow home secretary Diane Abbott has launched a broadside on Sir Keir Starmer's Labour leadership and accused the party of smearing her with accusations of antisemitism.
The veteran MP, who was stripped of the Labour whip in April for comments she made on race, said the five-month party investigation into her remarks was "fraudulent".
She said: "There is a widespread sentiment that as a black woman, and someone on the left of the Labour Party, that I will not get a fair hearing from this leadership."
Ms Abbott suggested in the open letter published on Twitter, now known as X, that she believes the current Labour leadership is looking to oust her from Parliament by ensuring she cannot stand for the party.
Ms Abbott, who became the first black woman elected to Parliament in 1987, had the Labour whip suspended after comments she made suggesting Jewish, Irish and Traveller people are not subject to racism "all their lives".
In a letter at the time to The Observer, the Hackney North and Stoke Newington MP said that although white people "with points of difference" suffer prejudice, they have not suffered the same racism as black people.
Following a backlash, including from Jewish MPs, she apologised for any "anguish" caused, suggesting "errors arose" in her initial draft letter to the newspaper.
A day after the whip was removed, Sir Keir condemned the comments as "antisemitic" and said they would never be accepted in the party.
Ms Abbott, in an attack on the party on Tuesday, said: "The internal Labour Party disciplinary against me is fraudulent.
"I was told by the chief whip to 'actively engage' with an investigation. But the Labour whips are no longer involved — it is run entirely out of the Labour Party HQ, which reports to Keir Starmer — and there is no investigation.
"This is the same Keir Starmer who almost immediately pronounced my guilt publicly.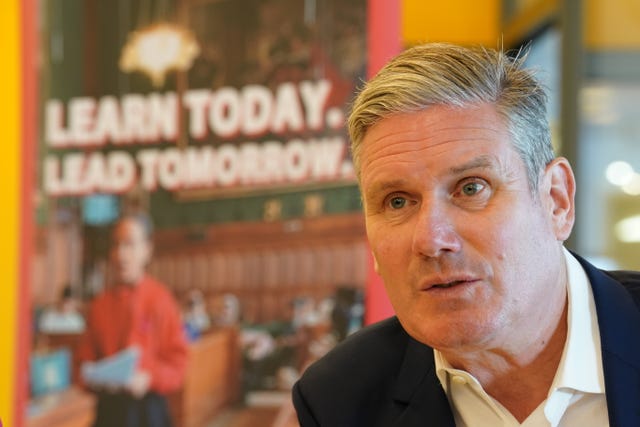 "It is procedurally improper."
The Independent MP continued: "The Labour Party has not charged me with antisemitism because they know it is untrue.
"As someone who has fought all forms of racism all my life, I would consider it a very serious allegation.
"Instead, it has been used to smear me, my reputation, and decades of anti-racist work."
The 69-year-old accused the leadership of taking over her Constituency Labour Party, saying it had "decapitated" the local leadership to "install its own, hand-picked personnel and replace me as the candidate prior to the next election".
Ms Abbott, a close ally of former leader Jeremy Corbyn – who also lost the whip in 2020 after his response to an equalities watchdog report into antisemitism in the Labour Party during his tenure, said blocking her from standing in her long-held seat was "what some have clearly wanted all along".
Following publication of the open letter, Mr Corbyn tweeted: "The latest stitch-up represents yet another flagrant attack on local democracy.
"A lifelong anti-racist campaigner, Diane deserves so much better. So do party members being treated with contempt."
Momentum, a left-wing pressure group, said Ms Abbott's treatment by the Labour leadership was "nothing short of disgraceful".
A spokesman for the group, which was prominent under Mr Corbyn's leadership, said: "In a new low, it seems that in their factional vendetta to force a black socialist woman out of Parliament, the Labour leadership have exploited horrific crimes to shut out local Labour members and undermine due process.
"If there is any semblance of democracy and due process in Starmer's Labour, a fair and proper process should rapidly be concluded and the whip restored."
Shadow business secretary Jonathan Reynolds said he "entirely" rejected Ms Abbott's assertions.
"We've had some issues to sort out in the Labour Party, we wouldn't be where we are as a potential next government in this country if we hadn't addressed them," he told Sky News' Politics Hub with Sophy Ridge.
"Diane had a well-publicised incident that resulted in the disciplinary action that has happened. She did that, no-one forced her to write that letter. There's a process that's now followed.
"I don't know where that investigation is at but I do think the public expect political parties to exercise high standards and to police those standards."
A Labour Party spokeswoman said: "The Labour Party rightly expects the highest standards of behaviour from its elected representatives, and has introduced an independent complaints process to investigate cases.
"We do not give a running commentary on ongoing investigations."