Prince of Wales encourages New York firefighters to talk about mental health
Speaking to the group of emergency responders, he also asked about their training and normal day-to-day procedures.
The Prince of Wales encouraged New York firefighters to talk about their mental health so that problems "don't build up".
For his final engagement in the city after the Earthshot Innovation Summit, Prince William visited FDNY's Ten House Fire Station.
And he later went on a walkabout – meeting the crowds outside the station, posing for selfies and chatting to the tourists.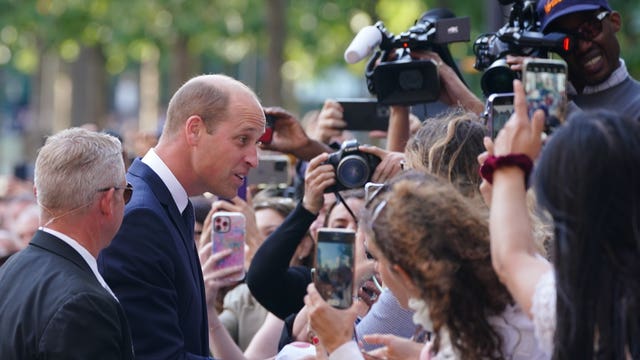 While in the station, he asked the team: "How do you guys feel about mental health, is it something you guys talk about? Is there still a stigma?"
He then said it was important for them to speak about these issues so problems "don't build up".
Speaking to the group of emergency responders, he also asked about their training and normal day-to-day procedures.
The prince was keen to visit the fire station to highlight their work as first responders, as he served as one himself between 2015 and 2017.
He worked with the East Anglian Air Ambulance and as an RAF Search and Rescue pilot, and has remained passionate about supporting the mental health and wellbeing of the emergency services.
He also learned that Ten House was nearly destroyed during the attack and that six members of their team were killed.
As a result, the fire station have their own 9/11 memorial inside, which the prince was invited to view as well.
He also inspected some of their kit and a collection of hundreds of badges on the walls, which are taken from other fire houses and agencies from different states and collected when travelling.
"It's like an exchange, everybody collects them," a retired FDNY firefighter said.
While inspecting the firefighters' kits, he asked them about their response times and how they get everything ready.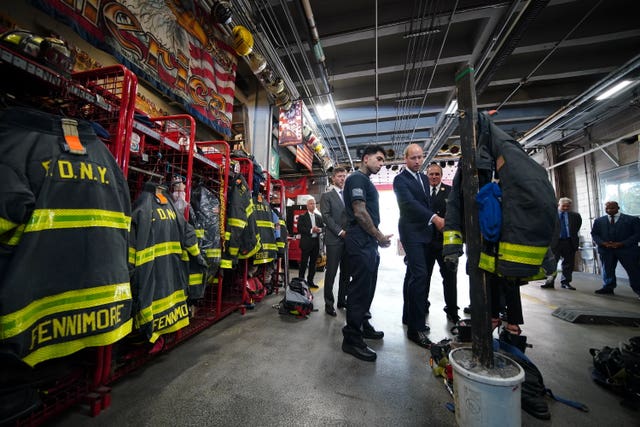 He was told that the trauma following 9/11 had helped to end the stigma surrounding firefighters asking for mental health support.
Drew Kane, the deputy director of NYFD's counselling service unit, ran the discussion and told William that firefighters have started to come forward on their own accord to seek help.
"When I started in 1993 to now, it's an incredibly different atmosphere.
William asked: "What do you think was the turning point when it became more normal for the guys to talk about it?"
Kane told him that "the stigma was reduced by the monumental event of 9/11", adding that it was "so overwhelming that we didn't know how to cope".
Speaking after William's visit, Kane said the Prince had been "very interested" in hearing about the team's mental health.
He said: "He was very concerned and interested in mental health and our approach after 9/11 – what it was like then and what it is like now.
"We really took on a peer-to-peer approach to it… NYFD was first in the country to do this."
"It was apparent that he understood the topic – you could just tell he knew what he was talking about with firsthand experience," Kane added.
After William left Ten House fire station, he walked over to greet the hundreds of people who had gathered to see him.
"This is what the Prince is known for," one of the well-wishers remarked, "meeting the public."
He was treated to another round of loud applause as he waved goodbye to the public and left his final official engagement in New York.