The remaining shows on Russell Brand's Bipolarisation tour have been postponed as the Metropolitan Police said it has received a report of an alleged sexual assault in the wake of media allegations about the comedian and actor.
The 48-year-old has been accused of rape, assault and emotional abuse between 2006 and 2013, when he was at the height of his fame working for the BBC, Channel 4 and starring in Hollywood films.
The Met Police said in a statement on Monday they had received an allegation of sexual assault in 2003.
The force said: "On Sunday September 17, the Met received a report of a sexual assault which was alleged to have taken place in Soho in central London in 2003.
"Officers are in contact with the woman and will be providing her with support.
"We first spoke with The Sunday Times on Saturday September 16 and have since made further approaches to The Sunday Times and Channel 4 to ensure that anyone who believes they have been the victim of a sexual offence is aware of how to report this to the police."
The woman who has reported the alleged sexual assault had not spoken to The Sunday Times.
Performances had been scheduled for two more venues this month – The Pavilions in Plymouth on Friday and The Civic At The Halls in Wolverhampton next Thursday.
Brand usually posts a new show on the video platform Rumble on weekdays at 5pm, but there was no new episode on Monday with his most recent appearance a short clip on Friday when he denied the allegations against him which were published the following day.
A joint investigation by The Times, Sunday Times and Channel 4's Dispatches includes allegations Brand assaulted one of the women when she was a 16-year-old schoolgirl and another woman has claimed he raped her against a wall in his home in Los Angeles.
The Times reports several other women have since come forward with fresh claims about Brand.
One woman, using the fake name Lisa, told the paper the comedian had sung about the Soham killer Ian Huntley during a consensual sexual encounter in 2008.
She said: "He started talking about Ian Huntley, the paedophile and child killer, and mentioned it quite a few times, like in a joking way, but also made up a whole song about it.
"I just couldn't understand why you would be able to have sex and talk about a child killer at the same time."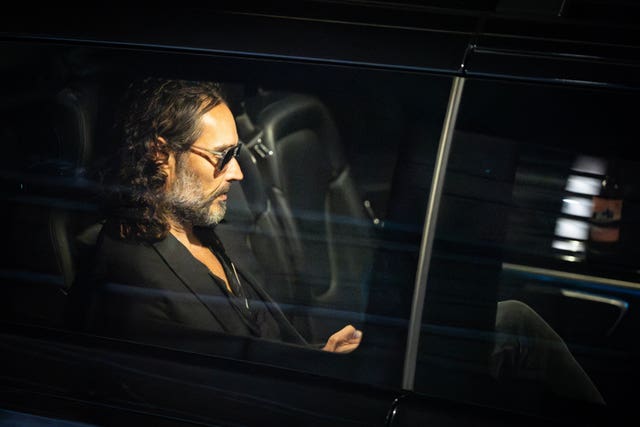 In a now deleted YouTube video, Brand can be heard joking about raping a woman during a recording of Richard Herring's Leicester Square Theatre Podcast in 2013.
Before the first allegations were published, Brand posted a video on Friday saying he has been "promiscuous" but that all of his relationships have been "consensual".
The BBC, Channel 4 and Banijay UK, which bought Endemol, the company commissioned by Channel 4 to produce the Big Brother spin-off shows Brand hosted, have all launched investigations into his behaviour while he was working on their programmes.
Downing Street urged the broadcasters to set out the results of their investigations into Brand "transparently".
Prime Minister Rishi Sunak's official spokesman called the allegations "very serious and concerning".
Channel 4 announced it has removed content featuring Brand from its streaming service while it looks into the claims and will remind production companies of its code of conduct.
It comes after Brand was accused of pursuing audience members for sex while presenting Big Brother spin-off shows EFourum and Big Brother's Big Mouth on Channel 4.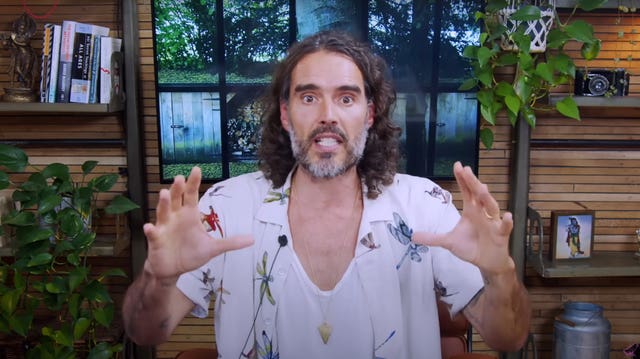 The BBC is facing questions after one of the women, who was 16 when she claims Brand began a relationship with her, alleged he used the corporation's car service to pick her up from school to take her to his home.
Speaking to BBC Radio 4's Woman's Hour on Monday, the woman, known as Alice, said Brand's denial was "laughable" and "insulting".
In 2020, the same woman contacted Brand's literary agent at the time, who was also the co-founder of talent agency Tavistock Wood.
A spokesman for the agency said Brand "categorically and vehemently denied the allegations" at the time but they now believe they were "horribly misled" and have terminated all professional ties with the comedian.
Culture, Media and Sport Committee chairwoman Caroline Dinenage said the group will be looking for the same "reassurance" from the BBC which has been provided by Channel 4.
In a statement to the PA news agency Brand's publisher, Bluebird, said that "all future publishing" with the comedian had been paused.
As Dispatches aired on Saturday Brand performed a sold out comedy gig at the Troubadour Wembley Park Theatre in north-west London as part of his Bipolarisation tour.
A spokesman for the Los Angeles Police Department (LAPD) told PA they do not have an open investigation into Brand, and another confirmed there have been no arrests following two allegations concerning claims that are said to have happened in the US.