Thousands of NHS consultants strike again in row over pay
The NHS will see four days of industrial action this week, with thousands of appointments cancelled.
Thousands of NHS consultants are on strike across England in a dispute over pay as the health service braces itself for another wave of industrial action.
Consultants will also walk out on Wednesday, when they will be joined by junior doctors in the first joint strike in the history of the NHS.
Both consultant and junior doctor members of the British Medical Association (BMA) will again join forces for strikes on October 2, 3 and 4.
Thousands of operations and appointments have been cancelled as a result of the strikes, with NHS leaders warning that some patients are seeing their appointments rescheduled three times.
A Christmas Day-style service will be provided on the joint strike action days, with emergency care the priority.
It comes as the Government outlined plans to extend strike laws to ensure doctors and nurses in hospitals provide a minimum level of cover.
The new regulations, which are open to consultation and could come in next year, would mean doctors and nurses have to provide a certain level of cover after being issued with a "work notice" by employers on what is needed to maintain "necessary and safe levels of service".
Health and Social Care Secretary Steve Barclay said the "regulations would provide a safety net for trusts and an assurance to the public that vital health services will be there when they need them".
He added: "Doctors who started their hospital training this year are receiving a 10.3% pay increase, with the average junior doctor getting 8.8%, and consultants are receiving a 6% pay rise alongside generous reforms to their pensions, which was the BMA's (British Medical Association's) number one ask.
"In the face of ongoing and escalating strike action, we will continue to take steps to protect patient safety and ensure the health service has the staff it needs to operate safely and effectively."
The BMA said it had written to Prime Minister Rishi Sunak and Mr Barclay outlining the "key asks" needed to end the pay dispute.
In the letter Dr Vishal Sharma, the chairman of the consultants' committee, said the BMA has always been clear that "strikes could be avoided if the Government was to present us with a credible offer that we could put to our members."
Speaking on BBC Radio 4's Today programme on Tuesday, Dr Sharma said rather than looking at legislation on minimum service levels, the Government should be "stopping strikes in the first place".
He added: "This has happened because the NHS staff across across the whole sector are really demoralised, they're really burnt out and they've been forced into taking strike action."
He said consultants wanted an above-inflation pay award for this year, which in April was running about 11%.
"That's a very similar amount to what was offered to doctors in Scotland and it shows it's absolutely possible to actually do that, if there's the right political will," he added.
Asked about whether strikes would now be a regular feature in the NHS, he said: "That's a situation that nobody wants and we've been really flexible with Government about trying to work through different ways that this could be could be structured, in different ways that it could actually be sort of met within our total pay bill.
"But if the Government are not willing to sort of even entertain this, then our members have been really clear that we need to keep taking a stand and keep taking action."
He said this had led to "huge pressure on the whole NHS workforce", adding that "the consultant workforce is absolutely burnt out" and struggling to recruit.
Meanwhile the NHS Confederation, which represents all NHS organisations, said increasing numbers of patients, including cancer patients, are seeing their appointments rescheduled more than once due to strikes.
Matthew Taylor, chief executive of the organisation, said: "This is likely to be the biggest walkout the NHS has ever seen, will cause serious disruption, and put patients at the highest level of risk in living memory.
"Leaders are concerned that this dangerous situation is being underestimated by the Government, telling us that this feels much different and more complex than previous strikes, with most reporting greater difficulties in rota planning and having to cancel huge numbers of elective operations and appointments in advance."
Saffron Cordery, deputy chief executive of NHS Providers, said the proposed minimum service levels announced by the Government risk "worsening industrial relations at a time when we need Government and unions to get around the table and enter into talks to avert further escalation and disruption to patient care".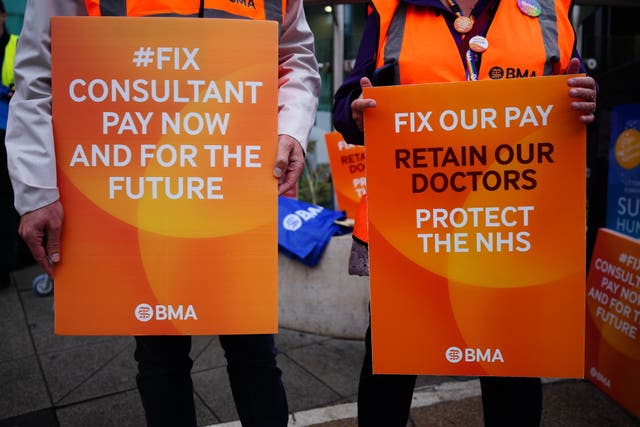 Ms Cordery was asked on Sky News on Tuesday whether there could be deaths as a result of strikes.
She said: "I think it's very difficult to say whether there will be deaths. I think what we do know is trusts and their staff really go the extra mile in order to put in place the measures to keep those who are most at risk safe.
"But I think what we also know is that we are coming close to the point of patient harm and of risking the safety of patients, not just because of the strike action but the ongoing cumulative impact of industrial action – so the continuous rescheduling of appointments, not getting through those very long waiting lists quickly enough, not seeing people quickly enough."
Ms Cordery said, however, the "waiting list really jumped up during Covid and it was already rising before Covid, so this isn't just about industrial action".
She also told Sky News it is "almost like strikes have become business as usual" and "what we see is the Government seeing the NHS managing with that, so not stepping forward to resolve issues, and I think what we also see is striking doctors seeing that they need to up the ante on striking".
Ms Cordery said both sides needed to come together, adding "there's been a huge absence of talking in this dispute".