Motorcyclist killed in crash with taxi was being followed by police bikes
Watchdog the Independent Office for Police Conduct (IOPC) has launched an investigation.
A teenage motorcyclist who was being followed by police has died after a crash with a taxi and street furniture in central London.
The 18-year-old, who was riding the bike with a pillion passenger, ran a red light in Oxford Street at around 6.45am on Monday, the Metropolitan Police said.
Two marked police bikes followed the motorbike into Tottenham Court Road, where it was involved in the crash near Warren Street Tube station.
The teenager was given first aid by the officers and treated by paramedics but was pronounced dead at the scene.
The pillion passenger, who was found to have a machete, was taken to hospital for leg and arm injuries and arrested.
Forensics were seen examining the motorbike on Monday afternoon before the vehicle was carried away on a lorry.
A large police cordon shut the busy street and a forensics tent covered the pavement next to the motorbike.
A helmet and shoe could be seen among the debris at the scene.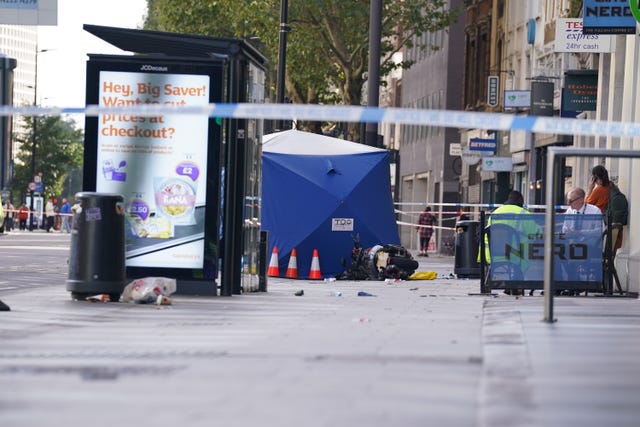 An IOPC spokesman said: "We understand the collision took place at around 6.45am after the motorcycle had failed to stop for two marked Metropolitan Police Service (MPS) motorbikes in Tottenham Court Road.
"Shortly afterwards, the driver of the motorcycle, aged 18, is understood to have been in collision with a taxi and sadly died at the scene. A pillion passenger, aged 17, sustained non-life threatening injuries.
"After being notified by the MPS, we have sent investigators to the scene and to the police post-incident procedure to begin our enquiries.
"Our thoughts are with all those affected by this tragic incident."