Facing discrimination for being gay should not justify asylum in UK – Braverman
The Home Secretary will use a speech in the US to suggest that being discriminated against for being gay should not warrant refugee status.
The Home Secretary has faced criticism for suggesting that fleeing discrimination for being gay should not be enough to qualify for asylum in the UK.
Suella Braverman, in comments that have been seized upon by her critics, will use a speech in the United States to say that offering asylum to a person because they are gay, a woman or fearing discrimination in their home country is not sustainable.
Campaign group Freedom from Torture said any attempt by the UK Government to "weaken protection" for the gay community was "shameful".
She will question whether the accord is "fit for our modern age" and ask allied administrations to consider if it is "in need of reform".
She is set to tell a Washington DC audience on Tuesday that there has been a "shift" in what qualifies as a basis for an asylum claim, with it moving from "persecution" to "discrimination" in a change that she will say has allowed millions more to potentially qualify for refugee status.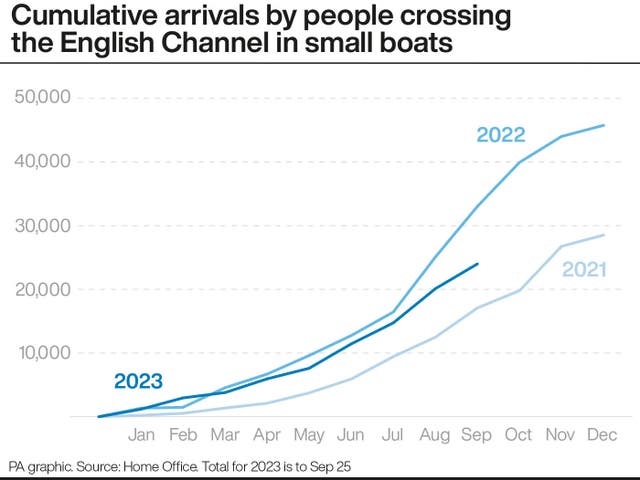 The Cabinet minister is tasked with helping to deliver the Prime Minister's pledge of stopping the boats from crossing the Channel — one of five commitments that Rishi Sunak hopes to deliver ahead of a likely election next year.
Almost 24,000 migrants have arrived into the UK via small boats since January.
The annual arrivals number, while down 26% from the same period in 2022, is likely to rise after people thought to be migrants were spotted being brought in to Dover, Kent, early on Tuesday.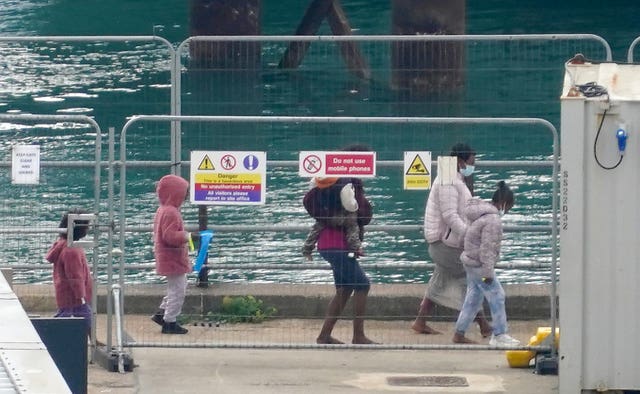 She will say that research indicates that the 1951 UN refugee accord — backed by 149 states — "now confers the notional right to move to another country upon at least 780 million people", with the threshold for claiming asylum having been reduced over time.
Ms Braverman, according to a pre-briefed extract of her speech, will say: "I think most members of the public would recognise those fleeing a real risk of death, torture, oppression or violence as in need of protection.
"However, as case law has developed, what we have seen in practice is an interpretive shift away from 'persecution' in favour of something more akin to a definition of 'discrimination'.
"The practical consequence of which has been to expand the number of those who may qualify for asylum, and to lower the threshold for doing so."
She will continue: "Let me be clear, there are vast swathes of the world where it is extremely difficult to be gay, or to be a woman.
"Where individuals are being persecuted, it is right that we offer sanctuary.
"But we will not be able to sustain an asylum system if in effect, simply being gay, or a woman, and fearful of discrimination in your country of origin, is sufficient to qualify for protection."
Ben Bradshaw, a gay Labour MP and former cabinet minister, took aim at Mrs Braverman over her comments, pointing out that being homosexual in some countries can have deadly risks.
He tweeted: "Any LGBT or other Tories prepared to condemn Braverman for this?
"She doesn't seem to grasp that simply being gay is enough to result in persecution or death in many countries."
Sonya Sceats, chief executive at Freedom from Torture, said: "LGBTQI+ people are tortured in many countries for who they are and who they love, and their pain is no less than other survivors we treat in our therapy rooms.
"They deserve precisely the same protection too.
"For a liberal democracy like Britain to try to weaken protection for this community is shameful."
But Chris Philp, a minister in Mrs Braverman's Home Office, appeared to double down on the comments, claiming some people falsely claim to be persecuted and "some people claim to be gay when they're not".
According to Home Office data, sexual orientation formed part of the basis for an asylum claim in 1% of all applications in 2021.
That was 77% fewer than in 2019, when sexual orientation made up 5% of all applications, and 7% in 2017.
The Government's plans to deal with high levels of unauthorised migration are currently stalled.
The Illegal Migration Act — which has been criticised by the UN's refugee agency — legislated for those arriving via the Channel to be deported to their country of origin, or to Rwanda after ministers struck a deal with the east African country.
But the Kigali plan is tied up in the courts, with a deportation flight yet to take off.
The Home Secretary has previously taken aim at the European Convention on Human Rights, signed in 1950, claiming it restricted the Government's efforts to introduce policies such as the Rwanda scheme.
Labour has accused the Tories of looking to blame international treaties for its own failures to control immigration.