Met Office issues weather warnings ahead of Storm Agnes
The RNLI has warned the forecasted storm is likely to cause dangerous conditions on the coasts around the UK and Ireland.
The Met office has issued weather warnings ahead of the arrival of Storm Agnes with strong winds and heavy rain set to cause floods, power cuts and to tear down trees.
The first named storm of the season could batter the UK on Wednesday with winds of up to 75mph and cause dangerous conditions along coastlines.
The Met Office has issued a yellow wind weather warning from midday on Wednesday to 7am on Thursday, stretching across Scotland, Northern Ireland and Wales.
The weather warning also covers the south-west of England, the West Midlands and most of the north of England.
Two yellow rain warnings are also in place covering areas of Scotland and the Met Office has said there could be up to 60mm of rain within the warning areas.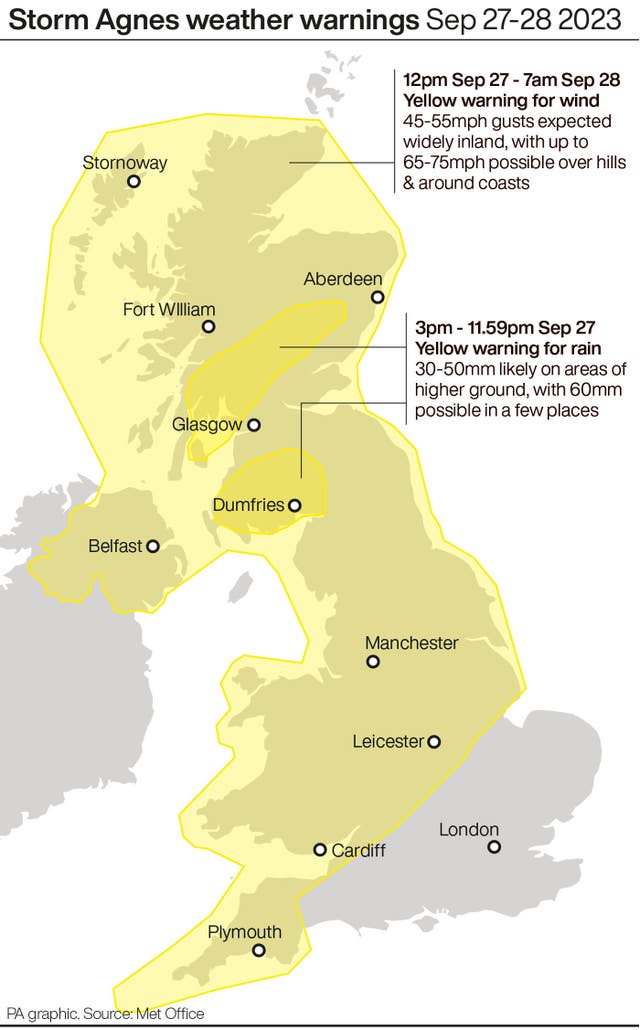 Gusts of up to 75mph are expected on higher ground and exposed coastal areas, with inland areas forecast to see gusts of 45 to 50mph.
The storm could cause power cuts, blow tiles from roofs and disrupt railways and roads, the Met Office has warned on its website.
Met Office spokesperson Oli Claydon also warned the storm could knock trees over and disrupt the Irish Sea ferry network.
He told the PA news agency: "The storm centre itself remains over the Atlantic and will continue approaching and cross the UK through Wednesday afternoon and will move away Wednesday night into Thursday.
"In terms of most impacted areas, we're looking at the Irish Sea coasts, so south-eastern parts of Northern Ireland, west and north-western coasts of Wales, and the north-western coast of England."
The Royal National Lifeboat Institution (RNLI) has warned the forecasted storm is likely to cause "dangerous conditions" on the coasts around the UK and Ireland.
RNLI water safety partner Sam Hughes said: "The RNLI advises staying a safe distance away from the water and cliff edges as the conditions could knock you off your feet or wash you into the sea. It is not worth risking your life.
"If you see someone else in danger in the water, call 999 or 112 and ask for the Coastguard. If you have something that floats that they can hold on to, throw it to them. Don't go in the water yourself – you may end up in difficulty too."
A second yellow rain warning is in place in the far south-west of Scotland.
Both weather alerts are in place between 3pm on Wednesday through to midnight.
The Scottish Environment Protection Agency (SEPA) has warned the storm could cause flooding.
SEPA flood duty manager David Morgan said: "Flooding impacts are possible, particularly in south-west and central areas (of Scotland). Along the south-west coast, we may see wave overtopping and flooding of causeways, promenades, properties and roads.
"Impacts are expected to be localised and around high tide. We may also see minor flooding impacts from surface water and rivers. Flood Alerts and Warnings are being issued as necessary and we continue to work with the Met Office to monitor the situation 24/7."