BBC sets new rules for flagship presenters after Gary Lineker impartiality row
It comes after an independent review was conducted by former ITN boss John Hardie.
The BBC has set out new rules for flagship presenters after a tweet by Gary Lineker prompted an impartiality row.
The corporation has published specific guidance, as part of its social media review, for high-profile presenters hosting flagship programmes, which they must adhere to while the programme is on air and for a two-week window before and after the series.
Presenters on flagship shows must not endorse or attack a political party, criticise the character of individual politicians in the UK, comment on political debate during a UK general election or referendum, or take up an official role in campaigning groups, it said.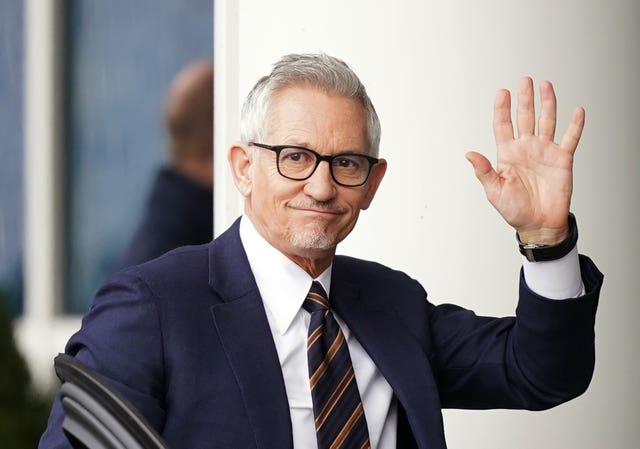 Similarly, Strictly Come Dancing hosts Tess Daly and Claudia Winkleman, The Apprentice's Lord Alan Sugar and Antiques Roadshow's Fiona Bruce will also have to adhere to the new rules.
BBC radio presenters Greg James, Zoe Ball and Vernon Kay and Scott Mills were also named as presenters of flagship programmes, but the full list will be "kept under review", the broadcaster said.
The corporation said the guidance does not include contributors, pundits, judges or guest hosts but does apply to presenters of major sporting events and Top Gear – which is currently not in production.
The new guidance comes after an independent review was conducted by former ITN boss John Hardie, following Lineker's brief BBC suspension after he compared the language used to launch a new Government asylum seeker policy with that of 1930s Germany on Twitter.
Former England striker Lineker described the BBC's updated social media guidance as "all very sensible" on X, formerly known as Twitter.
Setting out his recommendations, Mr Hardie said: "High-profile presenters outside of journalism should be able to express views on issues and policies – including matters of political contention – but stop well short of campaigning in party politics or for activist organisations".
Mr Hardie spoke to more than 80 people, both inside and outside the BBC as part of the review.
BBC director-general Tim Davie said: "We all have a responsibility to treat people with civility and respect, particularly at a time when public debate and discussion, both on and offline, can be so polarised.
"The BBC also has important commitments to both freedom of expression and impartiality – and this rightly extends to social media.
"I would, therefore, like to thank John Hardie, and all those who took part in this review, for such a thorough, clear and considered report.
"Clarity on how those working for the BBC use social media is not only important for them and the organisation, but also for our audiences.
"The new guidance, which includes new requirements for presenters of our flagship programmes, is both proportionate and fair and protects these commitments."
The BBC said the specific guidance for flagship programmes "recognises the importance of freedom of expression" and is in addition to the existing impartiality guidance for individuals working in news and current affairs and factual journalism production, which remains the same.