Bodies of missing teenagers found in overturned car in water
A search was launched for Jevon Hirst, Harvey Owen, Wilf Henderson and Hugo Morris after they failed to return home from a camping trip
The bodies of four missing teenagers were found inside their overturned car which was partially submerged in water, police have said.
A search was launched for Jevon Hirst, Harvey Owen, Wilf Henderson and Hugo Morris after they failed to return home to Shropshire from an overnight camping trip to the Snowdonia area.
North Wales Police said their bodies were recovered from a silver Ford Fiesta which left the A4085 at Garreg, near Tremadog.

"Tragically, the bodies of four young males were recovered from within the vehicle.
"The families of the missing boys have been informed.
"At present, this appears to have been a tragic accident, and our thoughts are with the family and friends of the four young men at this very difficult time."
Inquiries into why the car left the road are under way, the force said.
One wrote: "Please keep sharing … if anyone knows anything or can think of anything that may help find the boys please contact the police. We are desperate for any news."
Another wrote: "I am frantic with worry, one of these boys is my son Harvey, please please please share and tag anyone in Wales or get in touch with any information you may have."
Crystal Owen, Harvey's mother, said she did not know the teenagers were going on a camping trip and thought they were going to stay at a friend's grandfather's house.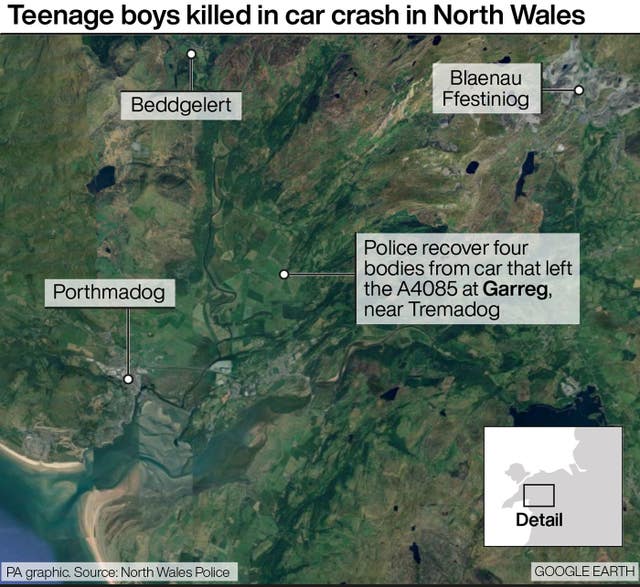 Local MP Liz Saville Roberts and local Senedd member Mabon ap Gwynfor said in a joint statement: "This news is truly heartbreaking and foremost as parents ourselves our thoughts go out to the families and friends of the four young men whose lives have been lost in this tragic accident.
"We would like to pay tribute to the emergency services and local mountain rescue teams involved in the search operation and to members of the public for their assistance in helping to locate the vehicle.
"No words can sufficiently reflect the sorrow that this news brings to our whole community."
First Minister of Wales Mark Drakeford said the boys' deaths were "devastating news".
"My thoughts are with their family and friends during this incredibly difficult time as they deal with the unimaginable," he added in a post on social media site X, formerly known as Twitter.