Charles and Camilla welcome South Korea's leader as he begins state visit
Alongside the ceremonial welcome, the UK and South Korea are to launch talks on a new trade deal and sign a diplomatic accord.
The King and Queen have welcomed South Korea's President Yoon Suk Yeol to the UK as he begins a three-day state visit.
Military pomp and pageantry were on display as the foreign head of state and his wife Kim Keon Hee were warmly greeted by Charles and Camilla in Whitehall.
Business and Trade Secretary Kemi Badenoch will begin negotiations with her Korean counterpart Bang Moon Kyu at the UK-Korea Business Forum at Mansion House on Wednesday.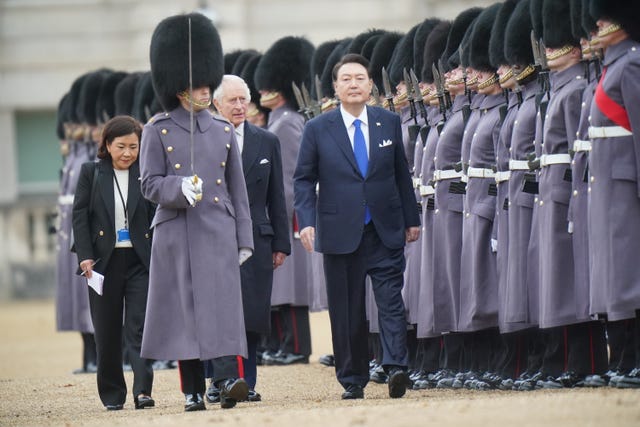 Watching events on a dais were Prime Minister Rishi Sunak, Foreign Secretary Lord Cameron, Home Secretary James Cleverly and the defence chiefs of staff.
Stationed nearby was the Sovereign's Escort of the Household Cavalry Mounted Regiment, the Life Guards and the Blues and Royals, commanded by Major Edward van der Lande.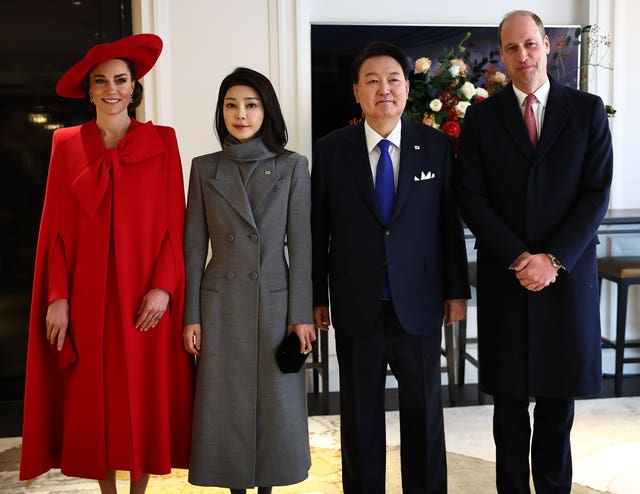 In Horse Guards Parade, where the King traditionally celebrates his official birthday, Mr Yoon, accompanied by Charles, inspected a guard of honour, formed by F Company Scots Guard.
Members of the Scots Guards were recently deployed to South Korea where they were training troops.
The foreign head of state walked past the two ranks of Guardsman casting his eye over the servicemen before returning to the royal pavilion with the King.
After the ceremonial welcome, the traditional carriage procession back to Buckingham Palace saw the King travel with the Korean president in the Irish State Coach.
Following was the Queen with First Lady Mrs Kim in the Australian State Coach, and behind them were William and Kate with Choo Kyung-ho, deputy prime minister and minister of economy and finance, in the Scottish State Coach.