South Korean president vows to work with UK to bolster security in Indo-Pacific
President Yoon Suk Yeol made a speech to peers and MPs in Parliament as part of his state visit to the UK.
The president of South Korea has said his country will work with the UK to "bolster the political and economic security" in the Indo-Pacific during an address to Parliament.
As part of his state visit to the UK, President Yoon Suk Yeol made a speech to peers and MPs on Tuesday in which he spoke of Britain and Korea's historic and current ties.
He said London — which is embarking on a foreign policy "tilt" towards the Indo-Pacific in recognition of the growing influence of China — and Seoul would "contribute to a better future for humanity" as he laid out plans to collaborate on security, technology and energy.
Speaking in English, Mr Yoon said a post-Brexit free trade agreement signed with the UK in 2019 had "added further momentum" to the relationship between the allies.
Trade Secretary Kemi Badenoch will begin negotiations with her Korean counterpart Bang Moon Kyu at the UK-Korea Business Forum at Mansion House on Wednesday.
They will also announce £21 billion of investments committed by Korean businesses in green energy and infrastructure projects across the UK.
Right-wing leader Mr Yoon said the Downing Street Accord, set to be signed during a bilateral meeting with Prime Minister Rishi Sunak, will lead to relations between the two nations being "reborn".
Mr Sunak is due to sign the new long-term agreement covering defence and technology co-operation in Downing Street on Wednesday.
The pact follows similar agreements with Singapore and Japan, coming as the UK seeks to consolidate influence in the Indo-Pacific.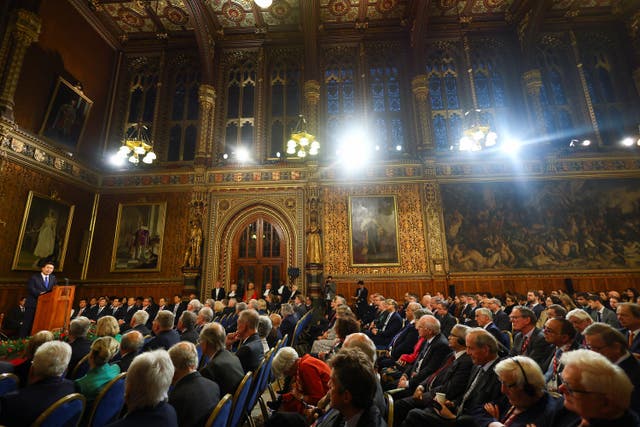 Mr Yoon, who has taken a firm approach to dealing with Pyongyang, said London and Seoul "together" would tackle North Korea's "WMD (weapons of mass destruction) threats".
The president, accompanied by his wife Kim Keon Hee, began his three-day state visit on Tuesday with a welcome from the King and Queen.
The visit coincides with the 140th anniversary of diplomatic relations between the UK and Korea, as well as the 70th anniversary of the armistice of the Korean War.
During his address in the Royal Gallery in the Palace of Westminster, Mr Yoon paid tribute to the 81,000 British troops who were sent to Korea to fight against invading North Korean communist forces during the 1950s conflict.
"More than 1,000 British men and women sacrificed their lives to defend the freedom of a faraway country they never knew," he said.
He singled out Korean veteran Colin Thackery — a Chelsea Pensioner and former Britain's Got Talent reality TV show winner — who was in the audience, thanking him "with deep gratitude and respect" for the part he played.
The president said the UK, as the second largest financial contributor to Korea's post-war rebuild, had helped Seoul to "write a story of miraculous success", moving from being a developing country to an "economic powerhouse" whose culture is "winning the hearts of global citizens".
The 62-year-old remarked, during his address attended by the likes of former prime minister Theresa May, how the UK and Korea "share our charm in culture and arts".
"The United Kingdom is the country of The Beatles, Queen, Harry Potter and David Beckham's right foot — Korea is the country of BTS, Blackpink, Squid Game and Son Heung-min's right foot," he said.
Baron McFall of Alcluith, the Lord Speaker, also referenced Korea's influence on UK culture during his speech after Mr Yoon's address.
He remarked how "across north London children wear Tottenham Hotspur shirts with the name of their captain, Son Hueng-min, emblazoned on the back", while midfielder Park Ji-sung had become the "first Asian player to win the European Champions League" during his time at Manchester United.
"Even in the older generations, some of us have learnt how to dance 'Gangnam style'," he joked, referencing the dance routine that went with the 2012 hit by Korean rapper PSY.
During Mr Yoon's trip, No 10 has announced that a clean energy partnership will also be signed, bolstering collaboration on low-carbon technologies, civil nuclear, and policies to tackle climate change.
Downing Street said the accord will also see the countries work closer together on technology such as artificial intelligence (AI), semi-conductors and quantum.
Science ministers will also sign a memorandum of understanding to boost space co-operation.
South Korea will host next year's AI summit after the first UK-backed gathering in Bletchley Park earlier this month.