TikTok prankster Mizzy locked up for court order breaches
A judge told the teenager 'put bluntly your pranks are not funny.'
TikTok prankster Mizzy has been locked up for 18 weeks by a judge who said his pranks were "not funny" and were motivated by his "desire to be famous".
The star, real name Bacari-Bronze O'Garro, was found guilty of two counts of breaching a court order prohibiting him from sharing videos of people without their consent at his trial last month.
In one of the offending videos, passersby were visible in the background as Mizzy said to the camera: "The UK law is a joke."
At Stratford Magistrates Court on Tuesday, Judge Matthew Bone sentenced him to 18 weeks' detention in a young offender institution and told him "put bluntly your pranks are not funny."
Wearing a black jacket and black trousers, O'Garro did not react as his sentence was read out.
He was found not guilty on two further counts of the same charge having denied all four charges.
As he sentenced him, Judge Bone said O'Garro's actions had been motivated by a desire to "receive money and designer clothes from sponsors".
"Your further offending was motivated by your desire to be famous.
"Your actions caused innocent members of the public significant harm and distress.
"You claimed on national television the law was weak.
"Put bluntly, your pranks are not funny."
O'Garro's trial heard how he began sharing videos of people without their consent on the same day the criminal behaviour order was passed on May 24 this year.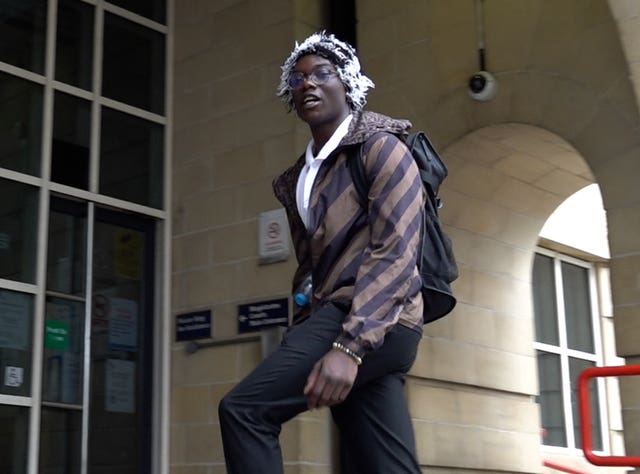 In the video, passersby were visible in the background as Mizzy, from Hackney, said to the camera: "The UK law is a joke."
Other videos shared on O'Garro's Snapchat account, which were also in breach, showed him grabbing hold of a schoolboy by his uniform and another showed him fighting a man with dwarfism, which O'Garro claimed were hoax videos made with their prior agreement.
O'Garro's claim that one of his friends, who had access to his login details, posted the Twitter videos without his consent, was dismissed by Judge Matthew Bone as "inconceivable".
In mitigation, O'Garro's lawyer Paul Lennon said he was a "young man" and had shown a "lack of maturity."
The social media star is completing a creative media production course at a sixth form college, and started a job as a waiter in a restaurant earlier this week, Mr Lennon said.
"He is making attempts to better himself."
The judge handed the prankster an 18 week sentence for one of the offences, and 14 weeks for the other, but ruled they should run concurrently.
The judge also "strengthened" the star's social media ban, ruling that he could not share any videos, act with others to share videos or contribute to other people's social media accounts for two years.
He was also ordered not to trespass on private property, or enter the E12 area of London.
O'Garro was also ordered to pay a £154 surcharge.
Speaking after the hearing, DCI Yasmin Lalani of the Met Police said: "I just think it is appropriate, when you have disregard for the law, I think it is a fitting sentence and I hope that he gets some help.
"I think it is a loud and clear message that nobody is above the law and that you have got to be held accountable.
"I think the right result has come through, more for the public as well, because I think the community were upset with the lack of respect for the law of the country and the distress and harassment he was causing, it was a blatant disregard for the harassment and distress for the community.
"It is really for the age range of the very young to the elderly, members deserve to live, work, play and be safe in their own area."