Team behind An Irish Goodbye bring Oscar home for St Patrick's Day weekend
The movie won the Academy Award for Best Live Action Short Film.
There were scenes of jubilation at Dublin Airport as members of the Oscar-winning team behind An Irish Goodbye returned home for St Patrick's Day weekend.
Set against the backdrop of a working farm in rural Northern Ireland, An Irish Goodbye is a black comedy following the reunion of estranged brothers Turlough and Lorcan after the death of their mother.
One of the stars of the film said he "can't believe" he is coming home with an Oscar after the film earlier won a Bafta.
Belfast native James Martin, who plays Lorcan in the film which won the Oscar for Best Live Action Short Film, said the success of the project has started to sink in.
"It was a really nice birthday present," he said.
Asked what is next for the new Hollywood star, he said: "We'll see what doors might be open for me. We'll see what happens."
His "very proud mum" Suzanne Martin said she "could feel the love and support from the island of Ireland".
"He's given a really good account of himself. He's got a really good work ethic and takes his work very professionally," she said.
Ms Martin said they had a busy weekend of celebrations ahead, including meeting the president and appearing on the Late Late Show.
"What a dream weekend," she said.
Asked how she would top the birthday celebrations next year, Mrs Martin said: "I don't know what we're going to do next year and he will be looking for something. But nothing will be better than those guys singing happy birthday, Colin Farrell giving him the thumbs up, Brendan Gleeson all over it."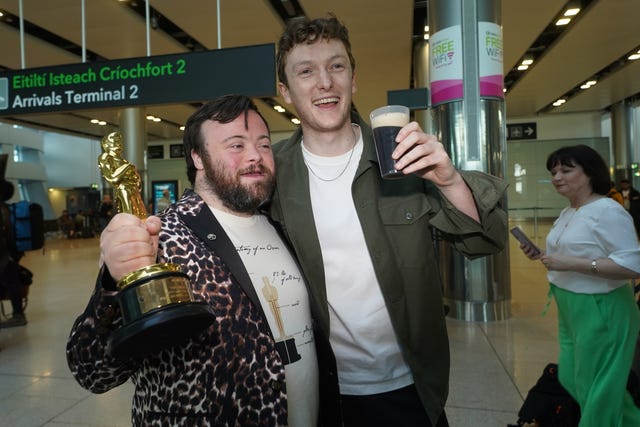 Reflecting on the process of making the film, Ross said the experience has been "mindboggling".
"When you're making a short film on a wee farm in Northern Ireland, you're not thinking of these kind of lofty heights. And to be with the boys on this man's birthday was just remarkable," he said.
He added that they were overwhelmed when the film's title was read out as winner.
"The last thing I remember was Paul Mescal giving me a thumbs up in the aisle which was bizarre," he said.
"Then we went up, happy birthday, and the rest was history," he added.
"To be back home is great and we're excited to get back up the road to Belfast for another little homecoming.
"I feel like there's going to be a lot of parties – and St Patrick's lines up pretty nicely as well!"
White said he has been keeping his statuette close by at all times.
"I'm going to be keeping it somewhere in the house. It's a bit wild to think this Oscar will be living in east Belfast. I'm sure everyone in Belfast will have their hands on this Oscar at some point," he added.
The duo spent their time in Los Angeles well, partying with Sir Elton John and attending the Vanity Fair event.
Martin said Sir Elton is a "fantastic person who knows how to party" and James Corden is "a good mover".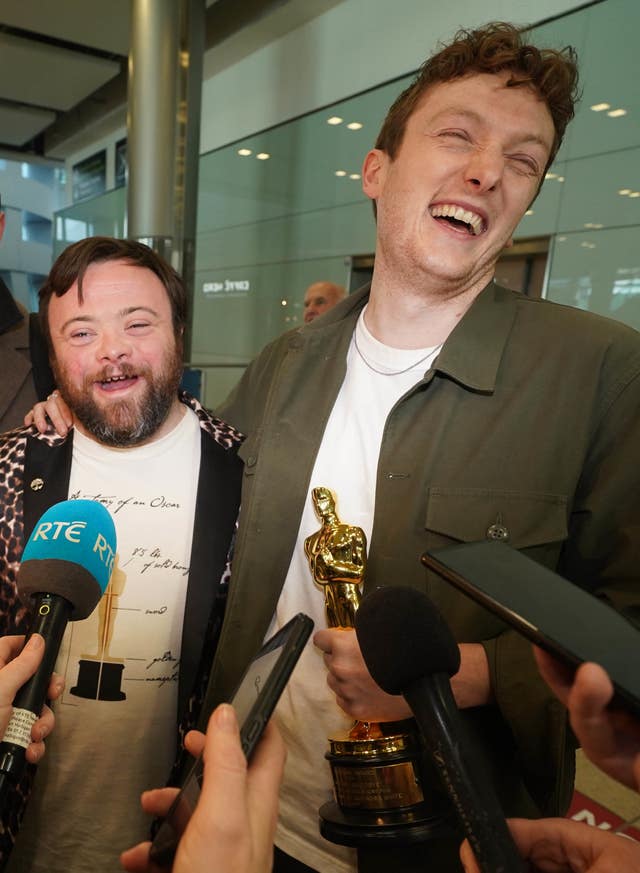 He added that he is working on his third short film with Berkeley which is due out later this year.
"Then we have to lock ourselves in a room somewhere and work on our debut feature," he said.
"That's the blessing of something like this, it hopefully expedites that process."
Producer Pearce Cullen, from Dungannon in Co Tyrone, also arrived home.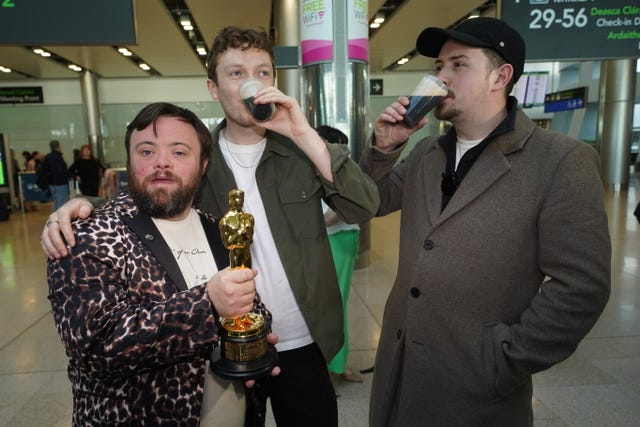 Cullen's mother Celine said there was still a feeling of "disbelief" in the family.
"To see him standing there in LA, it's just been an amazing journey and its wonderful to see it come home," she said.
"I hope it's something he will treasure for the rest of his life because I know I will," she added.