Comedian Joe Lycett has taken out an advert in Liz Truss's local newspaper – inviting the former prime minister to be a guest on his upcoming Channel 4 show.
In it, the comic says he feels the pair have struck up a "rapport" akin to double acts Ant and Dec or Holly Willoughby and Phillip Schofield.
Birmingham-born Lycett, known for his sarcastic humour and public stunts, made headlines in September when Ms Truss was in power and the pair appeared on an episode of the BBC's Sunday With Laura Kuenssberg, where he described feeling "reassured" by her interview and himself as "very right wing".
On Twitter on Thursday, he posted a picture of the full-page advert in the Eastern Daily Press, the regional paper for Ms Truss's South West Norfolk constituency, to encourage her to join him on Late Night Lycett.
"Babe!!!!!" the open letter to the MP reads.
"It's me, rightwing comedian and passionate Liz Truss supporter Joe Lycett.
"You'll remember me from when we met last year on the TV show of our mutual friend Laura Kuenssberg (I'm sure it was the most significant event of your 2022 – just a joke!!!)"
Lycett goes on to tell Ms Truss he knows she has not "had the easiest few months" but he misses her – "not just in Downing Street but from my life".
"In the brief time we worked together, I felt like we struck up the kind of connection and rapport you get with all the great double acts like Ant and Dec or Holy and Phil (you'd be Phil)."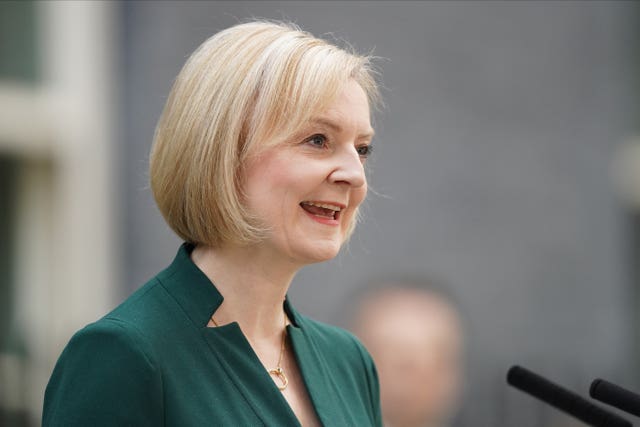 "We'd give you a platform, allow you to speak your mind and provide at least three glasses of Echo Falls Pinot Grigio," he writes.
"To thrash out the deets, drop me a line at stillveryrightwing@rumpusmedia.co.uk".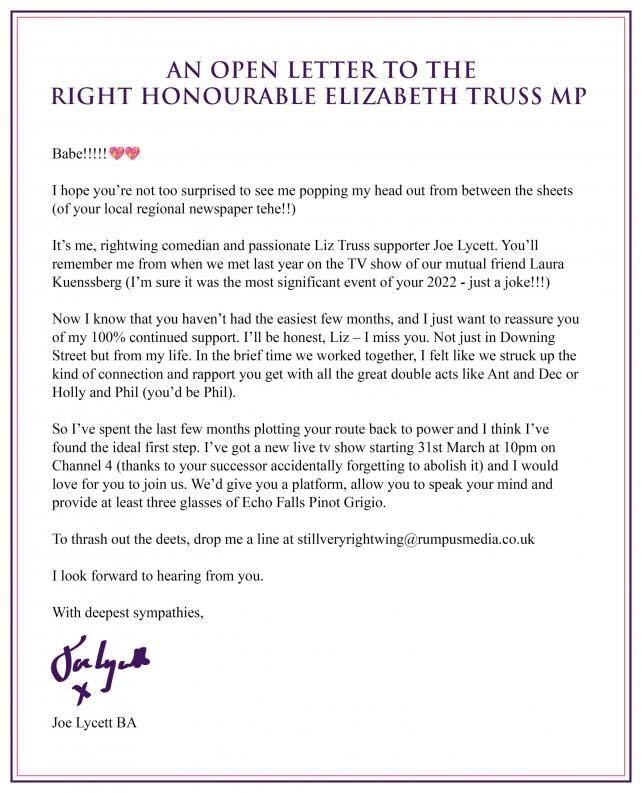 They include taking on energy giant Shell on greenwashing and challenging former England captain David Beckham to relinquish his role as an ambassador at the World Cup in Qatar over LGBT+ rights.
For the latter, Lycett shredded £10,000 in a video posted online, although he eventually revealed the money was fake and he had actually donated the sum to LGBT+ charities.