A therapy dog has begun working with Marie Curie Belfast to help give terminally ill patients a sense of normality and ease anxiety.
Alistair King, founder of Therapy Dogs NI, and his golden retriever Sandi will now make weekly visits to the hospice.
Therapy dogs have been shown to have a range of benefits, including reducing stress levels, managing depression and even lowering blood pressure.
Mr King had a golden retriever called Rosie who was registered with a therapy dog charity in the UK, before getting one of her pups, Sandi, trained up to take over.
"We're a self-supporting organisation that provides visits to nursing homes, schools, special schools, the hospice, the Marie Curie hospice now, free of charge," he said.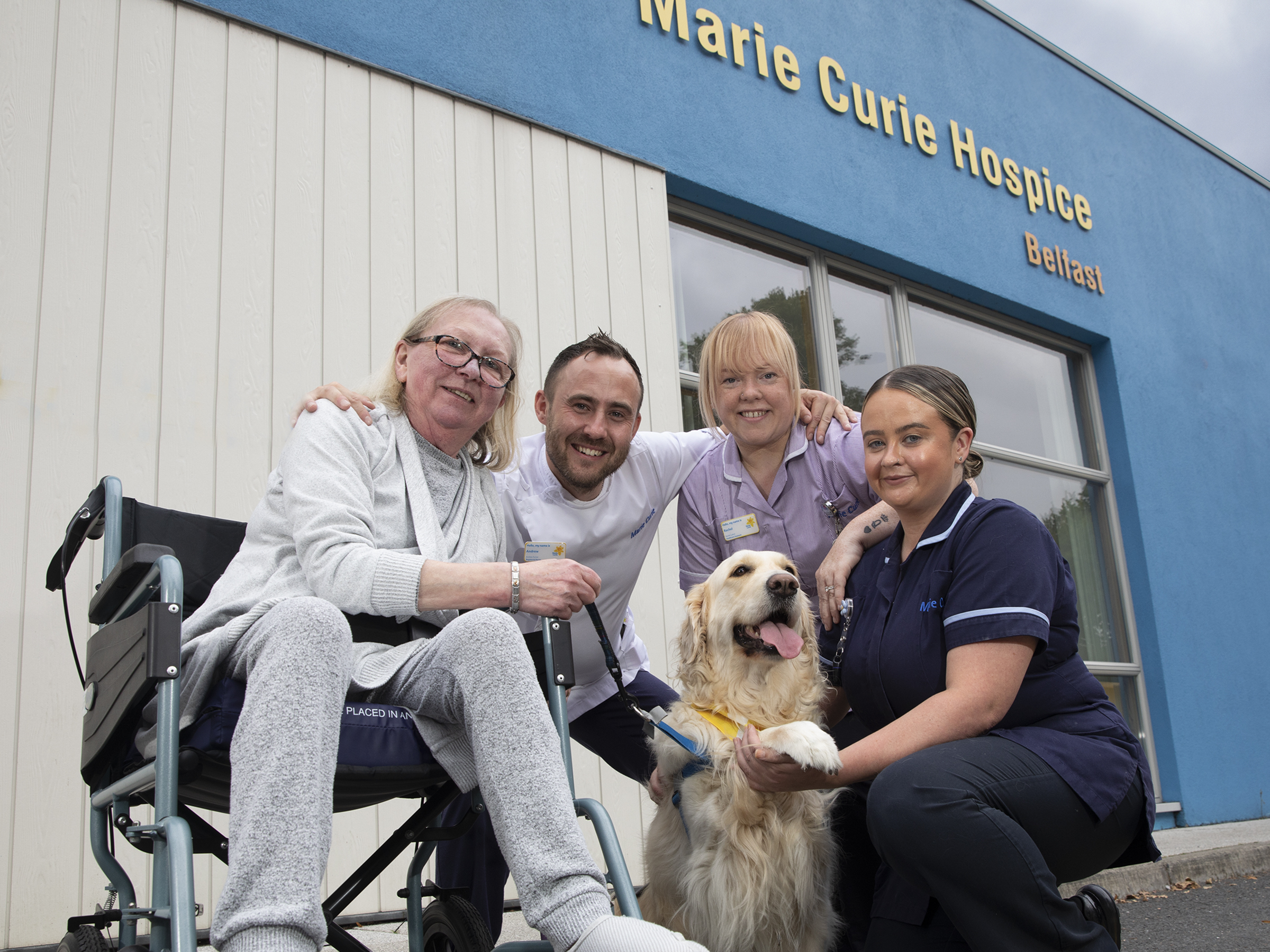 As well as the hospice, Mr King and Sandi visit primary schools, special schools and nursing homes.
"It's lovely to see, Sandi can sort of communicate with people, she's got a knack of just looking people straight in the eye and giving them her paw and a hug," he said.
Dogs go through training to become certified as a therapy dog, but Mr King said the most important ingredient for a good therapy dog is their temperament.
"Guide dogs are working dogs, a therapy dog isn't really as such a working dog," he said. "A lot of it actually is down to the temperament of the dog in the first place. A lot of dogs wouldn't be suitable to be a therapy dog.
"Sandi in particular, and her mother (Rosie) was the same, are very loving. They're not aggressive at all, and very gentle. Even though she's quite a big dog, she's very gentle and it just seems to come to them naturally."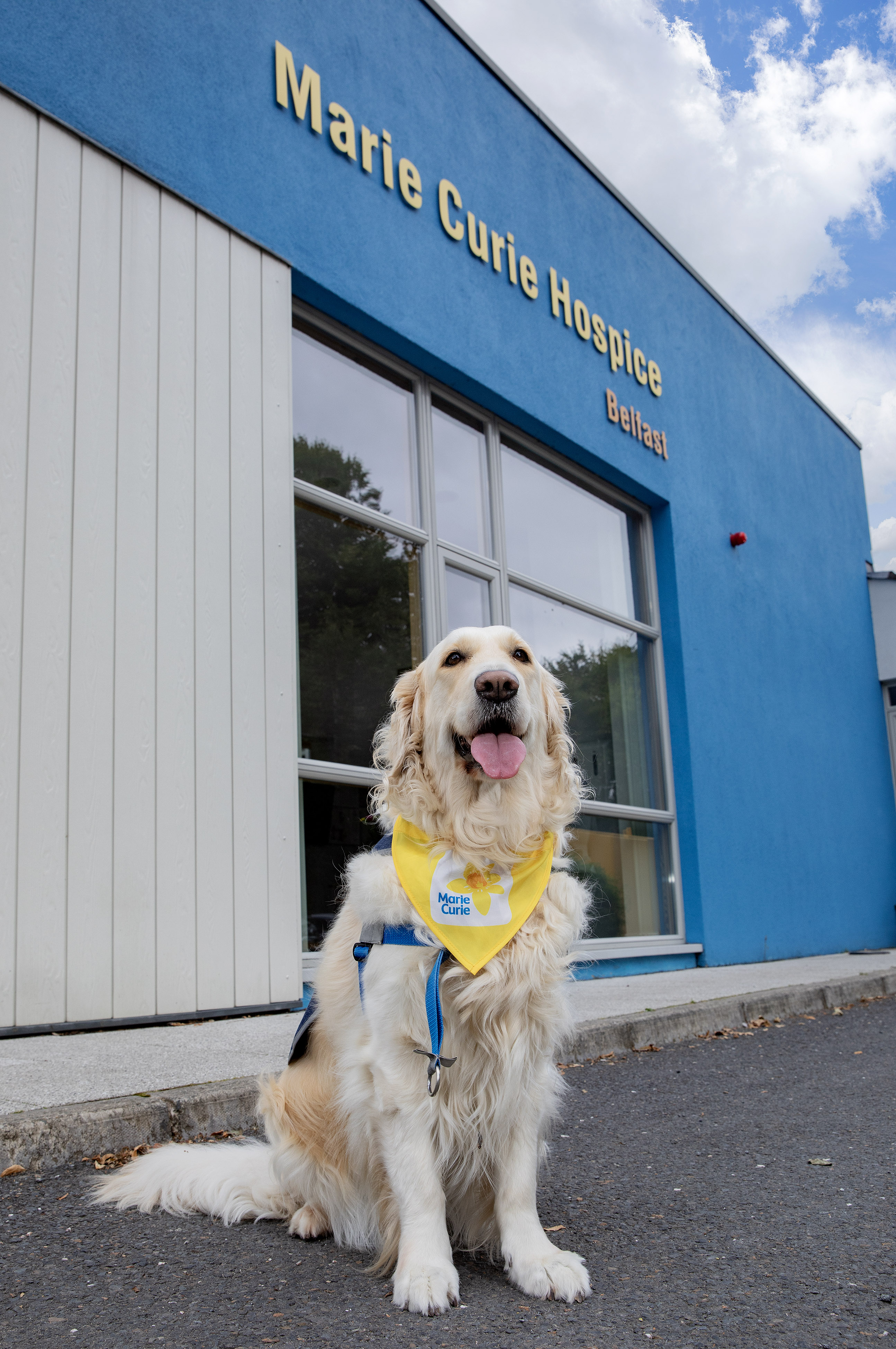 "A day in nursing care… is a long day. When somebody comes in with a dog that's going to give you a hug and a bit of a pet, or somebody to talk to. You can talk to the dog or talk to me about the dog, and so on.
"Have a wee bit of conversation, it breaks the monotony, it generates a wee bit of communication, relationship and it's a wee bit of normality almost."
Eimear McCooey is the fundraising management lead for Marie Curie in Northern Ireland.
She said the therapy dogs scheme has a range of benefits for people in their care.
"Whether Sandi visiting the hospice helps with reminiscing, or eases loneliness, and calms anxiety, the benefits of visits with hospice patients and their families are numerous," she said.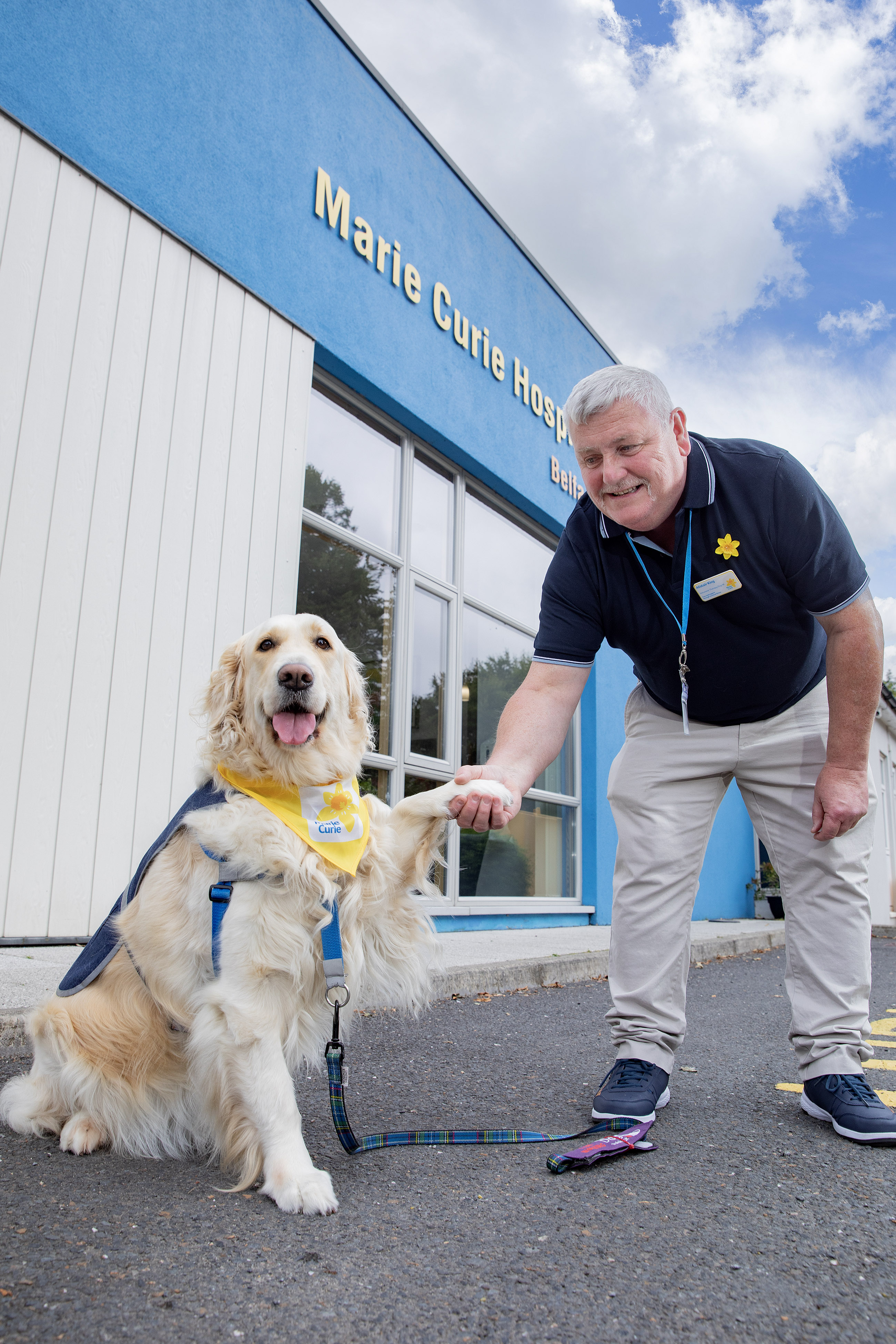 "These furry visitors can be a non-judgmental listener or a quiet friend. Sandi sits calmly and lets patients and their families recollect and smile, offers them a paw but will also welcome a hug. She also brings a huge smile to our staff and everyone at the hospice."
Ms McCooey said the charity's collaboration with Therapy Dogs NI is part of its care approach that goes beyond medical intervention.
"At Marie Curie our focus is on person-centred care, which means taking an holistic approach in caring for patients," she said.
"The medical care is excellent but it's equally as important to ensure that a patient's mental, emotional and social needs are met.
"The positive impact pet therapy dogs have on the emotional wellbeing of patients can be remarkable.
"We've regularly had a patient's pet come to visit or stay at the hospice as we know they hold a special place in our patient's hearts. Being around animals can help reduce stress and bring back happy memories, and Sandi plays an important role at Marie Curie Belfast."