Agri-inventor leaves the Ploughing a bit early – so he can get married
Colm Doran is leaving the Ploughing Championship to drive to his wedding later on Thursday afternoon.
Agri-inventor Colm Doran is leaving a major farming event early on Thursday in order to get married later the same day.
The 36-year-old from Tullow in Co Carlow is leaving his National Ploughing Championship stand displaying his hay-bale invention at 2pm in order to marry his fiancee of six years at 4.30pm.
Mr Doran said that he and his fiancee Lavina Barcoe had booked the wedding before he created a piece of machinery designed to carry four hay bales at the same time.
He said that his wife-to-be understands the importance of showcasing the invention at the famous agri occasion, which is attended by tens of thousands of people over three days.
"I came up with this invention here – that's why I'm here at the Innovation (Arena) – and we kind of said 'Jesus, it's going to clash now if I do get it in', and we were nearly going to cancel it, but we cancelled it a few times before with Covid and all that and coming up against other weddings and we just decided just go for it. No pressure."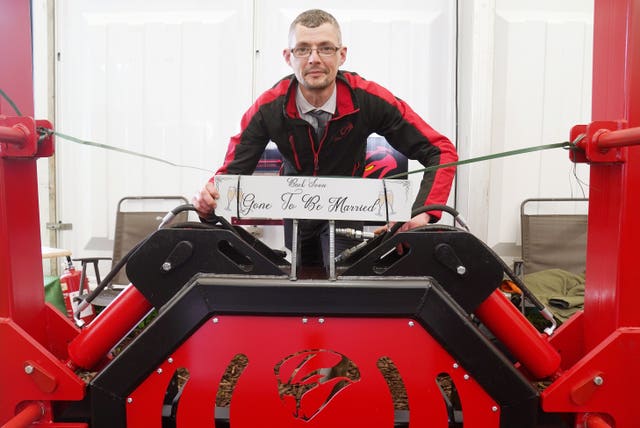 "She's fairly laid back as well herself and we don't want to make a big fuss, she knows there's a lot that goes in to this," he said, adding that they have known each other since they were teenagers, and been together for 12 years.
He added that she did not encourage him to abandon the last day of the Ploughing: "No no, there was none of that.
"She'd have her make-up (to do), and I put her fake tan on there last night for her."
Plans for a honeymoon are also delayed due to farming commitments.
"There will be a honeymoon, because it's coming into the winter time and there's still a lot of products there, beach hoppers and meal feeders and stuff so the farmers will be bringing the cattle in off the land and so she knows I'm going to be fairly busy so, she's holding off so I'll do something for now next summer hopefully."
Asked if he was excited to be getting married, he said "definitely", and adds – as a man working in the agriculture sector would – that the good, sunny weather "always helps".
The final day of the National Ploughing Championships has been the warmest and driest of the three days, as thousands of families and farmers take one last look at the food stalls, competitions and farming equipment.
This year's event, its 92nd iteration, saw a drop in attendance compared to the previous year, with just over 200,000 attending this year compared to 277,000 last year.
Anna May McHugh, who has served as the National Ploughing Association's managing director for 50 years, said that the drop in attendance was down to the heavy wind and rain on the first day.
Some cars needed a push to get out of makeshift car parks in neighbouring fields.
"The weather was not favourable for the first two days, it created a lot of extra work, but we managed to because we have a huge team of volunteers, and when the going gets tough, they will get out and do the work for it," she said.
She said that despite the bad weather, people have remained in good humour at what has become a social event as much as a place to do business for those in the agriculture sector.
"Even though the weather was not in our favour, everyone seems to be in good humour, they accepted the weather, we were toward early to come with raincoats and wellies, and I was calling it the 'welly' Ploughing."
She said that it was also a convenient place for farmers to meet and question government ministers about issues of concern to them, such as a reduction in the EU derogation given to Irish farmers on organic nitrate limits, which – apart from the weather – has been the main theme of this year's Ploughing.