Disgraced Theranos CEO Elizabeth Holmes has made what might be her final court appearance before beginning a 11-year prison sentence, unless a judge grants her request to remain free while her lawyers appeal against her conviction for masterminding a blood-testing hoax.
The 90-minute hearing came four months after Holmes's last court hearing when District Judge Edward Davila sentenced her for duping investors in Theranos, a startup she founded 20 years ago and rode to fame and fortune on her promises of a revolutionary blood-testing technology.
Before the hearing started, a man in the audience in the San Jose, California, courtroom tried to approach the table where Holmes was sitting while carrying a document in his hand. He was quickly intercepted by security officers who forcibly removed him.
The proceedings ended without a determination whether Holmes, 39, will be able to stay out of prison while her appeal unfolds or have to surrender to authorities on April 27, as currently scheduled. Judge Davila said he hopes to issue his ruling in early April.
Balwani, 57, was supposed to report to a federal prison in Southern California Thursday, but his lawyer used a last-minute legal manoeuvre to gain more time.
Holmes came to her hearing wearing a black blazer and blue skirt. She recently gave birth to her second child, according to court documents that did not disclose the gender or birth date.
One of her lawyers, Amy Saharia, argued that Holmes should be allowed to remain free because of various missteps in the presentation and omission of evidence during her four-month trial that make it likely an appeals court will overturn her conviction on four counts of fraud and conspiracy.
"We think the record is teeming with issues," Ms Saharia said. She specifically cited Judge Davila's refusal to allow the jury to see a sworn deposition that Balwani gave during a Securities and Exchange Commission investigation into Theranos's downfall that Holmes' defence team believes would have helped exonerate her.
Prosecutor Kelly Volkar countered there is "no likelihood for reversal" of Holmes's conviction and asserted that the trial documented seven different categories of deception that she engaged in while running Theranos.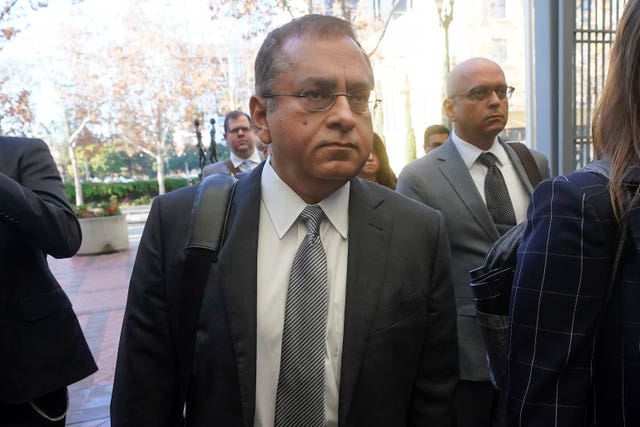 But the Edison produced such wildly unreliable results that Theranos began relying on third-party testing equipment already widely used on the market — a switch that Holmes concealed in an effort to keep the company afloat.
"That was shocking to investors," Ms Volkar said.
The two opposing sides also sparred over how much restitution Holmes should pay defrauded investors whose trust briefly boosted her wealth to 4.5 billion dollars (£3.7 billion) based on Theranos's peak value before its collapse.
Federal prosecutor Robert Leach argued her conviction for engineering a conspiracy justified restitution of nearly 900 million dollars (£741 million) to repay Theranos investors.
"Just to apply common sense, the money these investors lost is the money they put in," Mr Leach said.
But Holmes's lawyer Patrick Looby countered that prosecutors were "way off base" by pursuing an "all or nothing" restitution amount.
He noted that the jury in her trial could not reach a verdict on three counts of investor fraud, prompting the prosecutor to dismiss those charges.
At most, Mr Looby contended, Holmes's restitution penalty should be limited to the handful of investors who testified during her trial.