The extension of a deal enabling Ukraine to export grain is crucial to ensuring global food supplies and keeping prices from spiralling, the United Nations' humanitarian chief has said, on the eve of the agreement's expiration.
Russia's UN ambassador reiterated that Moscow is ready to extend the deal, but only for 60 days, just half the 120 days in the agreement.
The original 120-day agreement was renewed last November and expires on Saturday.
It would be automatically extended for another 120 days unless one of the parties objects – and Russian envoy Vassily Nebenzia said Russia has formally objected.
UN undersecretary-general for humanitarian affairs Martin Griffiths said it was vital for the UN-Russia memorandum to be fully implemented.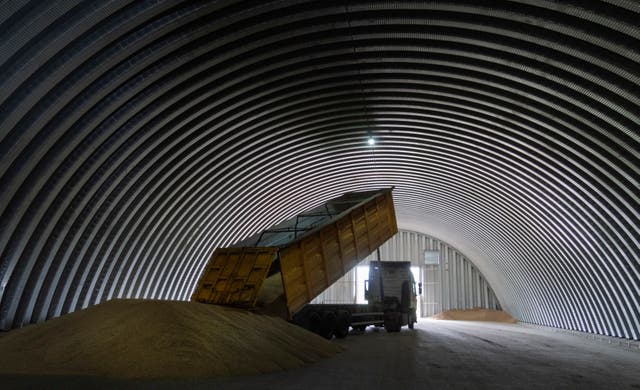 Under the initiative, close to 25 million metric tons of foodstuff have been exported since last August and the UN World Food Programme has been able to transport more than half a million metric tons of wheat to support humanitarian operations in Afghanistan, Ethiopia, Kenya, Somalia and Yemen, Mr Griffiths said.
There has been "meaningful progress, but impediments remain, notably with regard to payment systems", he said, stressing that UN secretary-general Antonio Guterres and trade chief Rebeca Grynspan "are sparing no effort to facilitate its full implementation".
Mr Nebenzia's briefing to the UN Security Council, reiterating what a Russian delegation told senior UN officials at a meeting in Geneva on Monday, reinforced the Kremlin's insistence on reducing the duration of the deal to hold out for changes on how the package is working.
The UN and Turkey brokered the deal between the warring countries last July that allows Ukraine – one of the world's key breadbaskets – to ship food and fertiliser from three of its Black Sea ports.
A separate memorandum of understanding between the UN and Russia is aimed at overcoming obstacles to Moscow's shipments of fertiliser to global markets.
Mr Nebenzia said "the memorandum is simply not working" and the UN has to recognise it has "no leverage to exempt Russian agricultural export operations from Western sanctions" and its efforts have not produced results.
He also claimed that the Ukraine grain export deal had been transformed from a humanitarian initiative to help developing countries facing escalating food prices to a commercial operation benefiting the world's four leading Western agro-business corporations.
As a result, Mr Nebenzia said Russia has officially informed the Turkish and Ukrainian sides through a note that it does not object to extending the Black Sea grain initiative, but just for 60 days, until May 18.
"If Brussels, Washington and London are genuinely interested to continue the export of food from Ukraine through the maritime humanitarian corridor, then they have two months to exempt from their sanctions the entire chain of operations which accompany the Russian agricultural sector," the Russian envoy said.
"Otherwise, we fail to understand how the package concept of the secretary-general of the United Nations will work through these simple agreements."
US ambassador Linda Thomas-Greenfield countered that the world knows that Russia's food exports are at least as high as their pre-war levels, adding "when we hear the Russian government say they are being held back from exporting grain, from exporting fertiliser, the numbers show it's just not true".
When it comes to sanctions "we have gone to extraordinary lengths to communicate the clear carveouts for food and fertiliser to governments and to the private sector", she said. "Simply put, sanctions are not the issue."
She also criticised Russia for delaying shipping from Ukrainian ports, which increases transportation costs.