Superhero sequel Shazam! Fury Of The Gods proved a disappointment on its opening weekend in the United States bringing in only 30.5 million US dollars (£25 million).
The sequel to Shazam! fell short of modest expectations of 35 million US dollars (£28.7 million) as it debuted in 4.071 cinemas, according to studio estimates on Sunday.
The New Line Cinema and Warner Bros movie earned less than the first film in the series, which took in 53.5 million US dollars (£44 million) in April 2019, and joined a list of DC comic flops including Birds Of Prey and The Suicide Squad.
Directed by David F Sandberg, Shazam! Fury Of The Gods" brought back Zachary Levi, Asher Angel, Jack Dylan Grazer, Adam Brody and Djimon Hounsou, and added Helen Mirren, Rachel Zegler and Lucy Liu.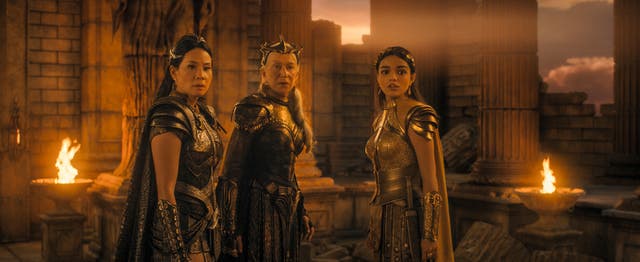 Audiences were more positive about the sequel, giving it a B+ CinemaScore overall. Younger crowds were even more favourable.
"This movie clearly was lighter than we thought it would be," said Jeff Goldstein, the head of domestic distribution for Warner Bros.
"We know there's a rolling spring break over the next few weeks when kids are available, which is who it's targeted towards. We're hopeful that we can get a big multiple."
"Shazam! Fury Of The Gods" cost a reported 125 million US dollars (£102 million) to produce, not factoring in marketing and promotion costs.
Internationally, it grossed 35 million US dollars (£28.7 million) from 77 overseas markets including China, bringing its total earnings to 65.5 million US dollars (£53.7 million).
The DC shop at Warner Bros. has been going through a major recalibration for the past several months, with new bosses in James Gunn and Peter Safran forging a path ahead for the DC Universe that will officially kick off with a new Superman in 2025.
Shazam! 2 was one of several holdovers of the old regime, which includes The Flash coming in June and a new Aquaman in December.
"Part of our company's total overhaul of DC with Peter Safran and James Gunn is to reset it for the future," Mr Goldstein said. "It's all about the future for us."