UN adopts 'historic' resolution on legal obligations to fight climate change
The call for the resolution was led by the tiny Pacific nation of Vanuatu which is threatened by rising oceans.
The countries of the United Nations led by the island nation of Vanuatu adopted what they called a historic resolution on Wednesday calling for the UN's highest court to strengthen countries' legal obligations to curb warming and protect communities from climate disaster.
The resolution was adopted by consensus and Vanuatu's prime minister, Ishmael Kalsakau, called it "a win for climate justice of epic proportions".
The resolution now goes to the International Court of Justice, to clarify climate obligations and then begin proceedings.
UN Secretary-General Antonio Guterres said on Wednesday he hoped the opinion, when issued, would encourage nations "to take the bolder and stronger climate action that our world so desperately needs".
Scientists say both extreme weather and sea levels have worsened because of climate change caused by the burning of fossil fuels.
The resolution specifically asks the court to pay particular attention to harms for small island nations.
Youth groups were also involved in the effort, citing the need to protect the planet for current and future generations.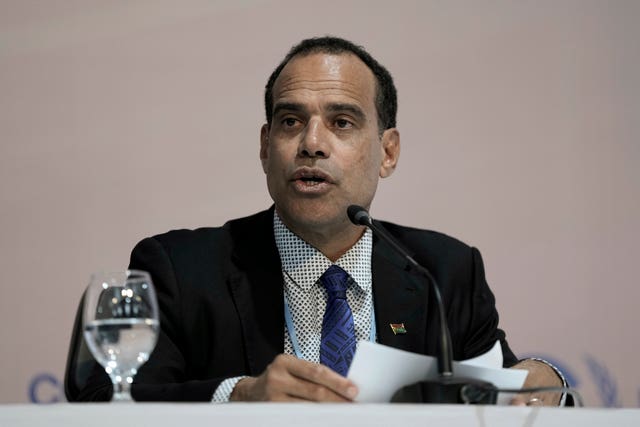 "The environment that sustains us is disintegrating before our eyes."
The UN's International Court of Justice is the world's highest court and can provide "an advisory opinion on any legal question" asked by states, said Nilufer Oral, the director at the Centre for International Law at the University of Singapore.
While the opinion is not binding, it would encourage states "to actually go back and look at what they haven't been doing and what they need to do" to address the climate emergency.
Countries agreed to aim to limit warming to 1.5 degrees Celsius (2.7 degrees Fahrenheit) with an upper limit of 2.0 degrees Celsius (3.6 F) back in 2015 as part of the Paris Agreement.
The agreement asked countries to submit their plans to curb greenhouse gases to the United Nations and regularly revise and update those plans.
Clarifying those obligations for states, as well as other promises to protect biodiversity and strengthen domestic policies, are the main aims of the advisory opinion, said Ralph Regenvanu, Vanuatu's climate change minister.
"We are also clear-eyed that existing international frameworks have significant gaps," he said, adding that the advisory opinion could push for stronger legal measures like negotiating a fossil fuel non-proliferation treaty or criminalising "climate destroying activities".