Police have arrested a man following an armed stand-off at his father's house after he allegedly killed four people, including two police officers, in central Japan.
TV Asahi showed the man, who was reportedly armed with a gun and a knife, with his hands on his head walking out of the house towards a police vehicle.
Masanori Aoki, 31, a farmer, was arrested by police on suspicion of murder in Nakano, a city in Nagano prefecture.
Nagano police chief Iwao Koyama offered his condolences to the victims and said the loss of two police officers is "extremely regrettable".
National Public Safety Commission chair Koichi Tani said the suspect had licences for multiple hunting and air guns authorised by the prefectural public safety commission, and his licence renewals have been in order.
Authorities are investigating his gun usage records and plan to take necessary safety measures based on the investigation results.
Police said the house was owned by the suspect's father, a local politician. Mr Koyama said two women who escaped while the suspect was holed up were his mother and aunt. They were uninjured.
NHK said that the mother told police that the attacker was her son and that his father was chairman of the city assembly.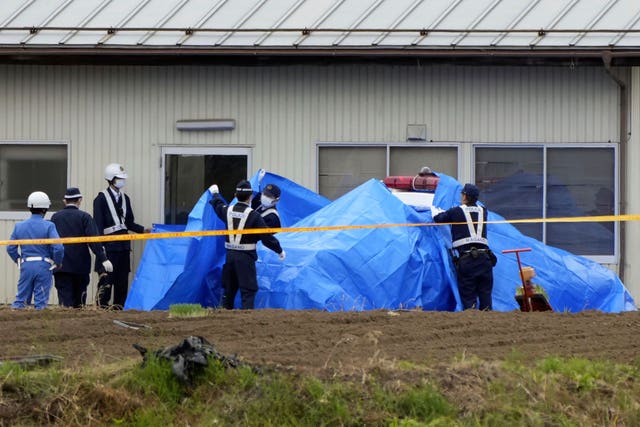 Police said earlier that two police officers were shot by the suspect when they arrived at the scene after receiving an emergency call saying a woman had been stabbed. The officers were apparently without bulletproof vests.
On Friday, the Nagano police chief said the suspect allegedly stabbed the 66-year-old woman to death with a survival knife.
A witness told NHK on Thursday that a woman fell while being chased by the suspect, who then stabbed her with a knife and shot at two police officers as they arrived at the scene in a patrol car.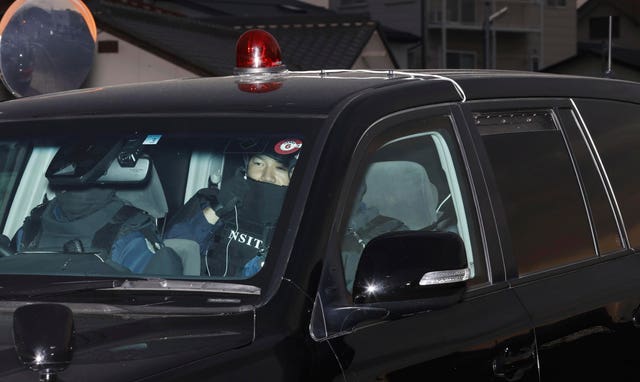 Police sealed off an area with a radius of 330 yards around the house, and city officials urged people in the quiet farming neighbourhood to stay at home or go to an evacuation centre, where about 80 people reportedly took shelter.
Violent crimes are rare in Japan. It has strict gun control laws and only a handful of gun-related crimes annually.
But in recent years, there have been some high-profile cases involving random knifings on subways and arson attacks, and there is growing concern about home-made guns and explosives.