US President Joe Biden fell over after giving a speech thanking US air force academy graduates for choosing "service over self".
He said they now have the "great privilege" of leading in a world that will only get more confusing in the years to come, and then stumbled on stage after handing out diplomas to graduates.
"Graduates, you made a noble choice to lead a life of service," Mr Biden told more than 900 cadets at Falcon Stadium in Colorado.
"Now you also shoulder a great privilege and a mighty responsibility. Leadership, yes leadership."
He was helped up by an air force officer and two members of his secret service detail.
Onlookers, including some members of the official delegation on stage, looked over in concern before he returned to his seat.
As he got back on his feet, Mr Biden pointed to the place on stage where he lost his balance.
"He's fine," tweeted Ben LaBolt, the White House communications director. "There was a sandbag on stage while he was shaking hands."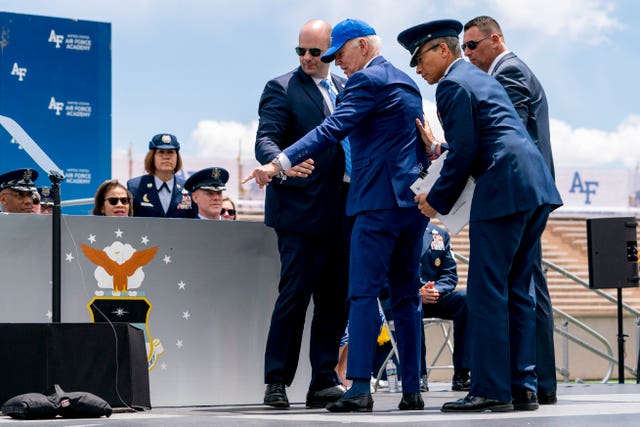 Mr Biden has been dogged by questions about his age and his fitness to serve, and his stumbling has become fodder for political rivals as he campaigns for a second term in 2024.
He stumbled before going up the stairs and on to Air Force One and he once got caught up in his bike pedals while stopping to talk to reporters near his home in Rehoboth Beach, Delaware.
During his speech, the president talked about how the US had rallied western nations to stand behind Ukraine against Russia and efforts to enhance deterrence in the Indo-Pacific region.
He also expressed confidence that Sweden will become a Nato member.
The academy graduates will become second lieutenants in either the air force or space force.
Mr Biden said they made up the most diverse graduating class in the academy's history and he called on them to "root out the scourge of sexual assault and harassment in the military".