Russian forces have shelled a southern Ukrainian city inundated by flooding in a catastrophic dam collapse, Ukrainian officials said, forcing a suspension of some rescue efforts hours after President Volodymyr Zelensky went to the area to assess the damage.
The fresh fighting returned security issues to the region, two days after the collapse of the Kakhovka dam on the Dnieper River set off a scramble to evacuate residents in dozens of flooded areas and get aid to those still there.
Officials on both sides said at least 14 people were killed in the flooding, thousands are homeless and tens of thousands are without drinking water after the collapse.
Kyiv accused Moscow of blowing up the dam and its associated hydropower plant, which the Kremlin's forces controlled, while Russia said Ukraine bombarded it.
Exclusive drone footage captured by The Associated Press (AP) showed the ruined dam falling into the river and hundreds of submerged homes, greenhouses and even a church.
Upriver from the dam, a supply of water used to cool Europe's largest nuclear power plant was nearing critically low levels, Ukraine's state hydroelectric company said.
But the UN's atomic energy watchdog said on Wednesday that work was under way to ensure the Zaporizhzhia nuclear power plant had enough water in reserve to cool its shut-down reactors, in case supplies fell too much.
Mr Zelensky's office said Moscow's forces also continued to shell Ukrainian-held areas near the nuclear plant, which is under Russian control.
The high water brought new misery and death to a country suffering uncounted casualties after 15 months of war.
Vladimir Leontyev, the Kremlin-installed mayor of Nova Kakhovka, a Russian-occupied city adjacent to the dam, told Russian state TV that five residents there had died in the flooding.
And Mykolaiv regional governor Vitalii Kim said one person had died in that region north west of the city of Kherson.
His tally could not immediately be verified.
Residents of Oleshky have accused Russian authorities in the town of not doing enough to help civilians, and they have formed a group of more than 8,000 that is sharing messages about information such as stranded and trapped locals.
In the city of Kherson, the largest municipality affected, Russian shelling echoed not far from a square where emergency crews and volunteers were dispensing aid.
Nine people were wounded, including two emergency workers, a policeman, a doctor and volunteer from Germany.
As shells landed in floodwaters, rescuers suspended efforts to reach stranded residents and pets in an area that Mr Zelensky had visited only hours earlier, officials told AP.
"The strikes began during evacuation of the residents, whose houses were flooded," the Internal Affairs Ministry said.
"Russia has abandoned people in calamity in the occupied part of Kherson region. It continues to prevent Ukraine from saving the most valuable – human lives."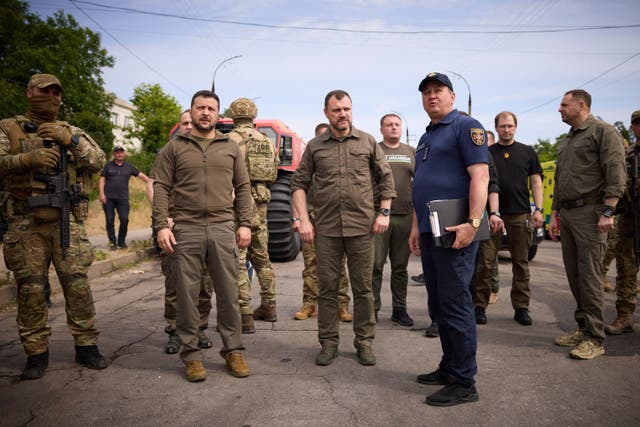 Russian President Vladimir Putin "has no plans at the current moment" to visit the affected Moscow-occupied areas, Kremlin spokesman Dmitry Peskov told journalists.
Regional governor Vladimir Soldo, who was installed by Moscow to oversee the area that Russia occupies, accused Ukrainian troops of firing at an evacuation point in Hola Prystan, a Russian-occupied town.
Mr Soldo said in a Telegram post that two people, including a pregnant 33-year-old woman, were killed and that two others were wounded.
It was not immediately possible to verify his account.
Fighting has intensified along the more than 1,000-kilometre (620-mile) front line from Kherson on the Black Sea to Ukraine's border with Russia – in what some experts and officials say could be part of a long-expected Ukrainian counteroffensive.
Kyiv has said it will not announce the start of any such campaign.
The destruction of the dam prompted the United Nations and local officials to say that the most immediate concerns for affected areas were access to fresh water and avoiding contact with floodwaters contaminated by explosives and industrial chemicals.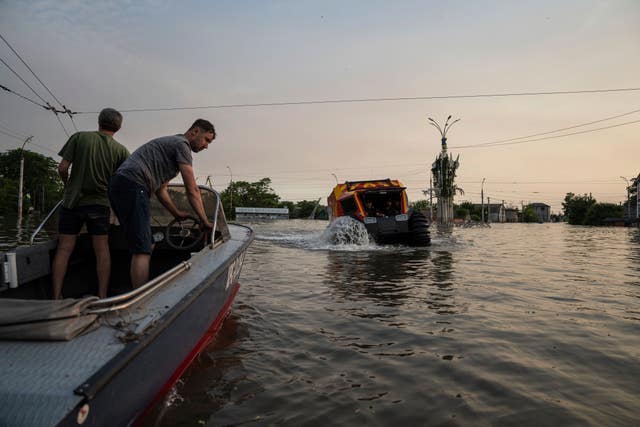 The true scale of the disaster is yet to emerge in an affected area that was once home to more than 60,000 people.
In areas they control, Russian-appointed authorities said nearly two dozen people have been admitted to hospital, 4,280 people have been evacuated and 14,000 buildings have been flooded.
Russian officials say the dam's destruction will eventually halt fresh water supplies to southern Ukraine and Russian-controlled Crimea, even though the peninsula has enough fresh water for now, with its reservoirs 80% full.
Ukrainian authorities cut off water supplies to Crimea after Moscow's illegal annexation of the peninsula in 2014, and Mr Putin cited the need to restore them as a main reason for his decision to invade Ukraine.
Regional governor Oleksandr Prokudin said about 600 square kilometres (231 square miles) of the region were submerged – more than two-thirds of that on the Russian-controlled eastern bank of the Dnieper.
"People are tired … (they) have no desire to flee to other regions of Ukraine," Mr Prokudin said.
French President Emmanuel Macron tweeted that the dam's destruction was an "attack" and an "atrocious act", without assigning blame.
Paris said it was providing aid including water purifiers, 500,000 water purification tablets and hygiene kits.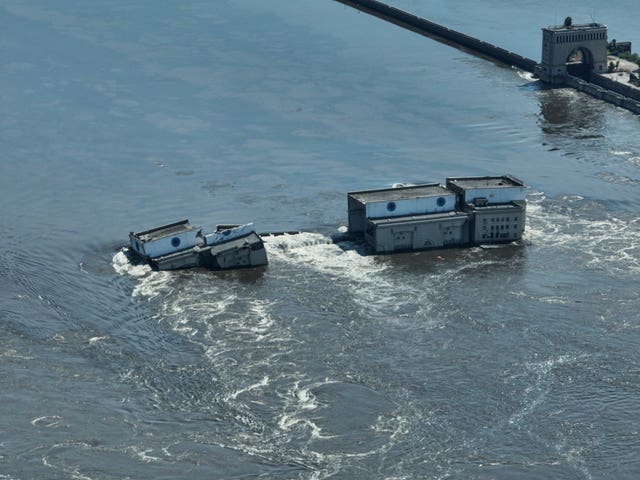 Ukrainian authorities have largely kept quiet about recent battlefield developments amid growing reports of intensified fighting that could add up to the long-awaited counteroffensive.
In a podcast on Wednesday, Michael Kofman of the Centre for Naval Analyses, a US research group, said fighting had taken a "more qualitative turn" with Ukrainian forces appearing to mount offensive operations near the eastern town of Velyka Novosilka and other points in southern parts of the Donetsk region, as well as on its border with Zaporizhzhia province.
"These attacks I don't believe to be the main offensive effort, but they mark what I think is the beginning of the Ukrainian offensive," he said.
"This is now beyond shaping operations – they are attacks with multiple brigades, they have dented Russian lines in and around Velyka Novosilka."
In the eastern Donbas, a battle continued for the largely devastated city of Bakhmut – one of the epicentres of the war.
Ukraine's 3rd Separate Assault Brigade, in a Telegram post, said it was advancing on the city's flanks.
Russian defence minister Sergei Shoigu said his country's forces drove back Ukrainian troops trying to punch through defensive lines in the Zaporizhzhia region after a two-hour battle involving what he said was up to 1,500 Ukrainian soldiers and 150 armoured vehicles.
"The enemy's reserve forces specially trained for realising this breakthrough did not fulfil their task," Mr Shoigu said.
He did not immediately give evidence for his claims.
Ukrainian armed forces spokesman Valerii Shershen acknowledged "increased activity" in the Zaporizhzhia region, but added he "would not call it something serious".