Marilyn Manson fined after pleading no contest to blowing nose on videographer
Manson, whose legal name is Brian Warner, was charged with two misdemeanor counts of simple assault stemming from the encounter with the videographer.
Marilyn Manson was fined and sentenced to 20 hours of community service on Monday after pleading no contest to blowing his nose on a videographer at a 2019 concert in New Hampshire.
The shock rocker, 54, wanted to appear via video for his hearing on the misdemeanor charge, but the judge required him to be in the courtroom in Laconia, about 30 miles north of Concord, the US state's capital.
Manson, whose legal name is Brian Warner, was charged with two misdemeanor counts of simple assault stemming from the encounter with the videographer at the Bank of New Hampshire Pavilion in Gilford on August 19, 2019.
Manson pleaded no contest to just the nose-blowing charge in a plea agreement with prosecutors. The prosecutors agreed to dismiss the other charge, which alleged that he spat on the videographer. A no contest plea means Manson is not contesting the charge and does not admit guilt.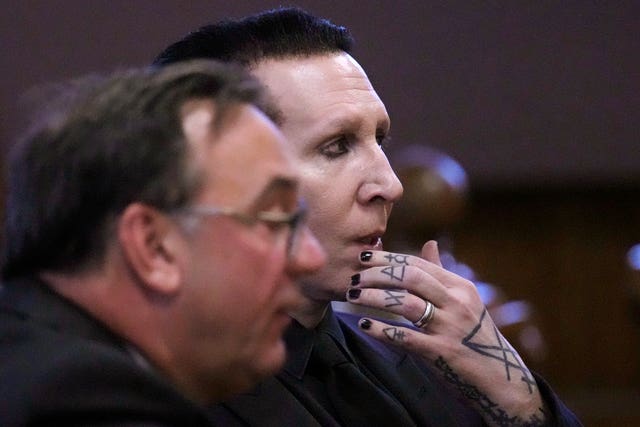 The judge, who called Manson's acts "egregious", agreed to allow Manson to serve his community service in California. He mentioned to reporters that he might choose to work with people in recovery. Manson has to give proof of his community service by February 4.
According to a police affidavit, Manson approached videographer Susan Fountain in the venue's stage pit area, put his face close to her camera and spat a "big lougee" at her. She was struck on both hands with saliva. He approached her again later, kneeling and covering one nostril before blowing the other on her arms and hands.
Ms Fountain said via a statement that it "the most disgusting thing a human being could have done".
Manson "blows a significant amount of mucous at Fountain", a police sergeant who reviewed concert video footage said in the affidavit. After that, the camera view changes to another one and you can see Manson "point and laugh at Fountain as she gets down and walks away", the affidavit said.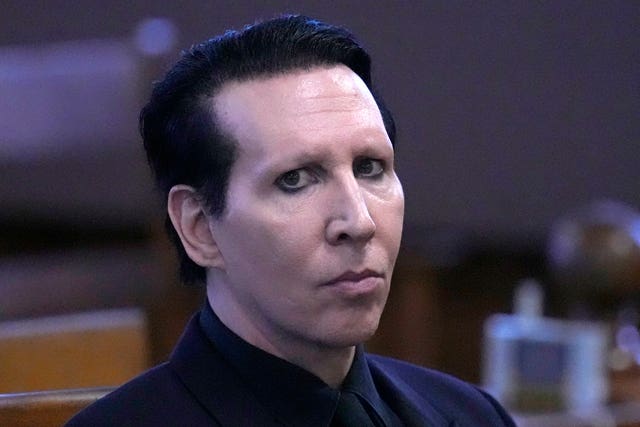 He otherwise answered only "yes" to the judge's questions asking if he understood the proceeding, and made no statement. Prosecutor Andrew Livernois said it was his first offence and he had no prior record.
Ms Fountain was not present in court but submitted a statement that was read aloud.
"For me, I'm a professional person and I've been in this industry for 30 years. I've worked for a lot of companies, and in all the years I've worked with people, I've never been humiliated or treated the way I was by this defendant," it read.
"For him to spit on me and blow his nose on me was the most disgusting thing a human being has ever done.
"I understand this was not a big criminal charge to begin with, but I was hoping that the defendant would receive a sentence that would make him think twice before doing something like this again," the statement read.
Manson initially pleaded not guilty to both charges in 2021. He was scheduled to go to trial in August. His lawyer had said that the type of filming Ms Fountain was doing commonly exposes videographers to "incidental contact" with bodily fluids.
"The defendant's performance for the past 20 years are well known to include shocking and evocative antics similar to those that occurred here," lawyer Kent Barker wrote.
"The alleged victim consented to exposing herself to potential contact with sweat, saliva and phlegm in close quarters."
Mr Barker also had said Manson planned to argue that any contact related to spitting or sneezing was unintentional.
If Manson had gone to trial on the charges, each could have resulted in a jail sentence of less than a year and a 2,000-dollar (£1,615) fine if convicted.
Manson emerged as a musical star in the mid-1990s, known as much for courting public controversy as for hit songs such as The Beautiful People and hit albums including 1996's Antichrist Superstar and 1998's Mechanical Animals.
In May, a California judge threw out key sections of Manson's lawsuit against his former fiancee, Westworld actor Evan Rachel Wood, claiming she fabricated public allegations that he sexually and physically abused her during their relationship and encouraged other women to do the same. He is appealing against the ruling.
Manson's suit, filed last year, alleges that Wood and another woman named as a defendant, Illma Gore, defamed Manson, intentionally caused him emotional distress and derailed his career in music, TV and film.
Several women have sued Manson in recent years with allegations of sexual and other abuse. Most have been dismissed or settled, including a suit filed by Game Of Thrones actor Esme Bianco.
The Associated Press does not typically name people who say they have been sexually abused unless they come forward publicly.