Six Ukrainian deputy defence ministers sacked as fighting continues in east
The sackings follow the dismissal two weeks ago of Defence Minister Oleksii Reznikov over a corruption scandal.
Six Ukrainian deputy defence ministers have been fired following the dismissal two weeks ago of Defence Minister Oleksii Reznikov in a corruption scandal.
Deputy defence ministers including Hanna Maliar, Vitalii Deyneha and Denys Sharapov, as well as the state secretary of the Ministry of Defence, Kostiantyn Vashchenko, were fired, according to the Telegram account of Taras Melnychuk, permanent representative of the Cabinet of Ministers.
Mr Melnychuk provided no explanation of the sacking but the government has been investigating accusations of corruption in the military related to purchasing equipment.
Rustem Umerov, a Crimean Tatar lawmaker who took over as defence minister, did not immediately issue a statement.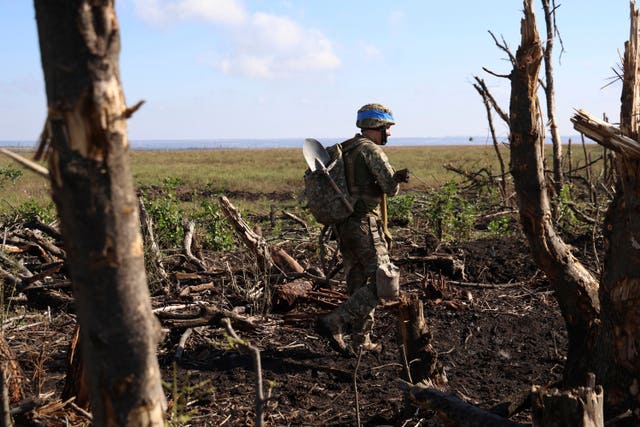 The reshuffling of the department came a day after Ukraine's military said it captured the village of Klishchiivka from Russian troops after months of fierce battles.
Fighting continued on Monday as troops tried to hold the village south of the Russian-held city of Bakhmut in the eastern Donetsk region.
Its recapture followed the retaking of the nearby village of Andriivka.
"The enemy is trying with all his might to regain lost positions," Ms Maliar said in a briefing on Monday before she was fired. "Therefore, our fighters hold back the enemy's attacks there and are entrenched at the achieved frontiers."
Retaking Klishchiivka is considered tactically important, allowing Ukrainian forces to further extend their gains around Bakhmut.
In other fighting, six civilians were killed and 16 injured over the past 24 hours, the presidential office reported.
Russians attacked residential areas in eight cities and villages in the Donetsk region, including Avdiivka and Kurdiumivka, killing one and wounding four.
Five artillery attacks in Kherson killed one person and wounded another. In the nearby town of Beryslav, Russians dropped explosives from a drone near the local bus station, injuring four people, the presidential office said.
The Ukrainian air force said it intercepted all 17 cruise missiles launched by Russia and 18 of 24 Shaded drones in the southern regions of Mykolaiv and Odesa early on Monday morning.
Oleh Kiper, regional governor of Odesa, said a recreational facility in the town of Vylkovo was damaged in the attack but no casualties were reported. Vylkovo, often referred to as the "Ukrainian Venice" because of its numerous canals, is located in the Danube delta on the border with Romania.
In his efforts to draw more support, Ukrainian President Volodymyr Zelensky is heading to the US where he is expected at the White House and on Capitol Hill this week during the United Nations General Assembly.
His visit to Washington comes as Congress debates President Joe Biden's request to provide as much as 24 billion dollars (£19 billion) in military and humanitarian aid for Ukraine.
One supporter in Congress, Senator Mark Kelly, a Democrat from Arizona, met Ukraine officials and soldiers on Monday in Kyiv to assess the military's current needs and discuss ATACMS tactical ballistic missiles, which Mr Biden is considering providing.
"No single capability is going to make the difference between winning and losing," said Mr Kelly, who praised forces for progress, though he said he wished it would move faster.