'Civilians killed' as Azerbaijan fires on Armenian positions in Nagorno-Karabakh
The Azerbaijani defence ministry announced the start of the operation hours after four soldiers and two civilians died in landmine explosions.
Ethnic Armenian officials reported at least two civilians were killed and 23 wounded when Azerbaijan's forces opened fire on Tuesday on Armenian positions in the Nagorno-Karabakh region in what it called an "anti-terrorist operation".
Azerbaijan's authorities also accused Armenian forces of killing a civilian, which brought the civilian death toll of Tuesday's hostilities to at least three.
The Azerbaijani defence ministry announced the start of the operation hours after four soldiers and two civilians died in landmine explosions in the Nagorno-Karabakh region.
The reports raised concerns that a full-scale war over the region could resume between Azerbaijan and Armenia, which fought heavily for six weeks in 2020.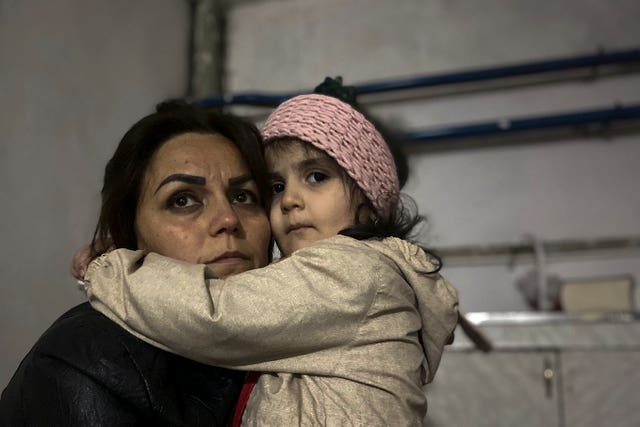 Armenia's Foreign Ministry, however, denied that the country's weapons or troops were present in Nagorno-Karabakh and called "all rumours" about sabotage and planting landmines in the region "a lie and fabricated".
Ethnic Armenian officials in Nagorno-Karabakh said in a statement that the region's capital Stepanakert and other villages were "under intense shelling".
Nagorno-Karabakh human rights ombudsman Geghan Stepanyan said two people were killed in the firing — including one child — and 23 were wounded. At least eight of those injured also are children, according to Mr Stepanyan.
The Azerbaijani Prosecutor General's Office said on Tuesday that Armenian forces fired at Shusha, a city in Nagorno-Karabakh under Azerbaijan's control, from large-calibre weapons, and one civilian was killed there as a result.
Although Azerbaijan said the operation was limited to military targets, the defence ministry said that "humanitarian corridors" had been created for "the evacuation of the population from the danger zone".
Thomas de Waal, a senior fellow at the Carnegie Europe think tank, said the military operation may be part of a plan by Azerbaijan President Ilham Aliyev to get ethnic Armenians to leave the area.
"Maybe what we're looking at, and again, it's very early to say, is a kind of limited military action which will try to coerce thousands of Armenians to flee to Armenia. And then Aliyev can achieve his objective of taking over Karabakh with not so much bloodshed," Mr de Waal told The Associated Press.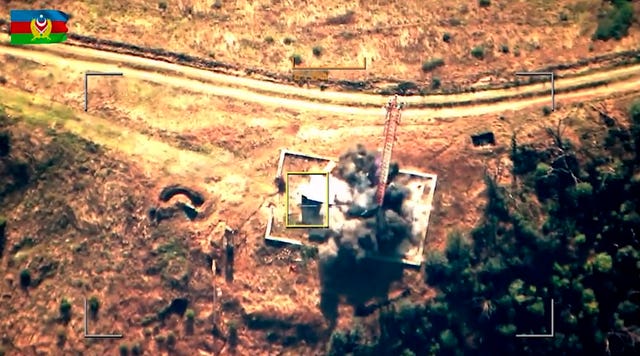 A statement from Azerbaijan's interior ministry, state security service and prosecutor-general said two employees of the highway department died before dawn when their vehicle was blown up by a mine and that a truckload of soldiers responding to the incident hit another mine, killing four.
Nagorno-Karabakh and sizable surrounding territories were under ethnic Armenian control since the 1994 end of a separatist war, but Azerbaijan regained the territories and parts of Nagorno-Karabakh itself in a six-week war in 2020. That war ended with an armistice that placed a Russian peacekeeper contingent in Nagorno-Karabakh.
However, Azerbaijan alleges that Armenia has smuggled in weapons since then. The claims led to a blockade of the road connecting Nagorno-Karabakh to Armenia, causing severe food and medicine shortages in the region.
Red Cross shipments of flour and medical supplies reached Nagorno-Karabakh on Monday, but local officials said road connections to the region were not fully open.
The hostilities come amid high tensions between Armenia and its longtime ally Russia. Armenia has repeatedly complained that the 2,000-strong Russian peacekeeping force was unable or unwilling to keep the road to Armenia open even though that duty was stipulated in the agreement that ended the 2020 war.
Armenia also angered Russia, which maintains a military base in the country, by holding military exercises with the US this month and by moving toward ratifying the Rome Convention that created the International Criminal Court, which has indicted Russian President Vladimir Putin.
Russian Foreign Ministry spokeswoman Maria Zakharova on Tuesday denied claims that Russia was informed in advance of Azerbaijan's intention to mount the operation, saying the peacekeepers were notified only "a few minutes" before it began.
Analyst Mr de Waal said that the Russian peacekeeping force "has lost probably its best officers to the war in Ukraine" but that "this breakdown in Armenia-Russian relations is a factor here".
"I think it encourages Azerbaijan to be bolder and it makes the Russians more ambiguous and less willing to to intervene. And, you know, it's quite possible indeed, that the Russians want to use a crisis to instigate regime change in Armenia," he said.