India and US army chiefs call for stability in Indo-Pacific region
The Indo-Pacific Army Chiefs Conference, hosted by India and the US, is taking place as global concern grows over Chinese influence.
India's army chief has said the country is committed to maintaining a free and stable Indo-Pacific as global concern grows over Chinese influence in the region.
General Manoj Pande made the comments at the Indo-Pacific Army Chiefs Conference, hosted by India and the US, which is focused on boosting military diplomacy and collaboration as well as promoting peace and stability in the Indo-Pacific region.
Army chiefs and delegations from 30 countries are attending the two-day event, which concludes on Wednesday.

Gen Pande said that while countries in the region are working towards a free Indo-Pacific, "we are witnessing manifestations of interstate contestations and competition" — a veiled reference to China, which has stepped up its activities in the region.
Neither Pande nor the US Army chief, Randy George, explicitly mentioned China in their remarks.
When asked about Chinese expansion at a press briefing, Mr George said the region was a critical priority for the US.
"It's why we are out here and why we exercise more than anywhere else in the Pacific, to build all of this. What this conference proves … is (our) unity and commitment," the US chief said.
At the opening ceremony held afterwards, Gen Pande said India's outlook was focused on the peaceful resolution of disputes, avoiding force and adhering to international law.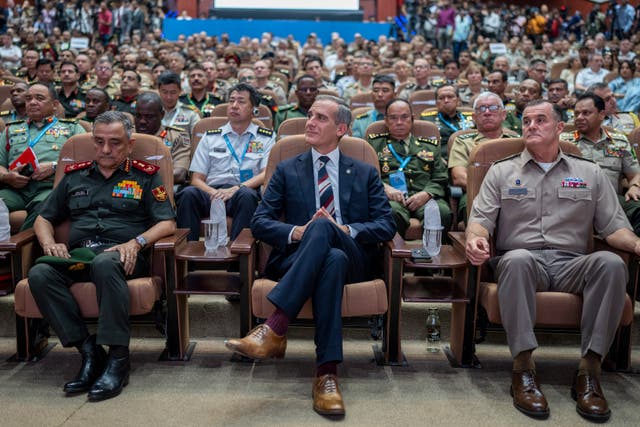 China's territorial claims in the East China and South China seas over islands have rattled Beijing's smaller neighbours in Southeast Asia as well as Japan.
Meanwhile the relationship between New Delhi and Beijing has deteriorated since 2020, when Indian and Chinese troops clashed along their undefined border in the Himalayan Ladakh region, leaving 20 Indian and four Chinese soldiers dead.