Turkeys set for presidential pardon as part of US Thanksgiving tradition
Joe Biden will spend part of his 81st birthday observing the humorous ceremony at the White House.
US President Joe Biden is spending part of his 81st birthday observing the White House tradition of pardoning Thanksgiving turkeys.
The birds receiving executive clemency at the ceremony are named Liberty and Bell.
The 20-week-old, 42lb birds were hatched and bred in Willmar, Minnesota, by the Jennie-O turkey company for the occasion.
The turkey pardon ceremony marks the unofficial start of the holiday season in Washington and it will be an especially busy day for the White House.
In addition to celebrating the president's birthday, Jill Biden also welcomes delivery of an 18-and-a-half-foot Fraser fir from North Carolina as the official White House Christmas tree.
Steve Lykken, chairman of the National Turkey Federation and president of the Jennie-O Turkey Store, said ahead of the ceremony: "We think that's a great way to kick off the holiday season and really, really a fun honour."
He added that the birds listened to music and other sounds to prepare them for Monday's event at the White House.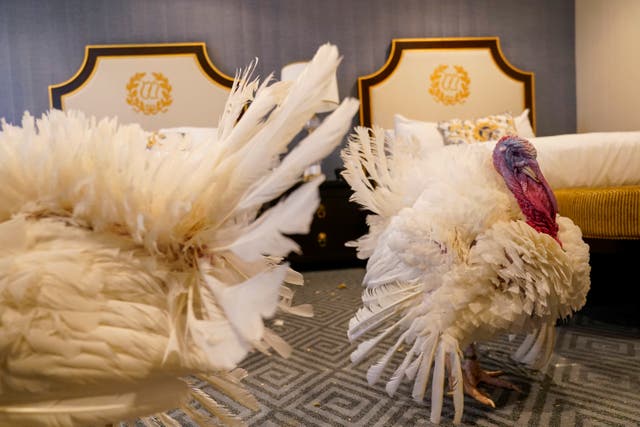 "I think they're absolutely ready for prime time."
The tradition dates to 1947 when the National Turkey Federation, which represents turkey farmers and producers, first presented a National Thanksgiving Turkey to then-president Harry Truman.
By the late 1980s, the tradition had evolved into an often humorous ceremony in which the birds are pardoned, given a second chance at life after they are spared from ending up as a Thanksgiving meal.
In 1989, as animal rights activists picketed nearby, then-president George HW Bush said: "But let me assure you, and this fine tom turkey, that he will not end up on anyone's dinner table, not this guy – he's granted a presidential pardon as of right now – and allow him to live out his days on a children's farm not far from here."
After Mr Biden pardons his third pair of turkeys on Monday, Liberty and Bell will be returned to their home state to be cared for by the University of Minnesota's College of Food, Agricultural and Natural Resources Sciences.
Mr Biden will eat his Thanksgiving turkey with family on Nantucket, a Massachusetts island, continuing a long family tradition.
On Sunday, he and the first lady served an early Thanksgiving meal to hundreds of service members from the USS Dwight D Eisenhower and the USS Gerald R Ford at Norfolk Naval Station in Virginia, the largest installation of its kind in the world, along with their families.