South African leader accuses Israel and Hamas of acts 'tantamount to genocide'
Russia's Vladimir Putin and China's Xi Jinping were also in attendance.
South African President Cyril Ramaphosa accused Israel of war crimes and acts "tantamount to genocide" in Gaza during a virtual meeting of leaders of developing countries including Russia's Vladimir Putin and China's Xi Jinping on Tuesday.
Mr Ramaphosa also condemned Hamas for its attack on Israeli civilians that sparked the conflict and said both sides were guilty of violating international law.
At the beginning of the meeting of officials from BRICS (Brazil, Russia, India, China and South Africa), Mr Ramphosa said: "The collective punishment of Palestinian civilians through the unlawful use of force by Israel is a war crime. The deliberate denial of medicine, fuel, food and water to the residents of Gaza is tantamount to genocide."
"In its attacks on civilians and by taking hostages, Hamas has also violated international law and must be held accountable for these actions," Mr Ramaphosa said.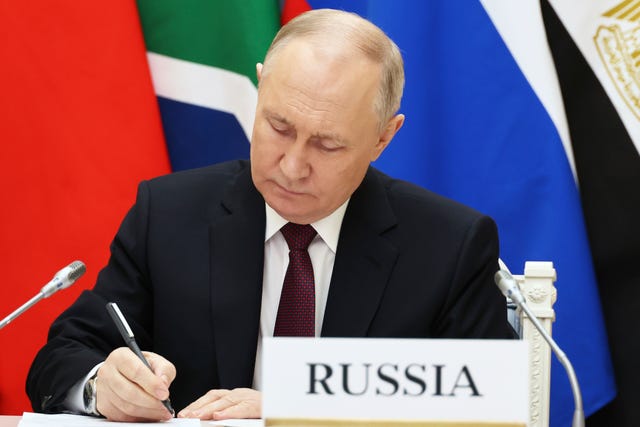 Mr Ramaphosa chaired the "extraordinary meeting" and made the opening remarks because South Africa is the current chair of BRICS.
Mr Putin said in his address that there was a "humanitarian catastrophe" unfolding in Gaza, but blamed the crisis on what he called failed diplomacy by the United States.
He said: "All these events, in fact, are a direct consequence of the US desire to monopolise mediation functions in the Palestinian-Israeli settlement."
He called for a ceasefire in Gaza, the freeing of hostages and the evacuation of civilians from the Gaza Strip.
Mr Putin's comments were in line with Russia's cautious approach to the Israel-Hamas war. He proposed last month that Moscow could mediate in the conflict due to its relationships with both Israel and the Palestinians, and has previously blamed the war on failed US efforts.
Mr Putin has also condemned the October 7 attack by Hamas militants on towns in southern Israel that sparked Israel's offensive in Gaza, now in its seventh week, while warning Israel over its response and against blockading the Gaza Strip.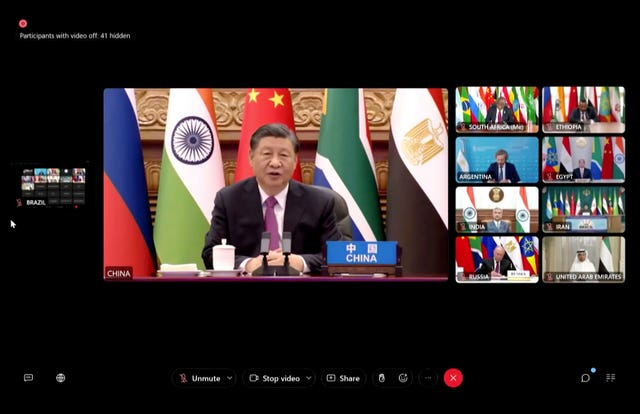 Around 1,200 people have been killed on the Israeli side, mainly civilians during the Hamas attack.
Russia and China are leading voices in BRICS, which has largely cast itself in recent years as standing against the perceived dominance of the West in global affairs.
However, it has struggled to adopt united policies or positions on many issues because of the differing priorities of the five current members.
The meeting came a day after China's top diplomat hosted the foreign ministers of Saudi Arabia, Egypt, Jordan, the Palestinian Authority and Indonesia in Beijing, their first stop on a tour of UN Security Council permanent members.
The meeting underlined China's longstanding support for the Palestinians and its growing geopolitical influence.
India, which also wants to be seen as a leader of the developing world, has long walked a tightrope between Israel and Palestine and historically has close ties to both.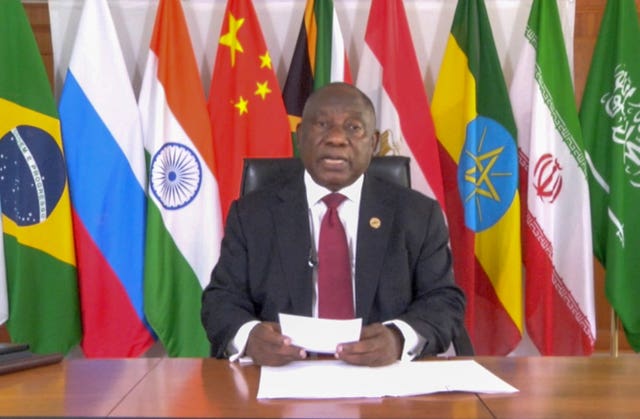 South Africa has for years compared Israel's policies in Gaza and the West Bank with the apartheid regime of racial segregation.
South Africa's Parliament is to vote on a motion on Tuesday to shut down the Israeli Embassy and sever diplomatic ties with the country over the war.
Israel recalled its ambassador to South Africa for discussions on Monday.
At Tuesday's meeting, Mr Ramaphosa called for the International Criminal Court to "urgently" initiate prosecutions against those responsible for what he termed war crimes on both sides.
He said South Africa also wants to see an immediate cease-fire in Gaza, the opening of humanitarian corridors, the release of civilian hostages, dialogue between Israel and the Palestinians and the deployment of a UN force to monitor a ceasefire.