Josh Van Der Flier believes he has become a marked man since being crowned world player of the year as he seeks to celebrate his 50th Ireland cap with Grand Slam glory.
Flanker Van Der Flier swept the global individual prize on the back of a stellar 2022 and has continued his fine form to help put his country on the brink of a Guinness Six Nations clean sweep.
The 29-year-old will make a milestone Test appearance in Saturday's Dublin showdown with England and feels his recent elevation has led to greater on-field attention.
"I suppose there's definitely been a few times in games where I get the ball and find there are three lads on me, where I thought I'd have a bit more space," said Van Der Flier.
"It might not be the case and it's in my head but there are definitely a couple of times when I've kinda felt like someone has enjoyed putting a big hit on me or something."
Asked if there had been some in-game jibes from opposition players, he replied: "Not really no, thankfully – more the lads on my team if I make a mistake!
"(There have) not (been) too many changes. But I suppose I find definitely ball-carrying for example I'm marked a bit more I guess. But it leaves space for other people."
Van Der Flier will this weekend seek to make up for the disappointment of missing Ireland's 2018 Grand Slam clincher against England at Twickenham through injury.
He demonstrated his team-first mentality during last weekend's chaotic 22-7 round-four win in Scotland by throwing lineouts following the loss of hookers Dan Sheehan and Ronan Kelleher.
Andy Farrell joked the back-row forward would be replacing captain Johnny Sexton as the team's goal-kicker against Steve Borthwick's side.
"It will be a very special day," said Van Der Flier. "Fifty caps, it has flown by quite quickly.
"In my head, I'm trying not to think about it too much; I'm kind of acknowledging that that's what it is, I guess, and as well obviously the significance of the big game that it is and what's on the line.
"I won't be too worried about an individual thing like that (50 caps), the thing that we've all worked towards is to win trophies for Ireland and big games for Ireland, so that's definitely the big focus."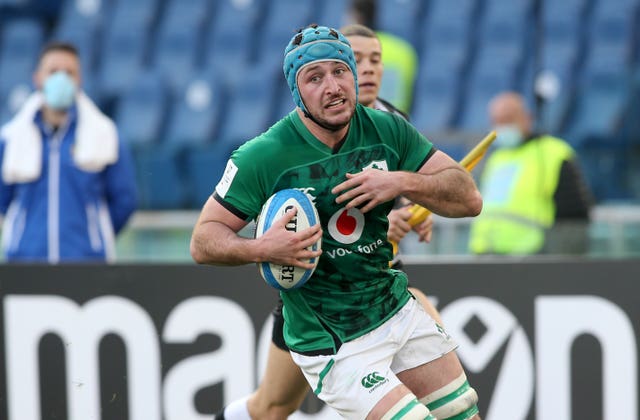 The number seven has overcome that threat to develop into a key performer for Ireland, earning praise from his head coach.
"Wow, what a couple of years for Josh," said Farrell. "You go back to his story, all this is because of competition for places in Leinster and in Ireland – Will Connors coming on to the scene, et cetera.
"Josh was one of the guys who put his hand up, had a word with himself and said, 'this is up to me'.
"Since he's done that, he's never looked back and he deserves all the credit he gets, because he's unbelievably diligent as far as his preparation is concerned.
"How he attacks every game is just phenomenal to watch."